Social gaming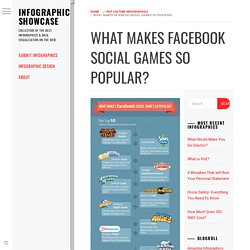 Filed under: All Infographics , Pop Culture Infographics | No Comments » GD Star Rating
What Makes Facebook Social Games So Popular?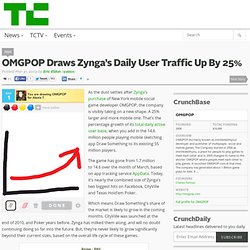 OMGPOP Draws Zynga's Daily User Traffic Up By 25%
As the dust settles after Zynga's purchase of New York mobile social game developer OMGPOP, the company is visibly taking on a new shape.
In 1996, Chris Hehman built one of the first online bracket managers for the NCAA men's college basketball tournament, or March Madness, as it's known to the millions of Americans who gamble on it every year.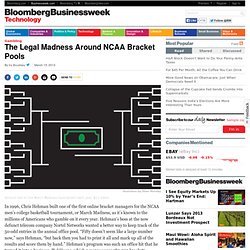 The Legal Madness Around NCAA Bracket Pools
Sports-Social-Media-Infographic-GMR-Marketing.jpg (800×1638)
7 Dimensions of Facebook Commerce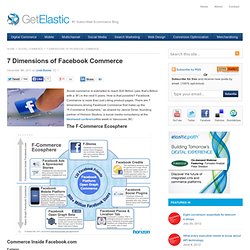 Social commerce is estimated to reach $30 Billion (yes, that's Billion with a 'B') in the next 5 years.
Rewarding Users
While our policies prohibit directly tying incentives to the use of our Social Channels, e.g. rewarding users for the sole act of posting a Stream stories or sending a Request, we do allow for referral-based rewards where our Social Channels are indirectly tied to the potential in-app reward.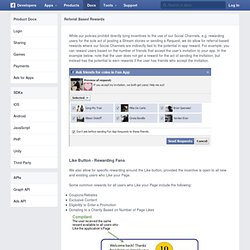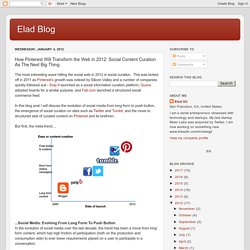 The most interesting wave hitting the social web in 2012 is social curation.
1.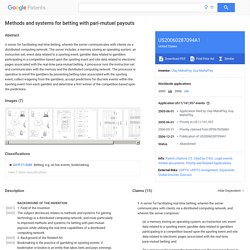 Patent US20060287094 - Methods and systems for betting with ... - Google Patents
Bringing Social App Discovery to Mobile
Today, we are extending Facebook Platform on mobile, bringing all the social channels that have helped apps and games reach hundreds of millions of users on the Web to mobile apps and websites. You can now easily reach the 350 million people who use Facebook every month on a mobile device, including iPad, iPhone, iPod touch, and our mobile web site. We are at the beginning of bringing Facebook Platform apps to mobile.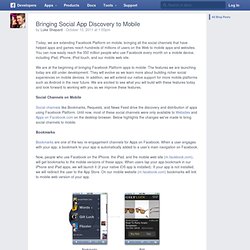 300m Users Access Facebook Via Its Mobile Apps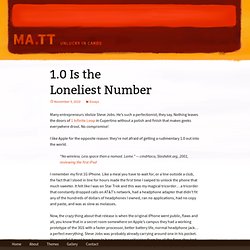 I like Apple for the opposite reason: they're not afraid of getting a rudimentary 1.0 out into the world. "No wireless. Less space than a nomad.
1.0 Is the Loneliest Number
The metrics are the message: how analytics is shaping social games | Technology
Picture this. You're deeply engaged in one of the many free-to-play adventure games available online, when you decide to buy a bigger sword. It could be that you made the tactical decision to extend your armoury, or that you panicked when you spotted a gigantic dragon lumbering in your direction; you might not even know why you did it. You just fancied a bigger sword. But that action took you into the barely two percent of free-to-play gamers who actually pay for content – and the game makers want to know why. The freemium gaming business is expanding rapidly.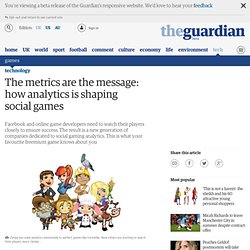 Ask HN: How to legally obtain sports data for commercial use
This is a long standing question of mine reignited by bignoggins post at http://news.ycombinator.com/item?
Zynga IPO Filing Shows Flat User Growth, Booming Revenue
Zynga's impressive stats are part of the reason for its sky-high valuation. With 232 million monthly active users and $597 million in revenue last year alone, it's no surprise that so many people are interested in getting a piece of the action. But when we dug into Zynga's nearly 200-page S-1 filing, we found a more complicated picture.
How Zynga grew from gaming outcast to $9 billion social game powerhouse
Update: This article is now available as a 63-page e-book on Amazon's Kindle bookstore.
Real Money for Virtual Coin
SAN FRANCISCO – I attended the Social Gaming Summit this week, and here is a digest of the most interesting things that I learned.
@ Social Gaming Summit – What I Learned — David Eckoff blog
PHP Pick 'Em - Free PHP Football Pool
Survey: Online social games drawing bigger crowd
Cameron Payne
Rob Kischuk
What To Look For In A Technical Co-Founder
Inside Social Games · An In-Depth Look at the Social Gaming Industry's Performance and Prospects on Facebook
Does CentSports Engage in Illegal Bookmaking? « Seattle Entertainment and Trademark Lawyer Blog
A Legal Alternative To Online Gambling - Forbes.com
Why Zynga's Mark Pincus Tried To Buy CNet [Startup School]
Greg Frame
Facebook's Zuckerberg: If I Were Starting A Company Now, I Would Have Stayed In Boston
Stock Market Game - Practice investing $1,000,000 - UpDown.com
Centsports
Gambling Law US - State Gambling Laws United States
www.virtualworldlaw.com/Virtual Currency.pdf
Could social gaming run afoul of gambling laws?