Interesting websites
Cabin Porn. E-mails from an Asshole. Facsimile Dust Jackets L.L.C.: Wise Blood by O'Connor, Flannery. I accept Visa, Master Card, PayPal, checks and money orders DISCOUNTS will be automatically applied during check out.10% volume discount for orders of 10 or more jackets.20% volume discount for orders of 30 or more jackets.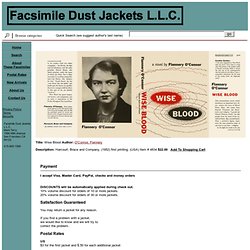 Satisfaction Guaranteed You may return a jacket for any reason. Altucher Confidential. How to be a Retronaut.
RSA Animate - Drive: The surprising truth about what motivates us.
---