Webdrewpdx
Andrew Dall
Born in raised in Portland, OR. I'm Marketing/IT Coordinator for MeetGreen. We are meeting planners who make large events more sustainable and less expensive.
Germany sets weekend record for solar power. (Phys.org) -- Solar power plants in Germany have set a new record.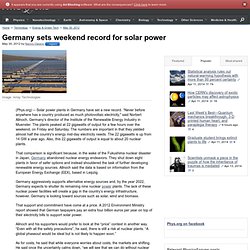 "Never before anywhere has a country produced as much photovoltaic electricity," said Norbert Allnoch, Germany's director of the Institute of the Renewable Energy Industry in Muenster. The plants peaked at 22 gigawatts of output for a few hours over the weekend, on Friday and Saturday.
MeetGreen
Pulpop Recycled Pulp Speaker The Greenest Of Them All? The world of environmentally friendly speakers isn't a big one.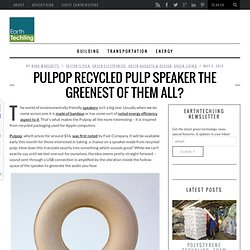 Usually when we do come across one it is made of bamboo or has some sort of noted energy efficiency aspect to it. That's what makes the Pulpop all the more interesting – it is inspired from recycled packaging used for Apple computers. Pulpop, which prices for around $56, was first noted by Fast Company. Huge Biomimetic 'Supertrees' Taking Root on Singapore's Waterfront (Video) Jackerbie/CC BY-NC-SA 2.0 Vertical gardens are one effective way to enliven and maximize growing potential in cities, and we've seen them range in size from small, improvised projects to larger, official ones.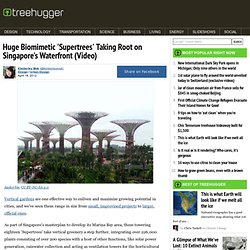 As part of Singapore's masterplan to develop its Marina Bay area, these towering eighteen 'Supertrees' take vertical greenery a step further, integrating over 226,000 plants consisting of over 200 species with a host of other functions, like solar power generation, rainwater collection and acting as ventilation towers for the horticultural conservatories below. © Munshi Ahmed Jackerbie/CC BY-NC-SA 2.0 Designed by UK-based landscape architecture firm Grant Associates and nearing completion, the Supertree structures are an integral part of the Gardens by the Bay project. Get A Workout While You're Working With The We-Bike. Webike via Gizmag/Promo image Here is an interesting spin on the idea of pedalling while you work: The We-Bike integrates three workstations into a circle slightly over eight feet in diameter, and each seat has pedals connected to a generator, with each producing thirty watts.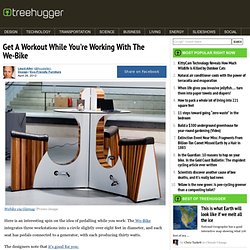 The designers note that it's good for you: Vertical Farm Proposal Is Woven Into The Fabric Of The City. © Michelle Cheng We have shown a lot of vertical farms that are in the city, but they are rarely part of the city.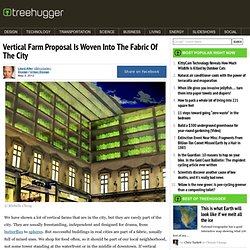 They are usually freestanding, independent and designed for drama, from butterflies to spheres. But successful buildings in real cities are part of a fabric, usually full of mixed uses. We shop for food often, so it should be part of our local neighborhood, not some tower standing at the waterfront or in the middle of downtown. If vertical farming is going to get real, then it has to get really local and mix it up.
Amsterdam RAI Convention Centre Goes Greener. © Amsterdam RAI Convention centers are huge consumers of energy, sell huge amounts of takeout food and disposable cups, and generate a huge amount of waste.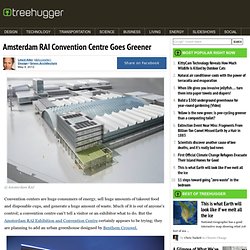 Much of it is out of anyone's control; a convention centre can't tell a visitor or an exhibitor what to do. But the Amsterdam RAI Exhibition and Convention Centre certainly appears to be trying; they are planning to add an urban greenhouse designed by Benthem Crouwel. Having been in the terrible food courts of quite a few North American food courts, I find their restaurant appealing. Greenpeace Pranks Apple at Flagship Stores, Calls for an End to the Coal-Powered Cloud. Brian Merchant/CC BY 3.0 Greenpeace activists loosed black balloons inside two of the nation's flagship Apple stores today, protesting the company's reliance on coal to power the cloud.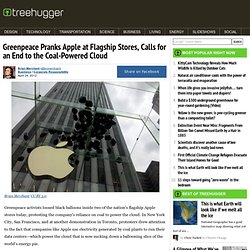 In New York City, San Francisco, and at another demonstration in Toronto, protesters drew attention to the fact that companies like Apple use electricity generated by coal plants to run their data centers—which power the cloud that is now sucking down a ballooning slice of the world's energy pie. As far as Greenpeace actions go, this one was pretty tame—I'd been tipped off by organizers, so I was already inside the Fifth Avenue Apple store when a small parade of activists barged through the front doors and released dozens of black balloons.
Emblazoned with illustrations of coal pollution and slogans like 'Clean Our Cloud', they collected on the roof of the glass building, above the giant iconic Apple insignia. Black Solar Cell Absorbs 99.7% of All Light. © Natcore Technology Scientists over at Natcore Tech have created what is now the "blackest" solar cell to date.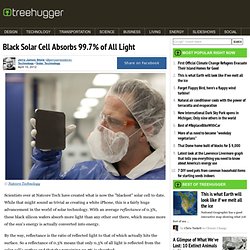 While that might sound as trivial as creating a white iPhone, this is a fairly huge advancement in the world of solar technology. With an average reflectance of 0.3%, these black silicon wafers absorb more light than any other out there, which means more of the sun's energy is actually converted into energy. By the way, reflectance is the ratio of reflected light to that of which actually hits the surface. Solar-Power iPad Case From Logitec Hits Best Buy Website. Best Buy/via Mashable caught wind of a listing on Best Buy for a solar-powered iPad cover for $129, which features not only solar cells but a built-in keyboard.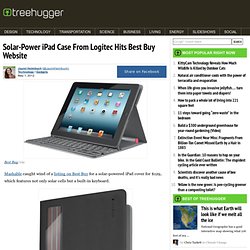 It says "coming soon" so we aren't sure exactly when you might be able to pick one of these up, but it's up on the site to add to your wishlist. Is it worth the environmental footprint? Nope. iPads need more energy than the tiny cells on this case could rustle up -- though that's no concern because the solar cells are only supposed to power the keyboard attached to the case.
Cool DIY Hydropower Kits for Kids. © Science Kit and Boreal Laboratories Kids these days: they can figure out how to take 3-D pictures on your iPhone, but all they know about electricity is that you're always going on about something called vampire power and nagging them to turn off the lights.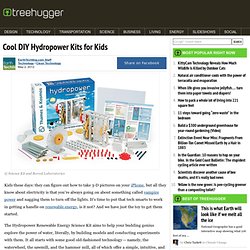 It's time to put that tech smarts to work in getting a handle on renewable energy, is it not? And we have just the toy to get them started. The Hydropower Renewable Energy Science Kit aims to help your budding genius explore the power of water, literally, by building models and conducting experiments with them. Top 10 Tech Stories This Week: DIY solar lawn mower, Pinterest and the cloud, hydropower for kids and more! Giant Solar Lily Pads Take Advantage of Unused Waterways for Energy. © ZM Architecture A Green Dot Award winner from ZM Architecture in the U.K. uses the concept of large lily pads, modified to attain the highest possible level of photosynthesis, as the central principle of this nature-inspired repurposing of unused waterways to capture solar energy on a utility scale.
In doing so, the design also hopes to stimulate activity around the multitude of unused and largely ignored canals, rivers and tributaries around the globe, perhaps by encouraging neighborhood revitalization or the construction of new, energy efficient green housing, or simply an influx of tradespeople large and small to provide a riverside shopping and dining experience like a large, open mall. EnergySaver Mobile App Analyzes Energy and Water Use, Helps You Save Money. © EnergySaver Some of us in the green community want to use less energy and water just because we feel it's the best thing to do for the planet, and some of us want to use less because it also leads to saving money.
No matter what your motivation, it's pretty clear that the desire is there, but sometimes the tools to do so aren't very obvious. However, a new mobile app will help you not only track your energy and water use, but will also analyze it and help you make changes to reduce your consumption, lower your carbon footprint, and keep more of your hard-earned dollars in your wallet. 5 Star Wars-Inspired Green(ish) Gadgets. Image via TGNSmith on Etsy "May The Fourth Be With You" on Star Wars day today. To honor this geek holiday, we've rounded up our favorite Star Wars-themed posts.
Creative craftster Sage Werbock has come up with a clever idea for recycling old computer parts and providing Star Wars fans something to lust over. It's an 18-inch tall, 15 lb At-At made from floppy drive housing, power supply boxes, power cords and other scrap metal. It's still available for $450 on Etsy. The Future of Wind Power: 9 Cool Innovations. TreeHugger/Screen capture Our economy has an insatiable appetite for energy, and because of the negative side effects of fossil fuels, the quicker that we can supplement and/or replace petroleum-based power sources, the better.
Wind power is a great way to generate clean renewable energy, and the innovations in wind technology being pursued over the last year or so are a reminder that with the right tools, we can turn the movement of the air above us into fuel for our energy-hungry lifestyles. 1. Airborne Wind Turbines: Solar is getting cheaper, but how far can it go? The usual take on solar power is that it's a niche energy source, too pricey and erratic to meet more than a sliver of our electricity needs.
Bill Gates has mocked solar as "cute." But, as Paul Krugman reminds us today, that's changing far more quickly than people realize. "In fact," Krugman writes, "progress in solar panels has been so dramatic and sustained that, as a blog post at Scientific American put it, 'there's now frequent talk of a Moore's law in solar energy,' with prices adjusted for inflation falling around 7 percent a year." A couple of things are driving the drop in costs.
10 eco friendly toilets designed to conserve resources. TgtbX.jpg (JPEG Image, 500 × 376 pixels) Can an African 'green revolution' feed the world? We need to talk about Lucas Heights – Opinion – ABC Environment. Thrift Store Summer Clothing Buys | Postconsumers Blog. Federal Support For Solar Is Relatively Small, But Provides 'More Jobs Per Megawatt-Hour Than Any Other Energy Industry' Reduce. Reuse. Recycle. - Cool Like Pie. Birth of the world's national parks : National Parks, USA. Independent Analysis Confirms That Hydraulic Fracturing Caused Drinking Water Contamination In Wyoming. RethINK on the Behance Network. Are eReaders Really Green?
---