Video
"… ten years ago, not one student in a hundred, nay, one in a thousand, could have produced videos like this. It's a whole new skill, a vital and important skill, and one utterly necessary not simply from the perspective of creating but also of comprehending video communication today." (Stephen Downes) If you follow my Twitter-stream, you know that I spend a lot of time viewing, collecting & sharing videos.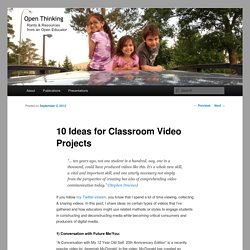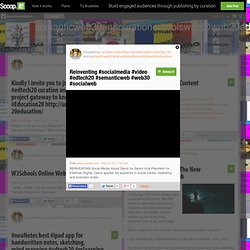 Reinventing #socialmedia #video #edtech20 #semanticweb #web30 #socialweb | semanticweb30andcurationedtoolswith@web20education
This is a cross-post from Altimeter Group Researcher Jaimy Szymanski. I excerpted from the article: "Curation is taking over the digital content scene. With related applications and platforms multiplying, the act of collecting and sharing content has become second nature for most of us. When talking data it's far simpler to look at all the content out there and curate, rather than analyze the gaps and create new, original content to fill them.
nimbb - Free Video Recording Using Your Webcam - Streaming Video API for Developers
Download: Vegas Pro