Video
10 Ideas for Classroom Video Projects. "… ten years ago, not one student in a hundred, nay, one in a thousand, could have produced videos like this.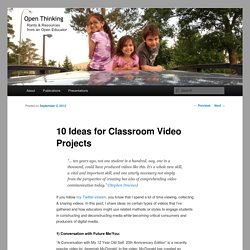 It's a whole new skill, a vital and important skill, and one utterly necessary not simply from the perspective of creating but also of comprehending video communication today." (Stephen Downes) If you follow my Twitter-stream, you know that I spend a lot of time viewing, collecting & sharing videos. Children's Poetry Archive. Reinventing #socialmedia #video #edtech20 #semanticweb #web30 #socialweb | semanticweb30andcurationedtoolswith@web20education.
Interesting. Nimbb - Free Video Recording Using Your Webcam - Streaming Video API for Developers. Download: Vegas Pro. Zentation.com - Webinar software.
---