General
Web 2.0 Tools: text, images, music, video | Glogster EDU - 21st century multimedia tool for educators, teachers and students
This work is licensed under a Creative Commons Attribution-NonCommercial-NoDerivs 3.0 Unported License . WEB 2.0 RESOURCES FOR 21st CENTURY INSTRUCTION This has gone from 10 to 20 in less than a year. I have more, but wanted to share some of my favorites here!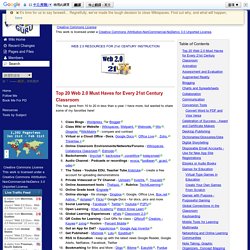 BoekTweePuntNul | over Web 2.0 | Social Media | Webtools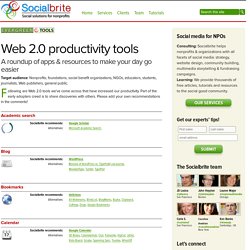 Target audience : Nonprofits, foundations, social benefit organizations, NGOs, educators, students, journalists, Web publishers, general public. F ollowing are Web 2.0 tools we've come across that have increased our productivity. Part of the early adopters creed is to share discoveries with others. Please add your own recommendations in the comments!
Web 2.0 in het onderwijs
Web 2.0 tools en onderwijs
Web 2.0 search results for education
I don't think it matters how old we get there is something about a new school year starting that makes many of us think of new pencils, crayons and paper. And while school looks very different from when many of us went to school there is still that excitement about starting fresh and learning new things.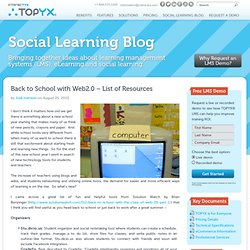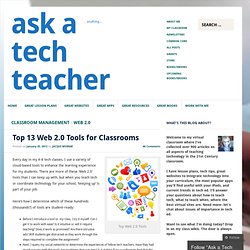 Top 13 Web 2.0 Tools for Classrooms
Posted: January 25, 2012 by Jacqui Murray in classroom management , Web 2.0 Tags: edtech , tech ed , web 2.0 tools
Peter Van Gils (web20atschool) sur Twitter
Web2.0 op school