General
Web 2.0 Tools: text, images, music, video | Glogster EDU - 21st century multimedia tool for educators, teachers and students. Web 2.0 Resources. Discovery Education: Web 2.0 Tools. BoekTweePuntNul | over Web 2.0 | Social Media | Webtools. Web 2.0 productivity tools. Target audience: Nonprofits, foundations, social benefit organizations, NGOs, educators, students, journalists, Web publishers, general public.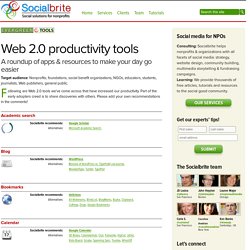 Following are Web 2.0 tools we've come across that have increased our productivity. Part of the early adopters creed is to share discoveries with others. Please add your own recommendations in the comments! Go2Web20.net - The complete Web 2.0 directory. Web 2.0 in het onderwijs. Web 2.0 tools en onderwijs. Web 2.0 in Education (UK) Home - Web 2.0 in Education (UK)
Web 2.0 search results for education. Online tools and applications - Go2web20. Back to School with Web2.0 - List of Resources - Interactyx. I don't think it matters how old we get there is something about a new school year starting that makes many of us think of new pencils, crayons and paper.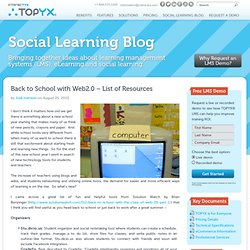 And while school looks very different from when many of us went to school there is still that excitement about starting fresh and learning new things. So for the start of this new school year I went in search of new technology tools for students and teachers. The increase of teachers using blogs and wikis, and students networking and utilizing online tools, the demand for easier and more efficient ways of learning is on the rise. So what's new? I came across a great list of fun and helpful tools from Solution Watch by Brian Benzinger ( that I think you will find useful as you head back to school or just back to work after a great summer –
Top 13 Web 2.0 Tools for Classrooms. Top Web 2.0 Tools Every day in my K-8 tech classes, I use a variety of cloud-based tools to enhance the learning experience for my students.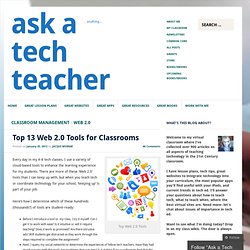 There are more of these 'Web 2.0′ tools than I can keep up with, but when you teach tech or coordinate technology for your school, 'keeping up' is part of your job. Here's how I determine which of these hundreds (thousands?) Peter Van Gils (web20atschool) sur Twitter. Web2.0 op school.
---