Photoshop tutorials
Superb Skin Airbrush Technique | Photoshop Tutorials. Airbrush skin like a pro.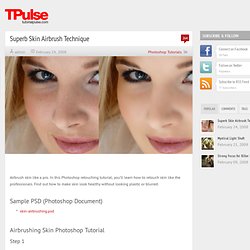 In this Photoshop retouching tutorial, you'll learn how to retouch skin like the professionals. Find out how to make skin look healthy without looking plastic or blurred. skin-airbrushing.psd. Photo Retouching | Skin Retouching in Photoshop. This tutorial will help you learn how to speed up skin retouching and polish photos in Photoshop using basic techniques.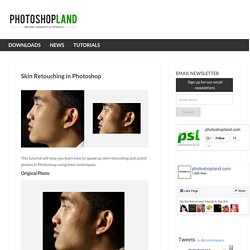 Original Photo Step 1. Mastering Complex Selections in Photoshop. Having the ability to effectively extract an image from its background is an essential skill for any designer, photographer, or creative professional.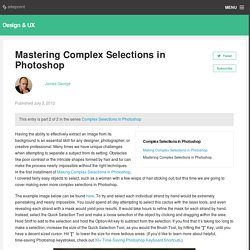 Many times we have unique challenges when attempting to separate a subject from its setting. Obstacles like poor contrast or the intricate shapes formed by hair and fur can make the process nearly impossible without the right techniques. In the first installment of Making Complex Selections in Photoshop, I covered fairly easy objects to select, such as a woman with a few wisps of hair sticking out, but this time we are going to cover making even more complex selections in Photoshop. The example image below can be found here. To try and select each individual strand by hand would be extremely painstaking and nearly impossible.
Super Easy Typographic Portrait in Photoshop. Last year we posted on Abduzeedo a very cool post about typographic portraits, the 45 Amazing Type Faces - Typographic Portraits became one of the most popular posts on Abduzeedo, and a lot of people asked me how to create that effect in Photoshop.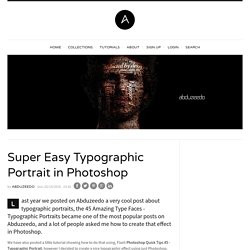 We have also posted a little tutorial showing how to do that using, Flash Photoshop Quick Tips #5 - Typographic Portrait, however I decided to create a nice typographic effect using just Photoshop. So in this tutorial I will show you how to create a really cool and super easy typographic portrait in Photoshop. We will use the Displace filter and some Blend Modes to achieve the effect. The whole process is quite simple but it might take you some time to add the texts and elements, but once you do that the rest is very straight forward. Step 1. 30 Watercolor Tutorials and Brush Sets for Photoshop.
Through the use of brushes and various combinations of often pastel and neutral colors, creating that digital watercolor style in Photoshop can be a fun and rewarding experience.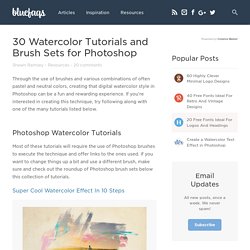 If you're interested in creating this technique, try following along with one of the many tutorials listed below. To help you gather resources, I've also included 15 of some of the best Photoshop watercolor brush sets available, located just below the tutorial roundup. Photoshop. 30 Christmas Holiday PSD & AI Flyer Templates The success of any event, being it a show, a sale, a party or a simple get-together, often depends on how well you can promote it.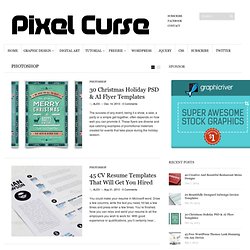 These flyers are diverse and eye-catching examples of promotional materials created for events that take place during the holiday season. 45 CV Resume Templates That Will Get You Hired You could make your resume in Microsoft word. Draw a few columns, write the text you need, hit tab a few times and press enter a few times. Photoshop Light Effect Tutorials. The Most Wanted Design Tutorials in Photoshop. Making Complex Selections in Photoshop. Making precise selections in Photoshop is an essential skill that every designer needs.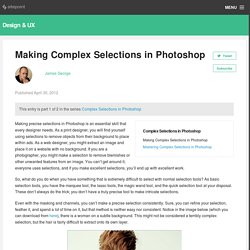 As a print designer, you will find yourself using selections to remove objects from their background to place within ads. As a web designer, you might extract an image and place it on a website with no background. 25 Helpful Tutorials for Lighting Effects in Photoshop. Photoshop allows designers with unlimited possibilities when it comes to creative effects, including lighting effects.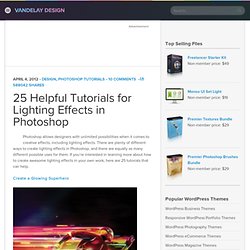 There are plenty of different ways to create lighting effects in Photoshop, and there are equally as many different possible uses for them. If you're interested in learning more about how to create awesome lighting effects in your own work, here are 25 tutorials that can help. Looking for hosting? WPEngine offers secure managed WordPress hosting. Tutorial Magazine.
---