Warmfuzzycoldprickly
Abbi
Looks Like Rain, 5/13/77 - Grateful Dead
<div id="javascript-nag" class="notice"><p> Take full advantage of our site features by enabling JavaScript. <a href="http://www.etsy.com/ca/help/article/372">Learn more</a>. </p></div> Help Etsy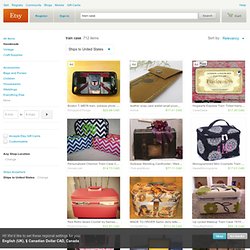 train case sur Etsy, la plateforme de vente du fait main et du vintage.
Every mother has her talents. Maybe she could sing your tears away or maybe she coached your soccer team to an undefeated season; maybe she caught every grammar mistake in your book reports or maybe she's hand knit you cozy socks every birthday since you were two. Whatever her forte, the day to celebrate mom is close at hand, and it's time to give back some love with the product of your own talents! Get tons of inspiration from our amazing archive of Women's Projects. Some of our favorites are shown above... To browse our complete gallery of knitting projects for women, click here; and for sewing projects, click right here!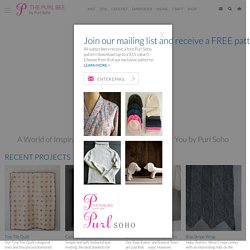 John's Favorite Bucket Hat
A very simple knit for a beginner. This fancy looking neck warmer looks great worn over a regular shirt or a fancy outfit! Wear it at work when your neck gets cold but don't want to wear a scarf, wear it over that boat neck shirt you love so much, and make sure to bring it out on the town! I've had so many compliments on mine, so be careful, everyone is gonna want you to knit them one! w Blue Sky Alpacas -one skein Bulky 1004 polar bear -OR one skein Bulky Hand Dyes
alpaca_warmer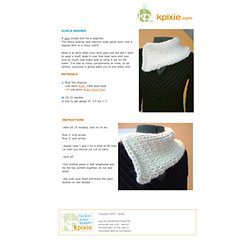 Bed of Moss Infinity Scarf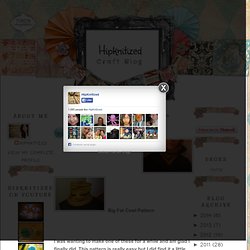 Free Pattern: Big Fat Cowl
Big Fat Cowl Pattern I was wanting to make one of these for a while and am glad I finally did. This pattern is really easy but I did find it a little time consuming none the less the outcome it beautiful!
Soapmaking can be a fun hobby or craft, and there are several different techniques you can use to create soap from scratch. The old-fashioned method of making soap involves using an agent called lye, but lye can be a dangerous ingredient for beginning soapmakers to use. However, there are several ways to make soap without lye; you can make a glycerine-based soap that does not contain the caustic agent, or use a rebatching or hand-milled process of soap-making that does not rely on lye to form each piece of soap.
How to Make Soap Without Lye - un knol de eHowKnol
How to Make Organic Vegan Soap
You CAN Make Vegan Organic Soap! The world is getting greener and more conscious of how human behavior affects other species. With this, the population of those adopting a vegan lifestyle has increased. Many people, vegan or not, are interested in creating their soap without any animal products in them. One of the greatest advantages of creating your own soap is that you know exactly what is in it.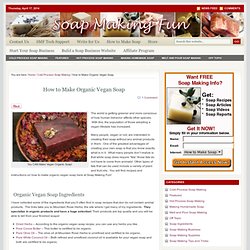 DOLL Patterns, Doll Sewing Patterns.Vintage Doll patterns.Doll Craft patterns, Doll Clothing Patterns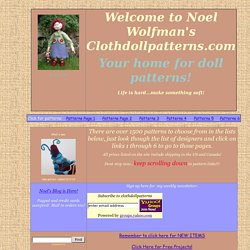 ClothDollPatterns.com Main Pattern Page
Garrod, Rene' (Garrod Originals) Goshon, Sherry Goshon, Jeff (mold making) Graff, Barbara
I've been meaning to do this for quite some time, and here, finally, is the pattern I made for my We Can Ride horse plushie. [link] The only thing is, I don't think it will print off very nicely, especially considering that the size of my plushie is about 2 feet long. o_o So, if you choose to use this plushie, you could either scale it down to whatever size you're able to get the pattern to print off, or you can use these shapes as a guide and draw them out yourself on a larger piece of paper. If anyone has an idea of how I can make this pattern more user-friendly for printing, please let me know! Here's a link to the tutorial that goes along with the pattern. [link] Feel free to use this pattern and the tutorial to make plushies for yourself and your family and friends, but please do not sell them.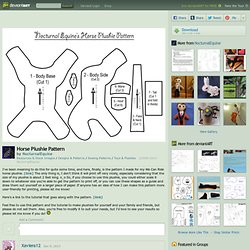 Horse Plushie Pattern by ~NocturnalEquine on deviantART
Free Sewing Patterns - felt toy animals with easy downloadable sewing patterns
Create your own felt toy animal with the easy sewing patterns provided on this website. We provide downloadable sewing patterns for FREE! Easy stitching craft instructionsComplete with detailed step-by-step instructions, photos and printable sewing patterns, it's now easy and fun to make felt toys. Remember playing with stuffed toy animals when you were a child?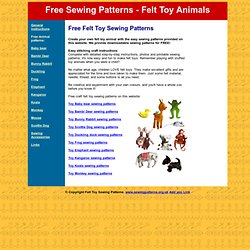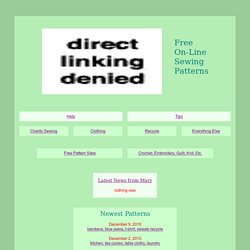 Tips Archived Patterns If the pattern is no longer available on the web, sometimes www.achive.org has them saved on their site. If so, I will link to them via archive. I mark those patterns as archived .
current craving: vintage lockers
Hello all you wonderful readers! I hope you guys had a relaxing weekend! I'm back, and ready to hit the ground running this Monday, bringing some fun inspiration to you this week. In the meantime, I wanted to start out with a super simple post… lockers. They've been all the rage for a while, but I think they definitely bring an interesting angle to lots of spaces, and in a versatile way.
Syd & Harper Recycled Style: Vintage Lockers
Sewing Patterns: Pattern Index
Vintage Sewing Patterns Retro 30s 40s 50s 60s 70s 80s Patterns Dress Gown Slip Retro Clothing Swing Rockabilly Mod Hippie Fashions Costumes - Search Results
For all of my fellow frugal crafters out there, I've collected a bunch of vintage or vintage-inspired free sewing, knitting and crochet patterns for you! I find new patterns all the time so this list will be updated constantly, so do check back! If you posted a free pattern to share that isn't listed here, please leave a link in a comment below. Also, check my tutorials page for other crafty things.
Cloud9 Fabrics | Home
Just so we're clear: I freaking love this dress. So far I've made it twice, and if I am ever in my sewing room while the sun is up, I will take a picture or two of the ones that I've completed. (I also have two more cut out and half-sewn.) Here is why this dress is near-perfect: 1. The collar is adorable.
New. Obsession. - A Dress A Day
MOMSPatterns features a HUGE selection of authentic vintage sewing patterns for men, women & children. Search easily by size, styles & era for 1940's Swing Dance Dresses, 1950's Rockabilly Full Skirted Gowns, 1960's Mod Carnaby Street Fashions, 1970's Hippie-Boho Hip Huggers & Bell Bottoms, Skirts & Fluttery Disco Blouses, 1980's New Wave Party Dresses, and 1990's Career Woman Power Suits, you name it! PLEASE NOTE: Although your purchase is coming to you from a non-smoking home with 2 very well behaved kittens, Vintage & Older Patterns have often lead a charmed & mysterious life before finding me! Pattern pieces may or may not have slight tears, be cut to size or altered, not be factory folded, or be incomplete (missing pieces will be noted).
Vintage 40s 50s 60s 70s Sewing Pattern Patterns Dress Gown Slip Retro Clothing Swing Rockabilly Mod Hippie Fashions Costumes - Shop for Vintage Sewing Patterns at MOMSPatterns!
vintage-sewing-patterns
penny carnival: sewing
Echo Vintage 1920's - 1930's Patterns
Men's Flat Cap / Gatsby Hat: Pattern DIY Tutorial | aboutGoodness.com
Free pattern: Kid-sized engineer's cap
Reversible Shoulder Bag Tutorial
4 year old skateboarder
Skate Clothes for Babies, Toddlers & Kids - Little Ruler.com®
She's Only Happy in the Sun
Beastie Boys - Gratitude
Elton -Tiny Dancer
Alkaline Trio - All On Black