Utilidades para Computadoras
Herramientas y recursos de internet. Utilizar las mejores herramientas de internet. Listado con casi todas las extensiones de archivos existentes. Captura de pantalla de la página completa como una imagen. This tool will help you capture a screenshot image of any public web page with a click.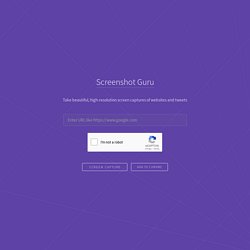 You don't need any software or browser extensions to capture the image of any web page. And it works with lengthy web pages too that extend below the fold. Generador de imágenes gif o animadas. Saber quién utilizó tu PC mientras no estaba.
Gestor Personal de archivos en la Nube. Compartir Archivos en linea.
---