Jeux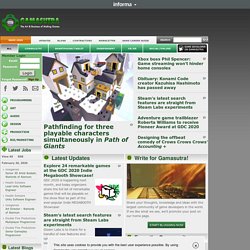 Titanfall: Why Respawn is punishing cheaters Respawn has begun to exclude Titanfall cheaters from the general player population. We speak with network engineer Jon Shiring and community manager Abbie Heppe to find out more. Blog: $5B in one year? Try one quarter, as game industry acquisitions heat up "Games M&A smashed a record >$5B in the three months to March 2014, after the prior full year record of $5.6B in 2013...
Minecraft est un jeu indépendant mélangeant construction et aventure, créé par Markus Persson et développé depuis janvier 2012 par une petite équipe au sein de Mojang. Il permet à ses joueurs de manipuler un monde en trois dimensions, composé entièrement de blocs à détruire, reposer et transformer. Jouable en solo ou en multijoueur, Minecraft permet d'explorer des cavernes sans fin, combattre divers ennemis, collecter des ressources et surtout bâtir des constructions immenses, parfois artistiques. Le jeu sur ordinateur est en version finale depuis le 18 novembre 2011, disponible aux joueurs pour 19,95 € (26.95$ CAD). Les modes solo et multijoueur peuvent être soit joués sur une application téléchargée, soit directement sur le navigateur web. Minecraft Classique est quant à lui disponible gratuitement.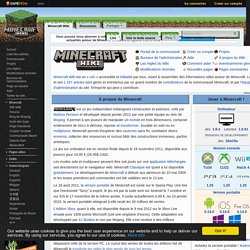 is a sandbox construction game, inspired by Infiniminer, Dwarf Fortress and Dungeon Keeper, created by Markus Persson, the founder of Mojang AB. The game involves players placing and breaking various types of blocks in a three-dimensional environment. The player takes on an avatar that can break and place blocks, forming fantastic structures, creations, and artwork, on multiplayer servers and singleplayer worlds across multiple game modes. Minecraft is available to all players for €19.95 (US$26.95, £17.95). Singleplayer and multiplayer, when purchased, can be played in the user's web browser, or using the downloadable launcher.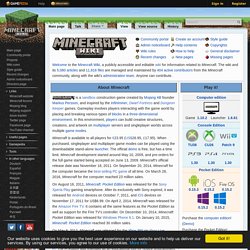 Description Vortex Wars is turn based strategy game, your goal is to eliminate all enemies by capturing their regions. You attack by choosing your region and then clicking on neighboring enemy region.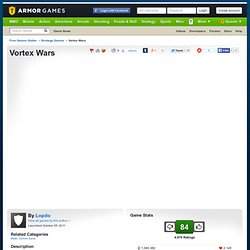 Vortex Wars | Strategy Games