Apples and/or Cinnamon
Snickers Caramel Apple Salad. Snickers are one of my absolute favorite Candy Bars!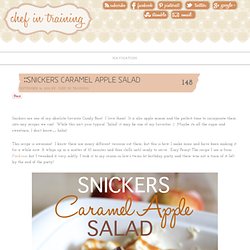 I love them! It is also apple season and the perfect time to incorporate them into any recipes we can! While this isn't your typical "Salad" it may be one of my favorites :) Maybe its all the sugar and sweetness, I don't know… haha! This recipe is awesome! I know there are many different versions out there, but this is how I make mine and have been making it for a while now. Apple cider doughnuts.
I have never met a variety of deep-fried dough I didn't like.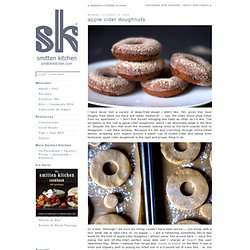 Yet, given that most doughy fried items out there are rather mediocre* — say, the chain donut shop steps from my apartment — I don't find myself indulging this habit as often as I'd like. The exception to this rule is apple cider doughnuts, which I am absolutely weak in the face of. Despite the fact that even the loveliest looking ones at the farm stands tend to disappoint, I eat them anyway. Cinnamon Swirl Bread. I made this bread late at night and poured a glaze on top to intensify it even more.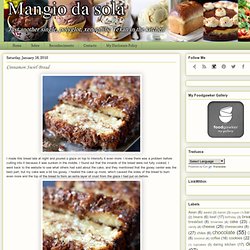 I knew there was a problem before cutting into it because it was sunken in the middle. I found out that the innards of the bread were not fully cooked. I went back to the website to see what others had said about the cake, and they mentioned that the gooey center was the best part, but my cake was a bit too gooey. Apple Pie Egg Rolls. Apple Pie Egg Rolls I saw one of the Food Network stars making apple chimichangas and thought I had to have some for myself.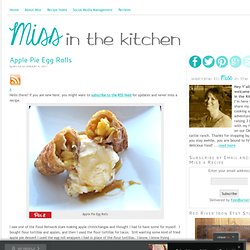 I bought flour tortillas and apples, and then I used the flour tortillas for tacos. Still wanting some kind of fried apple pie dessert I used the egg roll wrappers I had in place of the flour tortillas. I know, I know frying dessert just makes it more sinful, but these are totally delicious. Maybe they would be good baked, but not as good as fried. Crème brûlée french toasts.
Filed under the very large category of Things Pretty Much Every New Yorker Already Knew About But Was News To Me (don't bother trying to hail a cab after noon on a Friday, filthy stoops are irresistible for the chill-minded set, etc.), the City Bakery on 18th Street has some astoundingly good French toast on Sunday mornings.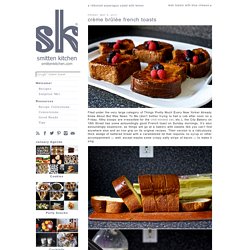 It's also astoundingly expensive, as things will go at a bakery with sweets like you can't find anywhere else and an iron grip on its original recipes. Their version is a ridiculously thick wedge of battered bread with a caramelized lid that requires no syrup or other accompaniment — well, except maybe some crispy salty strips of bacon — to make it sing.
Apple pancakes. Am I glad I spilled out my frying pan angst to you all yesterday or what?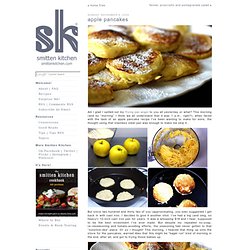 This morning (and by "morning" I think we all understand that it was 1 p.m., right?) , when faced with the task of an apple pancake recipe I've been wanting to make for eons, the thought using that stainless steel pan was enough to make me skip it. Cinnamon Bun Pie Pockets Recipe. This past Friday night was meant for celebrating.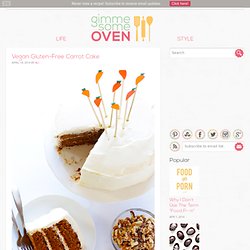 The weather was sit-out-on-the-deck-in-the-cool-evening-breeze perfection. Friends gathered from all around the city with chips and salsa and salads and popcorn and laughter and stories to share. The fire pit was aflame. The candles were lit on this (gluten free and vegan) carrot cake. Cinnamon Sugar Pull-Apart Bread. I'm sorry.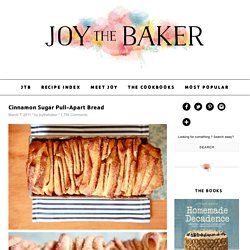 I know it's Monday morning and you probably came here for some pretty pictures of food that you could glance at, and then move on with your day… and here I go thrusting warm, soft cinnamon sugar bread in your face. It's not fair. I know it's not fair.
---