History
An encyclopaedia of Indian archaeology
More ebay – A Ghosh Books Book: An Encyclopaedia of Indian Archaeology - A Ghosh · Book: An Encyclopaedia of Indian Archaeology (A Ghosh). No matching items found ... artist.ebay.com/ A-Ghosh_books_W0QQcZ1023657318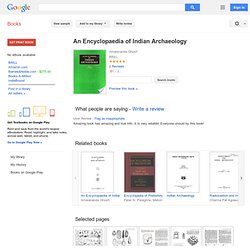 Egyptian Art
Characteristics of Egyptian Art The combination of geometric regularity and keen observation of nature is characteristic of all Egyptian arts. Everything had to be represented from its most characteristic angle. Egyptian crafts in all the statues, paintings, jewelry and pottery seem to fall into place as if they obeyed one law.
In the 8th century BC, large-scale ceramic vessels were produced as grave markers. As these were originally decorated with just repeated angular patterns, the style became known as "Geometric" art. As time went by, small portions of the vessel might be filled with simple stick-figure people, often attending a funeral. The first image here is a funeray amphora, almost 6 feet tall, with a detail in the second image.
Ancient Greek and Roman Art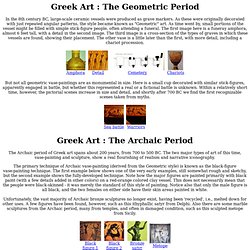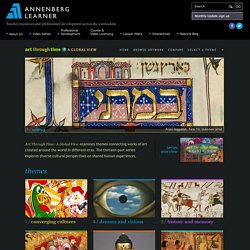 7 / Domestic Life Blocks, Strips, Strings, and Half-Squares Quilt, Mary Lee Bendolph, Gee's Bend Quilter's Collective <!-- If the user doesn't have javascript we'll just load the first image //--><a href="/courses/globalart/theme/overview/index.html"><img src="/courses/globalart/assets/artwork_800x300/work_086.jpg" alt="Converging Cultures" width="800" height="300"/></a><div id="home_images_description_background"></div><div id="home_images_description"><span class="theme_number">1 / </span><span class="theme_title yellow">Converging Cultures</span></div><div id="home_images_artwork"> ''Pelea de Gallos (Fight of the Roosters)'', Miguel Luciano </div> series overview Art Through Time: A Global View examines themes connecting works of art created around the world in different eras.
Art Historians' Guide to the Movies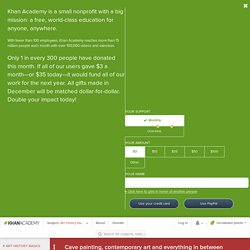 Are you an art historian, archaeologist or conservator? Look at a Trello Board of most needed content and "claim" an essay to write! If something important is missing, let us know. Contact us to be added to the Trello Board: beth[at }khanacademy.org or steven[at ]khanacademy.org.
During the three decades of Augustus Saint-Gaudens' remarkable career, he redirected and invigorated the course of American sculpture away from a worn-out Neoclassical aesthetic to a lively, naturalistic style, while also ardently promoting the nationalistic concept of an American school of sculpture flourishing on American shores. An artist of exceptional talent, Saint-Gaudens was born in Dublin, Ireland, son of a French father and an Irish mother. When he was an infant, his family... More »