Blogs
Mademoiselle C
Je suis parisienne et j'ai redécouvert le tricot sur le tard il y a quelques années. Mes grands-mères tricotent, ma mère coud et j'ai grandi en apprenant qu'un vêtement fait main est une pièce unique, de qualité incomparable. De ce savoir faire familial j'ai surtout gardé le goût pour les belles matières, les textures, les tombés et les drapés. Avec le tricot, j'ai découvert que l'on peut être très créatif avec un simple fil et deux bouts de bois !
Just Call Me Ruby
Ça y est, vous vous êtes décidé(e), vous allez vous jeter à l'eau et oser affronter la terrible chaussette (qui ne demande qu'à être tricotée par vous). Pour vous aider, j'ai puisé dans mes souvenirs de débuts en chaussette. Puisse cet article vous éviter certains déboires que j'ai pu connaître. T out d'abord, il n'y a pas « une » façon de tricoter des chaussettes, mais plusieurs.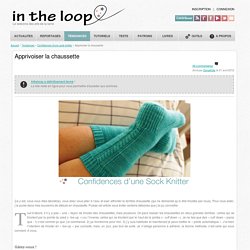 Apprivoiser la chaussette
It's no secret that Ayn Rand We are, according to many pundits, policymakers, observers, and critics from across the political spectrum, witnessing one such resurgence alongside new forms of right-wing activism and policymaking in the US. I'm an unapologetic leftist (certainly this is wildly shocking for my regular readers, yes?), but I don't think you have to be particularly radical to take issue with Ayn Rand's brand of philosophy, or the US federal and state policies that are increasingly inspired by its vision of the world. As one recent article summed it up: During her lifetime, Rand advocated "the virtue of selfishness," declared altruism to be "evil," opposed Medicare and all forms of government support for the middle-class and the poor, and condemned Christianity for advocating love and compassion for the less fortunate.
Flint Knits my name is cosette cornelius-bates, although most people call me cosy. i am a full time fiber artist living in pittsburgh, pa. i have a fine arts background that turned very easily into fiber art when given the chance. i like making things and find myself right at home with the colors and textures of all things woolie. i spin, knit, dye, recycle, embellish, design, and teach. i can often be found hawking my wares at yarn shows, at my studio (see below) and through the cosymakes shop . my independent patterns are available in my ravelry pattern shop , the rest can be found in my book Knit One, Embellish Too: Hats, Mittens, and Scarves with a Twist. i'm hoping that my future holds much more designing, teaching, knitting, dyeing, spinning, and recycling. thanks for visiting my blog and i hope you enjoy it. cheers, cosy cosymakes studio Located at 1406 S. Negley Ave in Pittsburgh, PA, cosymakes studio offers
about me « cosymakes
TrIScote Actualités
8-Femme - Page 4
few stitches a day...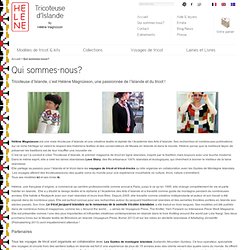 Qui sommes-nous? « Tricoteuse d'Islande
Tricoteuse d'Islande, c'est Hélène Magnússon, une passionnée de l'Islande et du tricot ! Hélène Magnússon est une vraie tricoteuse d'Islande et une créatrice textile et styliste de l'Académie des Arts d'Islande. Ses recherches et nombreuses publications sur ce riche héritage lui valent le respect des historiens textiles et des conservateurs de Musée en Islande et dans le monde. Hélène pense que la meilleure façon de préserver les traditions est de leur insuffler une nouvelle vie. C'est ce qui l'a conduit à créer Tricoteuse d'Islande, le premier magazine de tricot en ligne islandais, inspiré par la tradition mais toujours avec une touche moderne. Dans le même esprit, elle a créé les laines islandaises Love Story , des fils artisanaux 100% islandais et écologiques, qui cherchent à donner le meilleur de la laine islandaise.