Others
Peanut Butter Chocolate Chunk Bars - Amanda's Cookin' I needed chocolate today.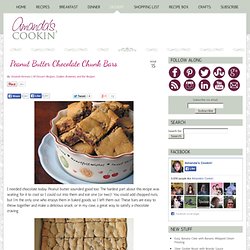 Peanut butter sounded good too. The hardest part about this recipe was waiting for it to cool so I could cut into them and eat one (or two)! You could add chopped nuts, but I'm the only one who enjoys them in baked goods, so I left them out. These bars are easy to throw together and make a delicious snack, or in my case, a great way to satisfy a chocolate craving. Brown Butter Baked Doughnuts. I'm really just thinking about the future.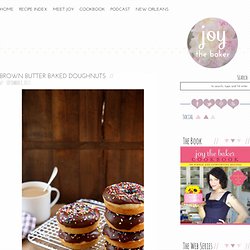 This weekend I bought a doughnut baking pan. I'd always thought baking doughnuts was for the birds… literally. For some reason, lately I've been daydreaming about future doughnuts: pumpkin with maple glaze, chocolate with peppermint frosting, and candy bar cupcakes for Halloween (because yes, I'm that crazy). It's just a bit too early to dive into Fall flavors, so I thought I'd break in ye olde doughnut baking pan with some browned butter. Pumpkin Pecan Scones with Brown Butter Glaze. I've always wanted to be the kind of girl that can get away with saying 'y'all'.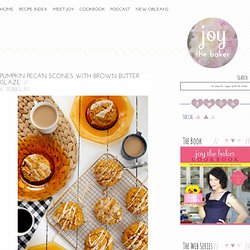 You know… like, 'I made Pumpkin Scones, y'all!'. Being from California, I feel like I can only reasonably get away with something like, 'Hey dudes, I made you these Pumpkin Scones! Cheddar Buttermilk Waffle BLTs. I still have daydreams of my Dance Like Nobody's Watching jaunt in the laundromat.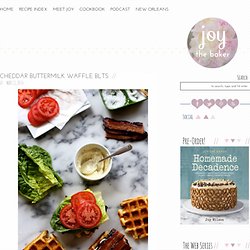 I haven't done it yet mostly because I'm scared and also… I'm not Beyonce. The daydreams are still there. Joy the Baker Baked Brown Butter and Pistachio Doughnuts - Joy the Baker. That first bite of doughnut… that very first taste is success, surrender, satisfaction, joy, and celebration all wrapped up into one bite.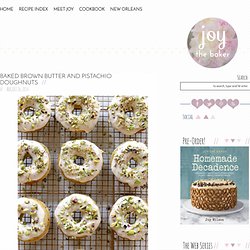 It's the anticipation that makes it so great! And the brown butter, obviously. These doughnuts feel like an extra special treat because they're topped (as all things should be, really…) with browned butter glaze and chopped salted pistachios. Peanut Butter Banana Sushi Recipe - A Sparkle of Genius. Plátanos maduros asados con queso - Recetas Latinas. In English Quien se resiste a estos deliciosos plátanos maduros asados al horno y rellenos con quesillo o queso?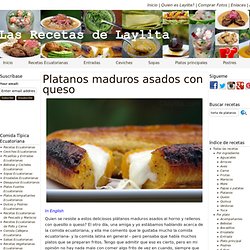 El otro día, una amiga y yo estábamos hablando acerca de la comida ecuatoriana, y ella me comento que le gustaba mucho la comida ecuatoriana- y la comida latina en general – pero pensaba que había muchos platos que se preparan fritos. Tengo que admitir que eso es cierto, pero en mi opinión no hay nada malo con comer algo frito de vez en cuando, siempre que se mantenga un equilibrio con otras comidas saludables. 33 Genius Three-Ingredient Recipes. 18 Microwave Snacks You Can Cook In A Mug.
Oh Nuts Blog: February 2011 Archives. Raspberry Rhubarb Crumble. This raspberry rhubarb crumble is so simple.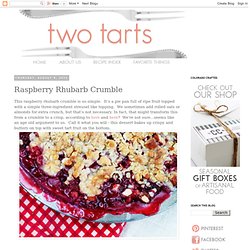 It's a pie pan full of ripe fruit topped with a simple three-ingredient streusel like topping. We sometimes add rolled oats or almonds for extra crunch, but that's not necessary. Individual tres leches cupcakes. Can you call these cupcakes if you eat them with a fork?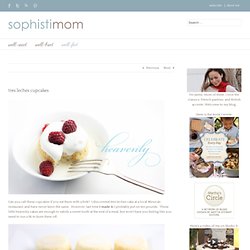 I discovered tres leches cake at a local Mexican restaurant, and have never been the same. However, last time I made it, I probably put on ten pounds. These little heavenly cakes are enough to satisfy a sweet tooth at the end of a meal, but won't have you feeling like you need to run a 5k to burn them off. How To Make Chocolate Cobbler. Growing up, we had this probably once a week.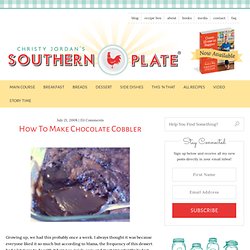 I always thought it was because everyone liked it so much but according to Mama, the frequency of this dessert had a lot more to do with it being so quick, easy, and most importantly: budget friendly. Generally, most folks have these ingredients on hand. It doesn't hurt that you don't even need an egg for it! Pop Up Pancakes. We love to eat breakfast for dinner, it's easy and I have all the ingredients.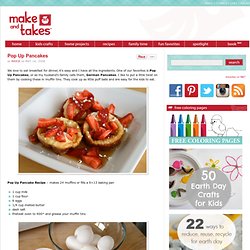 One of our favorites is Pop Up Pancakes, or as my husband's family calls them, German Pancakes. I like to put a little twist on them by cooking these in muffin tins. They cook up as little puff balls and are easy for the kids to eat. Cherry Clafoutis. Pear Pie Pop Tarts. "Positive, positive, positive!!" That's my favorite line from Knocked Up. Leslie Mann says it to Katherine-whatever-her-name-is when she's all bummed out and can't bring herself to get out of bed. I say it to Teri when she's being a brat. I also say it to myself, outloud…every Monday morning when I look at my gigantic to-do list. I have to un-bratify myself, you know? Japanese Sweet Potato Recipe Video by cookingwithdog. Serving size Calories 288 Calories from Fat 78 % Daily Value* Total Fat 9 g13.5% Biscotti. My mom and I were in the mood to bake yesterday. We considered every possible Christmas cookie recipe and couldn't decide on just one. After much deliberation, we decided to make something neither of us had ever tackled before, but had always wanted to try...
Biscotti! Apple Pie with Cheddar Crust — So Delicious. This is the sort of discovery that inspires me to host a dinner party. After just one bite, I began envisioning the scene: my guests' hands reaching to the center of the table; the plate piled high with steaming, half-mooned pastries slowly disappearing; the silence as first bites are taken. Just anticipating the reactions — "apple and cheddar?!" — makes me giddy. And giddy were we (my mom, my aunt and I) as we stood around the cutting board in my kitchen, tucking into one after another hand pie, analyzing the flaky cheddar crust, adoring the adorable shape, oohing and ahing over the whole package.
Strawberry Roulade « Cake. Simple Scones Recipe. Apple Raspberry Crumble. Dulce de Leche Empanadas. Biscoff Bites | Bluebonnets. Homemade pop tarts. Alfajores. Blueberry Crumble, Berry Crisp, Berry Crumble, Crumble Recipes. Nutella-Mallow Pillow Pockets. Baked Pumpkin Ice Cream Glazed Donuts. Parisian strawberry tartlets. Apple Pie Egg Rolls. Homemade: Wheat Thins. Dulce de Leche Blondies" Blueberry-Mint Ice Cream Sandwiches.
Cranberry Almond Coconut Macaroons. Cranberry, Orange, and Pistachio Biscotti. Cookies on Friday: Far Breton. Cream Puffs.
---