Others
33 Genius Three-Ingredient Recipes. 18 Microwave Snacks You Can Cook In A Mug. Oh Nuts Blog: February 2011 Archives. Raspberry Rhubarb Crumble. This raspberry rhubarb crumble is so simple.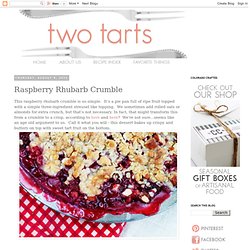 It's a pie pan full of ripe fruit topped with a simple three-ingredient streusel like topping. We sometimes add rolled oats or almonds for extra crunch, but that's not necessary. Individual tres leches cupcakes. Can you call these cupcakes if you eat them with a fork?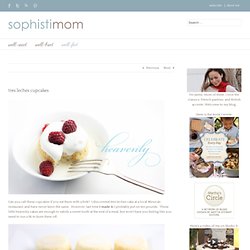 I discovered tres leches cake at a local Mexican restaurant, and have never been the same. However, last time I made it, I probably put on ten pounds. These little heavenly cakes are enough to satisfy a sweet tooth at the end of a meal, but won't have you feeling like you need to run a 5k to burn them off. How To Make Chocolate Cobbler. Growing up, we had this probably once a week.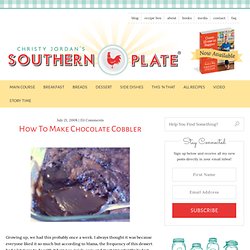 I always thought it was because everyone liked it so much but according to Mama, the frequency of this dessert had a lot more to do with it being so quick, easy, and most importantly: budget friendly. Generally, most folks have these ingredients on hand. It doesn't hurt that you don't even need an egg for it! Pop Up Pancakes. We love to eat breakfast for dinner, it's easy and I have all the ingredients.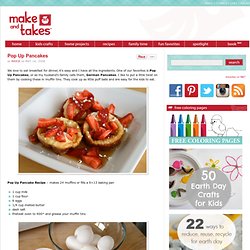 One of our favorites is Pop Up Pancakes, or as my husband's family calls them, German Pancakes. I like to put a little twist on them by cooking these in muffin tins. They cook up as little puff balls and are easy for the kids to eat. Cherry Clafoutis. Pear Pie Pop Tarts. "Positive, positive, positive!!"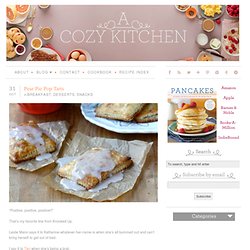 That's my favorite line from Knocked Up. Leslie Mann says it to Katherine-whatever-her-name-is when she's all bummed out and can't bring herself to get out of bed. I say it to Teri when she's being a brat. I also say it to myself, outloud…every Monday morning when I look at my gigantic to-do list. I have to un-bratify myself, you know? Japanese Sweet Potato Recipe Video by cookingwithdog. Serving size Calories 288 Calories from Fat 78 % Daily Value* Total Fat 9 g13.5%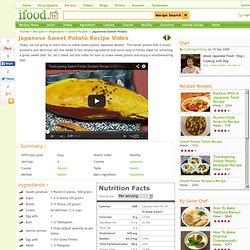 Biscotti. My mom and I were in the mood to bake yesterday.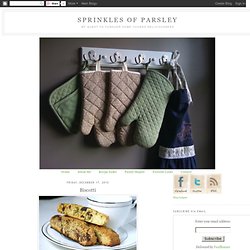 We considered every possible Christmas cookie recipe and couldn't decide on just one. After much deliberation, we decided to make something neither of us had ever tackled before, but had always wanted to try... Biscotti! Apple Pie with Cheddar Crust — So Delicious. This is the sort of discovery that inspires me to host a dinner party.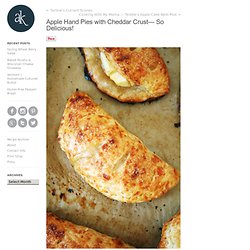 After just one bite, I began envisioning the scene: my guests' hands reaching to the center of the table; the plate piled high with steaming, half-mooned pastries slowly disappearing; the silence as first bites are taken. Just anticipating the reactions — "apple and cheddar?!" — makes me giddy. And giddy were we (my mom, my aunt and I) as we stood around the cutting board in my kitchen, tucking into one after another hand pie, analyzing the flaky cheddar crust, adoring the adorable shape, oohing and ahing over the whole package.
Strawberry Roulade « Cake. When I was a kid my Mom used to make wonderful sweet treats for me and my sister.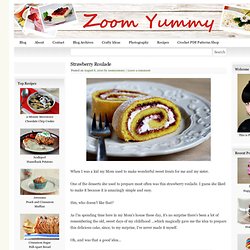 One of the desserts she used to prepare most often was this strawberry roulade. I guess she liked to make it because it is amazingly simple and easy. Hm, who doesn't like that? As I'm spending time here in my Mom's house these day, it's no surprise there's been a lot of remembering the old, sweet days of my childhood …which magically gave me the idea to prepare this delicious cake, since, to my surprise, I've never made it myself. Oh, and was that a good idea… Simple Scones Recipe. Scones are well-known and popular treat for accompanying a cup of tea or coffee.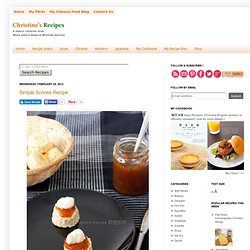 They are quick breads per se. All you have to do is to mix all the ingredients,then pop them in an oven for about 15 minutes. I like to have warm scones with a bit crusty outside, a bit soft inside, served with my favourite jam and cream. The original West England version uses clotted cream, yet I found whipped cream also does very well. Simple Scones Recipe (Printable recipe) By Christine's Recipes. Apple Raspberry Crumble. After having taken a course of antibiotics for flu a few weeks ago, I found that not only was the medication really good to help kill the bad bacteria, sadly, but also my appetite. I understand yoghurt provides probiotics, known as good, friendly bacteria that's beneficial for our digestive system. Too bad, I'm not quite into the blank and tangy taste of this dairy product. So, I headed over to make this apple raspberry crumble to entertain my taste bubs as well as boost my digestive health.
This apple raspberry crumble is pure enjoyment with a balanced sweet and sour taste, with chunks of lightly sweetened apples, blended with crisp crumbles. Dulce de Leche Empanadas. After an 11 1/2 hour flight, a 2 1/2 hour train ride, and a 5 minute jaunt in a taxi, we arrived at the door of our Tokyo apartment on Wednesday. It's been nearly 5 months since I've been here and it feels wonderful to be back.
Back in my own kitchen, my own bedroom, my own home. Granted, life is completely different now that I am 5 1/2 months pregnant. Rather than riding my bicycle to the grocery store, I have to take the bus or walk. Which in this heat is just about one of the most miserable tasks. Biscoff Bites | Bluebonnets. Roughly this time last year, I had some fun developing Pumpkin Spice Bites from Abby Johnson Dodge's original Nutella Brownie Bites recipe . If you haven't picked up Desserts 4 Today , really, what are you waiting for?
That little book packs a powerful punch. So many recipes with so few ingredients! Abby really is a dessert genius. A few weekends ago, my baby cousin, Alycia , came to stay with us. Homemade pop tarts. I never had a Pop-Tart until college. I realize that for some people this may cause a shocked reaction on par with my husband's the time I told him I've never watched Goonies before (or Jacob's, upon discovering the internet). Obviously I grew up under a rock, right? Thus, given my proximity to concrete-like materials you'd think I have been better prepared for the texture of the one I purchased from the vending machine in the basement of my freshman dorm (not at 4 a.m. or anything, either, nope, not this angel!). But I was not.
It was like particle board, but even particle board has a fresher aroma. Alfajores. Blueberry Crumble, Berry Crisp, Berry Crumble, Crumble Recipes. Nutella-Mallow Pillow Pockets. Baked Pumpkin Ice Cream Glazed Donuts. Parisian strawberry tartlets. Apple Pie Egg Rolls. Homemade: Wheat Thins. Dulce de Leche Blondies" Blueberry-Mint Ice Cream Sandwiches.
Cranberry Almond Coconut Macaroons. Cranberry, Orange, and Pistachio Biscotti. Cookies on Friday: Far Breton. Cream Puffs.
---