Photography Review Sites
14th January 2014: Olympus OMD EM1 review - complete! The OMD EM1 is the new flagship camera from Olympus. It joins the hugely popular OMD EM5 in the range, but is positioned higher, providing not just an upgrade path for EM5 owners, but also those who use the earlier E5 DSLR. Indeed the headline feature is much improved AF with older Four Thirds lenses, thanks to integrating phase-detect AF points on the sensor. The EM1 is dust and splash proof, but now also freeze-proof and inherits the built-in 5-axis stabilisation, tilting touch-screen, Wifi, 1/8000 shutter and focus peaking of the EP5.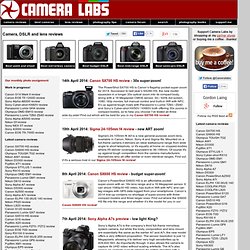 Fifteen years ago I created the Digital Camera Resource Page with the goal of helping regular people find the right camera for their needs. The site started off slow, but soon the camera market picked up, and things took off. At the peak of the digital camera revolution, three million people per month were visiting the DCRP. Later in the decade, things started to slow down dramatically. The economy wasn't doing well.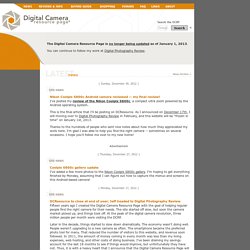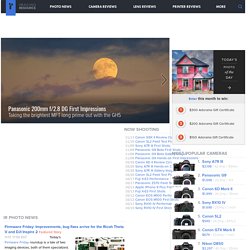 Sony A7 review: Is the best full-frame mirrorless camera also the most affordable? Featured Story Apr 18, 14:25 EDT The cat's out of the bag: When we published our A7R review last December, it was pretty obvious that its sibling, the Sony A7, would also be well-received. The two full-frame, fully-featured mirrorless cameras share so much, after all. Both cameras' high placement in our 2013 Camera of the Year awards served to reconfirm it. With that...
DigiCam Fotos - Digitalkamera News, Infos, Testfotos, Preisvergl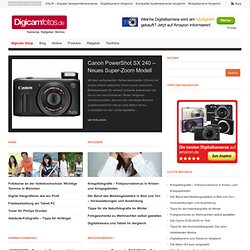 Canon PowerShot SX 240 – Neues Super-Zoom Modell Mit dem verbesserten Weitwinkelobjektiv (25mm) mit einem 20fach optischem Zoom sowie optischem Bildstabilisator, für wirklich brillante Aufnahmen mit bis zu vier verschiedenen Stufen längeren Verschlusszeiten, kommt man mit dieser Kamera unwahrscheinlich nah an jede Aktion heran. Unterstützt von der Leistungsstärke …
Steve'sDigicams recent reviews Sony α7 and α...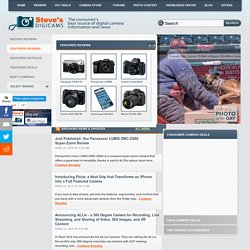 The Luminous Landscape Reviews Contents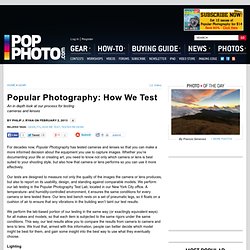 For decades now, Popular Photography has tested cameras and lenses so that you can make a more informed decision about the equipment you use to capture images. Whether you're documenting your life or creating art, you need to know not only which camera or lens is best suited to your shooting style, but also how that camera or lens performs so you can use it more effectively. Our tests are designed to measure not only the quality of the images the camera or lens produces, but also to report on its usability, design, and standing against comparable models. We perform our lab testing in the Popular Photography Test Lab, located in our New York City office. A temperature- and humidity-controlled environment, it ensures the same conditions for every camera or lens tested there.
Reviews | Photography - PopPhoto.com Offers Camera Reviews and E