Tools
5 Essential & Easy Social Media Metrics You Should Be Measuring Right Now. So your company is now officially participating in social media.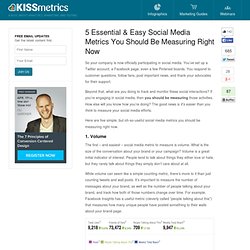 You've set up a Twitter account, a Facebook page, even a few Pinterest boards. You respond to customer questions, follow fans, post important news, and thank your advocates for their support. Beyond that, what are you doing to track and monitor these social interactions? If you're engaging in social media, then you should be measuring those activities. 6 Steps to The Ultimate Social Contact Center | Call Center Blog. Social customer service is a great new opportunity to drive satisfaction, loyalty, and differentiation.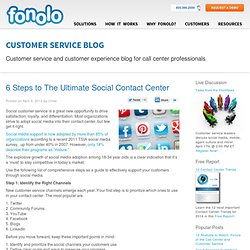 Most organizations strive to adopt social media into their contact center, but few get it right. Social media support is now adopted by more than 85% of organizations according to a recent 2011 TSIA social media survey, up from under 40% in 2007. However, only 14% describe their programs as "mature." The explosive growth of social media adoption among 18-34 year olds is a clear indication that it's a 'must' to stay competitive in today's market. Use the following list of comprehensive steps as a guide to effectively support your customers through social media. The 8 Google Analytics Features Every Site MUST Have Enabled. I'm going to lay it to you straight: Google Analytics doesn't offer any value out of the box.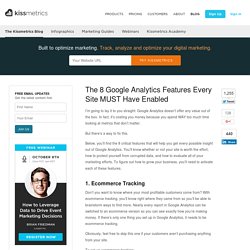 In fact, it's costing you money because you spend WAY too much time looking at metrics that don't matter. But there's a way to fix this. Below, you'll find the 8 critical features that will help you get every possible insight out of Google Analytics. You'll know whether or not your site is worth the effort, how to protect yourself from corrupted data, and how to evaluate all of your marketing efforts. How to Track Social Media Traffic With Google Analytics. You have a website and you are building traffic to it, but what do you know about your visitors?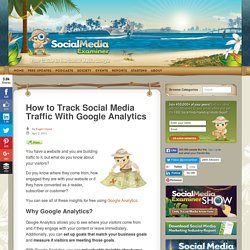 Do you know where they come from, how engaged they are with your website or if they have converted as a reader, subscriber or customer? You can see all of these insights for free using Google Analytics. Why Google Analytics? Free SEO Software Tool & Text Browser, Search Engine Optimization Tools - SEO Browser. AdWords : Générateur de mots clés. Search for new keyword or ad group ideas Keyword Planner is like a workshop for building new Search Network campaigns or expanding existing ones.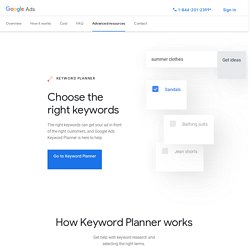 You can search for keyword and ad group ideas, get historical statistics, see how a list of keywords might perform, and even create a new keyword list by multiplying several lists of keywords together. A free AdWords tool, Keyword Planner can also help you choose competitive bids and budgets to use with your campaigns. Whether you're new to online advertising or an experienced pro, you can use Keyword Planner to lay the groundwork for a successful campaign. Learn more. Ping-o-Matic! How To Do Keyword Research - The Beginners Guide to SEO. It all begins with words typed into a search box.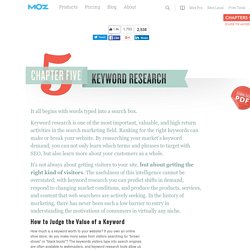 Keyword research is one of the most important, valuable, and high return activities in the search marketing field. Ranking for the "right" keywords can make or break your website. Through the detective work of puzzling out your market's keyword demand, you not only learn which terms and phrases to target with SEO, but also learn more about your customers as a whole.
It's not always about getting visitors to your site, but about getting the right kind of visitors. Jing, screenshot and screencast software from TechSmith. 20 Days to a High-Quality, Highly-Engaged Twitter Following (in just 20 minutes a day) I said it during the 2010 Successful Web App Metrics Event and I'll say it again…I'd rather have 100 highly engaged followers than 100,000 unengaged followers.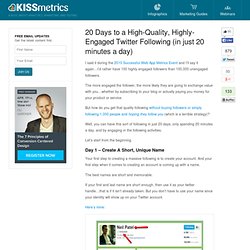 The more engaged the follower, the more likely they are going to exchange value with you…whether by subscribing to your blog or actually paying you money for your product or service. But how do you get that quality following without buying followers or simply following 1,000 people and hoping they follow you (which is a terrible strategy)? Well, you can have this sort of following in just 20 days, only spending 20 minutes a day, and by engaging in the following activities.
Let's start from the beginning. Want More Social Shares? Don't Ignore These 3 Things. The Golden Triad of Search Marketing - And How To Leverage It For Massive Success! John Doerr of KPCB calls it "SoLoMo".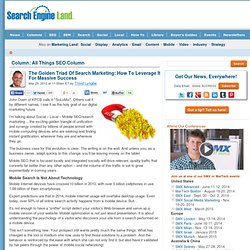 Others call it by different names. I see it as the holy grail of our digital marketing future. I'm talking about Social – Local – Mobile SEO/search marketing… the exciting golden triangle of unification and synergy created by billions of people armed with mobile computing devices who are seeking and finding instant gratification, wherever they are and wherever they go. The business case for this evolution is clear. The writing is on the wall. How to Automate Your Social Activities. Are you looking to simplify management of your social activities?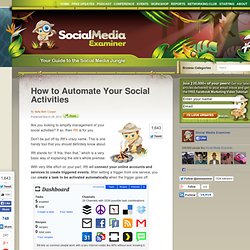 If so, then Ifttt is for you. Don't be put off by Ifttt's crazy name. This is one handy tool that you should definitely know about. R by example: mining Twitter for consumer attitudes towards airlines. Google Analytics Blog: What's happening on your site right now? The web is getting faster, and not just the speed of the pages, but also the speed of change.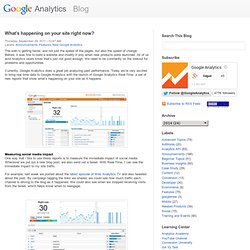 Before, it was fine to build a website and modify it only when new products were launched. All of us avid Analytics users know that's just not good enough. We need to be constantly on the lookout for problems and opportunities. ProjName_FBCover_inst.gif (1004×419) Social Media Marketing Actualités sur le groupe. Maybe it's because you're in marketing. Maybe it's because you're from the younger generation assumed to be digital natives.
Or maybe it's because you're already experimenting with social media and your success has been noticed. Real Time Search - Social Mention. TweetFeel Twitter Sentiment - Twitter Search with Feelings about anything popular. Twitter Sentiment - A Sentiment Analysis Tool. The Marketer's Guide to Tumblr. Unless you've been sleeping under a rock for the last year, you more than likely have heard about the micro-blogging platform called Tumblr. The reason you've heard of it is simply because of its staggering rise to stardom. By November 2011, Tumblr had grown by 900% in less than a year…passing up its competitor WordPress.
If you haven't by now, you need to be looking at how to effectively add Tumblr to your marketing efforts. What Makes Someone Leave A Website? The Infographic. Mind Mapping - Create Mind Maps online with MindMeister. Real Time Search - Social Mention.
---