Business Development
Slides: The Ultimate Guide to Customer Growth by Sean Johnson
How Quora, StackOverflow And Yelp Create Sustainable User Contribution Systems With A Simple Hack : Platform Thinking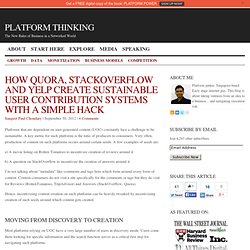 Platforms that are dependent on user-generated content (UGC) constantly face a challenge to be sustainable.
Facebook's Growth Hacker on how they put Facebook on the Path to 1 ...
Chamath Palihapitiya - how we put Facebook on the path to 1 billion users Five Questions Every Leader Should Ask About Organizational Design - John Beeson
by John Beeson | 11:00 AM January 23, 2014 A few years ago Dave Ulrich, a management thought leader from the University of Michigan, made a comment I found both insightful and profound: "Every leader needs to have a model of organization design." Typically a graphic depiction of the organizational components to be addressed in a redesign (for example, McKinsey's 7S model, which includes strategy, structure, systems, staff, skills, and so on), every consultant and his brother flogs an organization design model.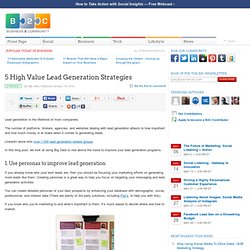 Lead generation is the lifeblood of most companies. The number of platforms, brokers, agencies, and websites dealing with lead generation attests to how important and how much money is at stake when it comes to generating leads. LinkedIn alone lists over 1,000 lead generation related groups.
5 High Value Lead Generation Strategies
http://blog.readytomanage.com/50-best-leadership-blogs-of-2013/?
3 Traits of Successful Crowdfunding Projects
For an increasing number of startups, crowdfunding is a way to get their companies off the ground when traditional avenues, such as a bank loan, are not an option.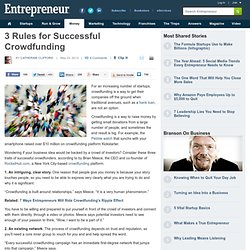 Business Incubation Toolkit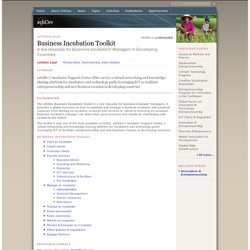 infoDev.org/ idisctoolkit Activity File A live resource for Business Incubators' Managers in Developing Countries
Three Steps to Generating Social Gravity - Mark Bonchek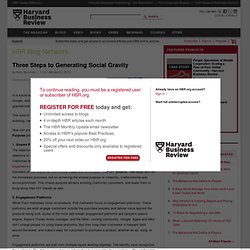 by Mark Bonchek | 11:07 AM April 2, 2012 In a social age, people don't like to be pushed. As described in my last post, top brands like Apple, Google, and Nike are using a new model based on pulling rather than pushing.
Innovation is all about coming up with new solutions to solve problems. But here's an interesting question: is the problem that you're trying to solve a puzzle or a mystery? The distinction was made by Gregory Treverton and highlighted by Malcolm Gladwell in a piece he wrote on Enron a few years ago.
Are You Solving a Puzzle or a Mystery?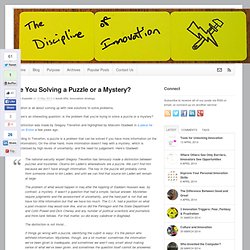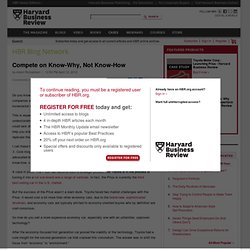 Compete on Know-Why, Not Know-How - Adam Richardson
by Adam Richardson | 12:50 PM April 12, 2012 Do you know why you make the products or offer the services you do?
Venture Capitalists on Twitter - VCs, Angels, Investors and more - Venture Maven
Online management systems
Keys To Flawless Execution of Your Business Strategy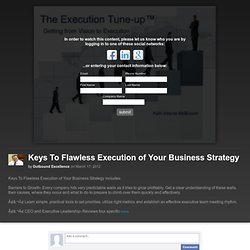 Keys To Flawless Execution of Your Business Strategy includes: Barriers to Growth- Every company hits very predictable walls as it tries to grow profitably.
1m1m – One Million by One Million