No sano
Make Your Own Ketchup, Mustard, Mayo &8230;. Why spend a lot of money this summer on condiments from the grocery store that are, in most cases, loaded with corn syrup, artificial flavors, and preservatives?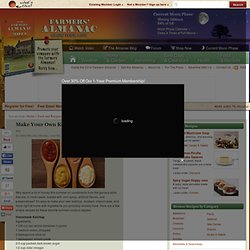 It's easy to make your own ketchup, mustard, mayonnaise, and more right at home with ingredients you probably already have. Here are a few simple recipes for these favorite summer cookout staples: Homemade Ketchup Ingredients: 1 (28-oz) can whole tomatoes in purée 1 medium onion, chopped 2 tablespoons olive oil 1 tablespoon tomato paste 2/3 cup packed dark brown sugar 1/2 cup cider vinegar 1/2 teaspoon salt. Homemade Oreos | Flour Child. Fact #1: I made Oreos.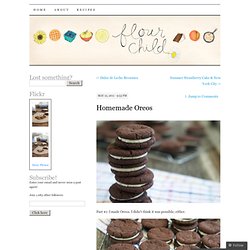 I didn't think it was possible, either. Fact #2: They tasted just like the real ones.. on crack. So much better. So. 100 Best Holiday Cookie Recipes | MyRecipes.com - StumbleUpon. Vanilla Latte Cookies | Sugarcrafter - StumbleUpon. November 3, 2011 | Print | E-mail | Filed under 12weeksofchristmascookies, cookie Now that Halloween is over (and we're halfway through the 12 Weeks of Christmas Cookies!)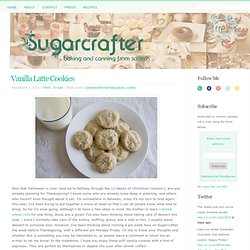 , are you already planning for Thanksgiving? I know some who are already knee-deep in planning, and others who haven't even thought about it yet. I'm somewhere in between; since it's my turn to host again this year, I've been trying to put together a menu at least so that I can let people know what else to bring. Icings Recipes at Bake Decorate Celebrate! - StumbleUpon. The Cinnamon Quill » Blog Archive » Necessity: Granola Bars (kind of) Even if you aren't eating oats (which sometimes includes me) granola bars don't have to be a forgotten pleasure of the past.
This bar is a fusion between a 'classic' chewy granola bar and KIND bars , which are undoubtedly my favorite gluten-free bars available. This recipe replicates KIND bars nicely if the ingredients aren't ground as finely as I've done here. Evil chef mom: cheese fritters with balsamic sun-dried tomato dipping sauce. Don't these look better than fried mozzarella sticks that you get at T.G.I.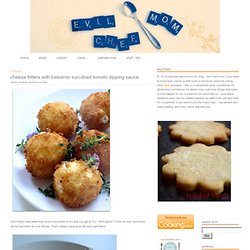 McFuglies? Come on they have fresh thyme sprinkled all over the top. That's called classing up the joint right there. And while I am writing about these make sure you use whole milk ricotta. Don't even think about using skim milk ricotta.
---