Movies
Home - Golden Globe Awards Official Website. BAFTA: Home of the British Academy of Film and Television Arts. Oscars.org | Academy of Motion Picture Arts and Sciences. Deutscher Filmpreis. The Deutscher Filmpreis (German Film Awards, colloquially known as the Bundesfilmpreis or as the Lola Award) is the highest German movie award.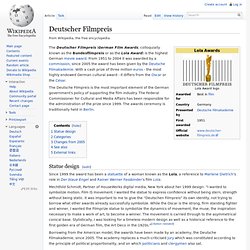 From 1951 to 2004 it was awarded by a commission, since 2005 the award has been given by the Deutsche Filmakademie. With a cash prize of three million euros - the most highly endowed German cultural award - it differs from the Oscar or the César. Deep Inside - A Study of 10,000 Porn Stars | Jon Millward - Blog. 'Without any mental deliberation, picture the average female porn star.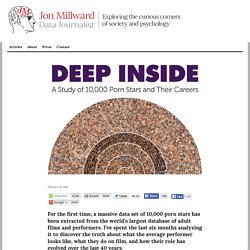 Just let her spring into your mind's eye looking however she looks. Can you see her?' Movie trailers. The Hunger Games. 25 Spectacular Movies You (Probably) Haven't Seen. Midnight in Paris Woody Allen's latest places starving writer Owen Wilson in Paris with his fiancée, Rachel McAdams.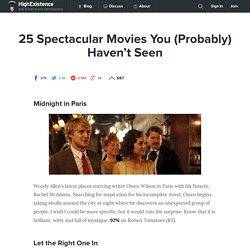 Searching for inspiration for his incomplete novel, Owen begins taking strolls around the city at night where he discovers an unexpected group of people. I wish I could be more specific, but it would ruin the surprise. Know that it is brilliant, witty and full of mystique. 92% on Rotten Tomatoes (RT). Good Horror Movies Every Fan Has To See. If you ask people on the street for some suggestions of a great horror movie, odds are you'd get a wide range of answers.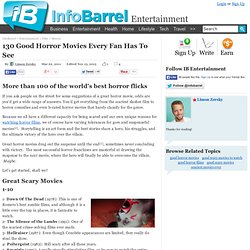 You'd get everything from the scariest slasher film to horror comedies and even b-rated horror movies that barely classify for the genre. Because we all have a different capacity for being scared and our own unique reasons for watching horror films, we of course have varying tolerances for gore and suspenseful movies[2].
Storytelling is an art form and the best stories share a hero, his struggles, and the ultimate victory of the hero over the villain. Great horror movies drag out the suspense until the end[1], sometimes never concluding with victory. The Ten Best Horror Movies You Haven't Seen | October means Halloween, and Halloween means horror, and horror?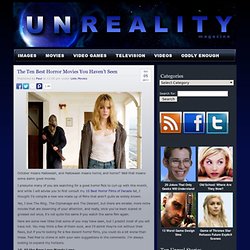 Well that means some damn good movies. I presume many of you are searching for a good horror flick to curl up with this month, and while I will advise you to first consult my 10 Best Horror Films of Decade list, I thought I'd compile a new one made up of films that aren't quite as widely known. Movies Infographics Collection.
Rotten Tomatoes. Metacritic. CINEMETRICS — film data visualization. Top 250. Mindfuck Movies. There's a certain brand of movie that I most enjoy.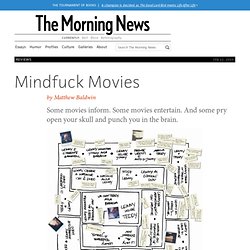 Some people call them "Puzzle Movies." Others call them "Brain Burners." Each has, at some point or another, been referred to as "that flick I watched while I was baked out of my mind." But the phrase I find myself employing, when casting around for a succinct term for the entire genre, is "Mindfuck Movies." Movies | Movie Trailers | Reviews. Metacritic - Movie Reviews, TV Reviews, Game Reviews, and Music Reviews. The Internet Movie Database (IMDb) Scream & Yell - Resenha Waking Life - por Angélica Bito. Waking Lifepor Angélica Bito Se você é daqueles que ainda encara animações como produções infantis e, portanto, facilmente digeríveis, assista a Waking Life e conclua que essa premissa está incorreta.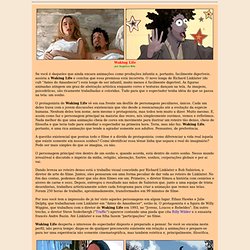 O novo longa de Richard Linklater (do cult "Antes do Amanhecer") está longe de ser infantil, muito menos é facilmente digerível. The Official Tim Burton Website. 10 Certified Fresh Psychological Thrillers.
---