Learning tools
Remixando brinquedos: Free Universal Construction Kit - Daniela Kutschat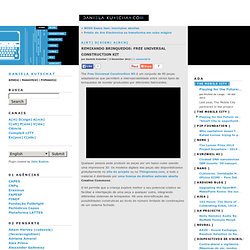 The Free Universal Construction Kit é um conjunto de 80 peças adaptadoras que permitem a interoperabilidade entre vários tipos de brinquedos de montar produzidos por diferentes fabricantes. Qualquer pessoa pode produzir as peças por um baixo custo usando uma impressora 3D. Os modelos digitais das peças são disponibilizados gratuitamente no site do projeto ou no Thingiverse.com, e todo o material é distribuido por uma licença de direitos autorais aberta Creative Commons. O kit permite que a criança explore melhor o seu potencial criativo ao facilitar a interligação de uma peça a qualquer outra, integrando diferentes sistemas de brinquedos. Há uma diversificação das possibilidades construtivas ao invés do número limitado de combinações de um sistema fechado.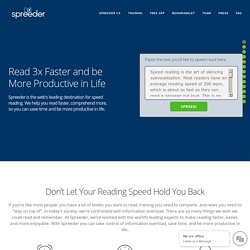 Spreeder is a free service provided by 7-Speed-ReadingTM. If you like this site, please have a look at our powerful 7 Speed Reading Software. Spreeder.com is a free online speed reading software designed to improve your reading speed and comprehension. Spreeding 1 word @ 300 wpm
Estude Online Grátis- ExamTime Brasil | Transforme sua maneira de aprender!
Op-Ed Contributor - Scientifically Tested Tests
Online flashcards are a great way to study! Cram is your number one online educational resource. We have a wide selection of flashcards for you to study, memorize, test yourself on, and more. Learn a foreign language, practice your multiplication table or prepare for your MCAT by memorizing every bone in the body. Whatever it is you want to learn, Cram has you covered.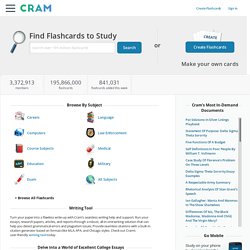 Information graphics (or infographics) are graphical depictions of data and information. By presenting information in a compact and creative approach, infographics are able to quickly convey knowledge and engage its viewers. In this collection, you'll find forty beautiful and educational infographics, displaying the uncommon spectacle of "art meets science". 1. Coffee Drinks Illustrated The proportion of ingredients for popular coffee drinks and their pronunciation keys.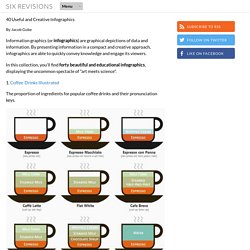 APRENDIZAGENS 2.0
post written by: Marc Chernoff Email All education is self-education. Period.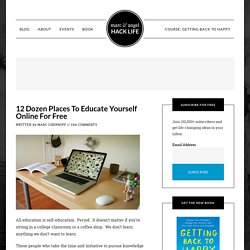 Welcome to Flashcard Machine — a free service for creating web-based study flashcards that can be shared with others. With over 95.3 million flash cards created to-date, Flashcard Machine is your premier online study tool. Get started by registering here. Students — Create flash cards to study for your next exam. Share them with your classmates and friends. Teachers — Create flash cards for your students.