Tool - Application
Calculer la portée et l'efficacité de vos tweets avec Tweetreach. On a parfois du mal à voir la portée de ses tweets.
Une fois publiés, ils vivent leur vie loin de vous. Mais qui exactement y a accès ? On le sait, ce n'est pas forcément la puissance du premier émetteur (vous) qui va guider ces messages vers le succès. Cela peut bien sûr aider, mais la pénétration d'un tweet dépend fortement de ceux qui vont le relayer. 50 Brilliant Apps to Enhance Your Twitter Experience.
Without a doubt, Twitter is one of the best innovations of the century.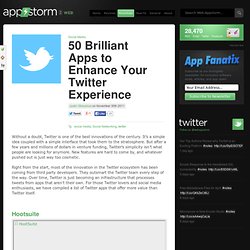 It's a simple idea coupled with a simple interface that took them to the stratosphere. But after a few years and millions of dollars in venture funding, Twitter's simplicity isn't what people are looking for anymore. New features are hard to come by, and whatever pushed out is just way too cosmetic. Right from the start, most of the innovation in the Twitter ecosystem has been coming from third party developers. Acheter Followers :: Startup 2.0 Pour Acheter Des Followers Twitter. Top 5 Tools to Better Time Your Tweets. Leo Widrich is the co-founder of Buffer, a smarter way to publish tweets and Facebook posts.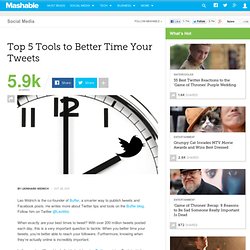 He writes more about Twitter tips and tools on the Buffer blog. Follow him on Twitter @LeoWid. When exactly are your best times to tweet? The Archivist By Mix Online: Error. 10 New Twitter Tools That Will Get You Tweeting. Whether you're new to Twitter or an experienced user, Twitter tools make everything easier.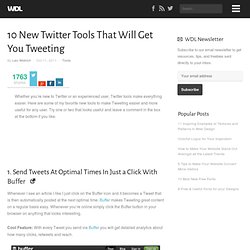 Here are some of my favorite new tools to make Tweeting easier and more useful for any user. Try one or two that looks useful and leave a comment in the box at the bottom if you like. 1. Send Tweets At Optimal Times In Just a Click With Buffer Whenever I see an article I like I just click on the Buffer icon and it becomes a Tweet that is then automatically posted at the next optimal time. TwitDo is a minimalist new web app that uses Twitter to create your to do list.
Life has this tendency to get pretty hectic, and I often catch myself posting memos to Twitter with little to-do's and notes-to-self just to save time.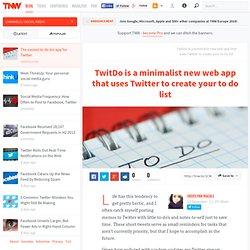 These short tweets serve as small reminders for tasks that aren't currently priority, but that I hope to accomplish in the future. Given how polluted with random updates my Twitter stream tends to look by the end of the day however, these helpful prompts usually serve as nothing more than a brief blip on my radar before vanishing into the black hole that is the Twitterverse. 50 Awesome Twitter Tools + One Follower Per Minute Method | Blogging With Success. Note: This is a live post.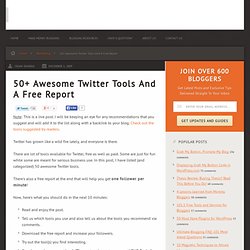 I will be keeping an eye for any recommendations that you suggest and will add it to the list along with a backlink to your blog. Check out the tools suggested by readers. Twitter has grown like a wild fire lately, and everyone is there. There are lot of tools available for Twitter, free as well as paid. Some are just for fun while some are meant for serious business use. Top Ten Favorite Social Media Tools For Daily Use. There are many online tools I use every single day to manage my social media marketing effectiveness.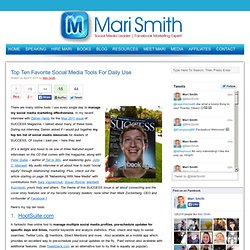 In my recent interview with Darren Hardy for the May 2011 issue of SUCCESS Magazine, I talked about many of these tools. During our interview, Darren asked if I would put together my top ten list of social media resources for readers of SUCCESS. Of course I said yes – here they are! (It's a delight and honor to be one of three featured expert interviews on the CD that comes with the magazine, along with Peter Guber – author of Tell to Win, and leadership guru, John C. Maxwell. The Archivist By Mix Online: bookandgolf's Archives. Twitter Analytics. When to Tweet: 7 Timing Tools for Success | oneforty. The Archivist , une PEPITE pour Twitter.
Cet article a été publié il y a 3 ans 4 mois 11 jours, il est possible qu'il ne soit plus à jour.
Les informations proposées sont donc peut-être expirées. Aujourd'hui je vais vous présenter une perle, un outil indispensable pour Twitter. 10 Twitter Tools To Save More Time. This is a guest post by Leo Widrich – Co-Founder of Buffer, a Twitter App to tweet more consistently without annoying your followers.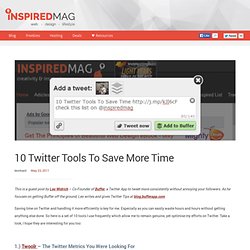 As he focuses on getting Buffer off the ground, Leo writes and gives Twitter Tips at blog.bufferapp.com Saving time on Twitter and handling it more efficiently is key for me. Especially as you can easily waste hours and hours without getting anything else done. So here is a set of 10 tools I use frequently which allow me to remain genuine, yet optimise my efforts on Twitter. Les 40 meilleures applications Twitter. Depuis ses débuts, Twitter attire les créateurs d'applications.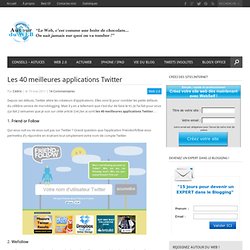 Elles sont là pour combler les petits défauts du célèbre service de microblogging. Mais il y en a tellement que c'est dur de faire le tri. Je l'ai fait pour vous (ça fait 2 semaines que je suis sur cette article !) Et j'en ai sorti les 40 meilleures applications Twitter… 9 Applications Twitter Pour Enrichir Votre Expérience Sur Twitter. Au fur et à mesure que la plateforme de micro-blogging gagne en popularité, de nouvelles applications Twitter voient le jour et vous permettent ainsi d'optimiser votre utilisation de ce service.
Aujourd'hui, j'aimerais vous présenter 9 applications Twitter – nouvelles et moins – qui remplissent l'un des objectifs suivants : améliorer votre productivité, établir des statistiques, augmenter votre nombre d'abonnés, enrichir votre expérience Twitter. 1. Tweet Degree : Ajouter des personnes pertinentes à votre réseau Tweet Degree vous recommande des personnes pertinentes avec lesquelles vous pourriez vous connecter en fonction d'un compte que vous indiquez.
SocialBro - Explore your Twitter community.
---