ME
Vincentbouton : #StatNut #Me #PersonalBranding... Photo by vincentbouton. Slavery Footprint - Results. Dear , As a supporter of your business, I wanted to let you know I've recently become aware of an issue that affects us both: modern-day slavery.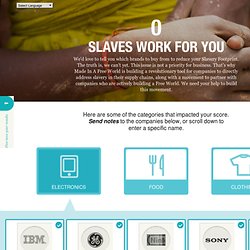 There are over 27 million people enslaved today, many of whom make the things we use and buy. This issue is quickly becoming a priority for millions of consumers world wide. I'd like to know how much your company has investigated and mitigated the potential exposure to forced labor in your supply management systems. Do you have a robust code of conduct that is current with recent forced labor data and prevention recommendations? De la créativité dans le recrutement via Twitter. 5 powerful apps that every Mac user should have - TNW Apps. When you use an operating system for several years, you develop a set of practices that enable you to work fast and be productive with it.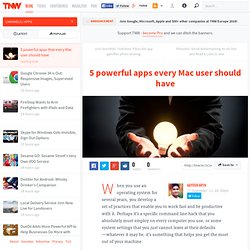 Perhaps it's a specific command line hack that you absolutely must employ on every computer you use, or some system settings that you just cannot leave at their defaults—whatever it may be, it's something that helps you get the most out of your machine. Here, we bring to you five third-party applications for Mac OS X that we think you absolutely must have installed, and customised to your preferences, to comfortably use any Mac.
Un tiers des "multiconnectés" passe quatre heures par jour en ligne. Les adeptes de la muli-connexion à Internet, ou "everynautes", représentent maintenant le tiers des internautes, et passent en moyenne plus de quatre heures connectés à la Toile chaque jour, selon une étude réalisée par l'institut CSA en partenariat avec iligo.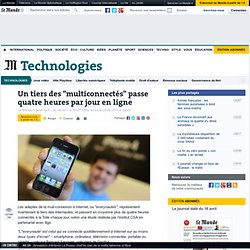 "L''everynaute' est celui qui se connecte quotidiennement à Internet sur au moins deux types d'écran" – smartphone, ordinateur, télévision connectée, portable ou tablette – précise Bernard Sananes, président de l'institut. Cette nouvelle catégorie d'individus multiconnectés "représentent déjà un tiers des internautes (30 %) et leur temps moyen de connexion sur Internet est de quatre heures douze minutes par jour", ajoute-t-il. Packrati.us = Twitter + Delicious. Bouton vincent - Vidéos - PhotoFinish. Best sellers | my-art. Login » Socialmate-Connect with your friends - The place for everything you like. Vincent Bouton. Formerly Unvarnished) - Community-contributed reviews for business professionals. Find passive candidates where they are active online, based on their skills, interests and actions.
Watch how it works in 60splay No more dropped balls when you get started with TalentBin's candidate pipeline management and recruiting team collaboration tools. Find and invite friends: Invite people. Create. Create. Plaxo. Vincent Bouton (vincentbouton.
Home | Trunk.ly: Never forget a link. Profile - LikeOurselves. Profile page for vincentbouton. Memolane. Home | Trunk.ly: Never forget a link. Twitter Backup | Tweetstream. Twitter Backup | Tweetstream.
Formulists / Home. Your Twaily News by You & Vincent Bouton.
---