Info International Affairs 2
Mylonas, Harris. 2013.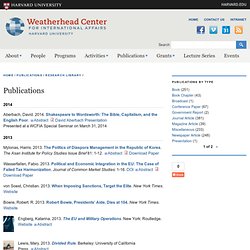 Weatherhead Center Working Paper Series | The Weatherhead Center
National & World Affairs | Harvard Gazette Online
Documents of Diplomatic History Thutmose III: The Battle of Megiddo Ramses II: The Battle of Kadesh, c.1299 BC SUN TZU ON THE ART OF WAR, Translated from the Chinese with Introduction and Critical Notes BY LIONEL GILES, M.A., Assistant in the Department of Oriental Printed Books and MSS. in the British Museum, First Published in 1910 Cyrus the Great, 580-529 B.C. Ancient Mesopotamia, The Battle of Marathon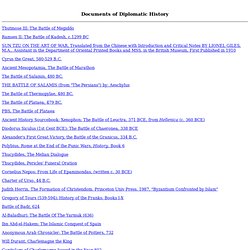 Documents Related to the History of International Relations, pri
Documents of World War I "Instances of Use of United States Forces Abroad, 1798 - 1993," by Ellen C. Collier, Specialist in U.S. Foreign Policy, Foreign Affairs and National Defense Division, Washington DC: Congressional Research Service -- Library of Congress -- October 7, 1993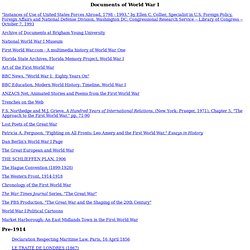 Opalc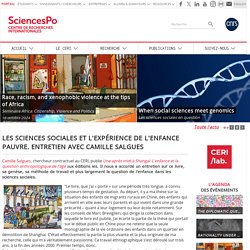 International conference co-organized by the CERI-Sciences Po, Paris, France and the Association pour le Centre Michel Foucault, Paris, France, with the support of IRI/PUC-Rio, Brazil, le Centre d'études sur les conflits, Paris, France, et le Centre des Amériques de Sciences Po, Paris, France MONDAY, JANUARY 13th 09h15-09h30 Welcoming address and introductionDidier Bigo, CERI-Sciences Po, Paris, France; Philippe Bonditti, IRI/PUC-Rio, Brazil; Frédéric Gros, Université Paris-Est Créteil, France 09h30-12h30 Session 1INTERNATIONAL? IR and Security in light of Genealogy and Governmentality Chair: Philippe Bonditti, IRI/PUC-Rio, Brazil
American Foreign Policy Council - Home
تنبيه سياسي ديفيد بولوك تنازل "حزب النهضة" الإسلامي طواعية عن السلطة السياسية في تونس دون عنف جماهيري أو تدخل عسكري من أي نوع. ومنذ فوزه بما يقرب من 40 بالمائة من الأصوات في الانتخابات التي جرت في تشرين الأول/أكتوبر 2011، تعرض الحزب لضغوط شعبية للتنحي والسماح بإجراء انتخابات جديدة في ظل حكومة "تكنوقراطية" غير حزبية.
The Washington Institute for Near East Policy - Insight and Anal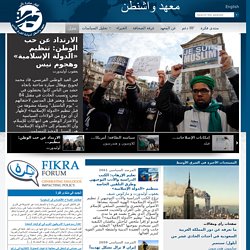 Home - NCAFP :: National Committee on American Foreign Policy
Vincent Ferraro, Resources for the Study of International Relati
The Ruth C. Lawson Professor of International Politics Mount Holyoke College AB, Dartmouth College; MIA, Columbia University; PhD, Massachusetts Institute of Technology 103 Skinner Hall, Mount Holyoke College South Hadley, MA 01075 U.S.A. (413) 538-2669 FAX: (413) 538-2512vferraro@mtholyoke.edu Support for this page came from the Hewlett International Studies Grant to Mount Holyoke College. I wish to thank the William and Flora Hewlett Foundation for their generous assistance.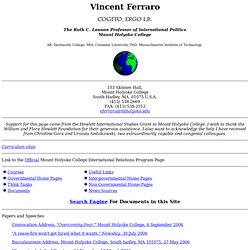 SciDev.Net
News: F&P Newspapers and Magazines From and About Russia/NIS
http://www.tradeagenda.com/index2.html
Slavic Review
Transitions Online
Abidjan .net | Actualités
IP-GLOBAL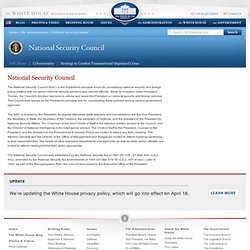 National Security Council
The National Security Council (NSC) is the President's principal forum for considering national security and foreign policy matters with his senior national security advisors and cabinet officials. Since its inception under President Truman, the Council's function has been to advise and assist the President on national security and foreign policies. The Council also serves as the President's principal arm for coordinating these policies among various government agencies. The NSC is chaired by the President. Its regular attendees (both statutory and non-statutory) are the Vice President, the Secretary of State, the Secretary of the Treasury, the Secretary of Defense, and the Assistant to the President for National Security Affairs. The Chairman of the Joint Chiefs of Staff is the statutory military advisor to the Council, and the Director of National Intelligence is the intelligence advisor.
Saban Center for Middle East Policy
Welcome to Yale Center for the Study of Globalization