Info International Affairs 2
Does the Sun Shine Really Shine on the Financial Markets? by Fruehwirth, Manfred; Sögner, Leopold After a series of papers has provided—partially ambiguous—results on the impact of weather variables on stock (index) returns, this article studies the impact of weather on a wide variety of... Publication Type: WCFIA Working Paper Published Date: June 2012 More
Weatherhead Center Working Paper Series | The Weatherhead Center
National & World Affairs | Harvard Gazette Online
Documents of Diplomatic History Thutmose III: The Battle of Megiddo Ramses II: The Battle of Kadesh, c.1299 BC SUN TZU ON THE ART OF WAR, Translated from the Chinese with Introduction and Critical Notes BY LIONEL GILES, M.A., Assistant in the Department of Oriental Printed Books and MSS. in the British Museum, First Published in 1910 Cyrus the Great, 580-529 B.C. Ancient Mesopotamia, The Battle of Marathon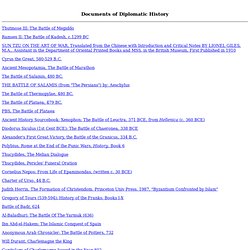 Documents Related to the History of International Relations, pri
Documents of World War I "Instances of Use of United States Forces Abroad, 1798 - 1993," by Ellen C. Collier, Specialist in U.S. Foreign Policy, Foreign Affairs and National Defense Division, Washington DC: Congressional Research Service -- Library of Congress -- October 7, 1993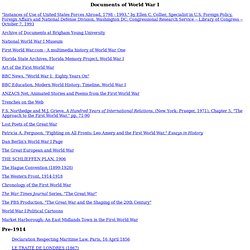 Opalc
Center for Peace and Human Security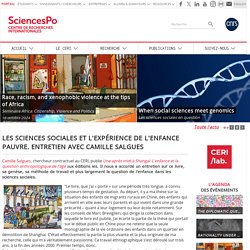 Une analyse des retombées de la crise syrienne dans la République d'Asie centrale par Bayram Balci Secouée depuis deux ans par des affrontements meurtriers, la Syrie traverse une crise plus violente que les autres révoltes populaires du printemps arabe et qui, selon toute probabilité, s'inscrit dans la longue durée. Le pays est dans une impasse d'autant plus grande que chaque évolution entraîne des conséquences politiques et confessionnelles en son sein comme dans les pays voisins et que tout débordement menace le fragile statu quo régional. Pour en savoir plus
American Foreign Policy Council - Home
المرصد السياسي 2042 مايكل نايتس انتقل الصراع في سوريا في بداية الشهر الحالي إلى العراق بطرق غير مسبوقة. فقد أصبح معبر اليعربية الحدودي مسرحاً للقتال بالأسلحة الثقيلة، مما أجبر قوات الأمن العراقية إلى فتح النيران على ثوار "الجيش السوري الحر".
The Washington Institute for Near East Policy - Insight and Anal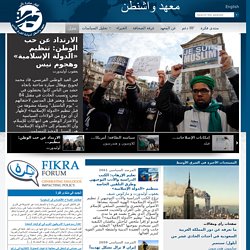 Home - NCAFP :: National Committee on American Foreign Policy
FP Article Index
Vincent Ferraro, Resources for the Study of International Relati
Institute for International and Regional Studies \\ Publications
LCPS
SciDev.Net
F&P Newspapers and Magazines From and About Russia/NIS
http://www.tradeagenda.com/index2.html
Slavic Review
Transitions Online
Abidjan .net | Actualités
IP-GLOBAL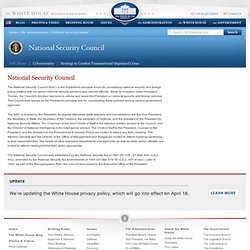 National Security Council
The National Security Council (NSC) is the President's principal forum for considering national security and foreign policy matters with his senior national security advisors and cabinet officials. Since its inception under President Truman, the Council's function has been to advise and assist the President on national security and foreign policies. The Council also serves as the President's principal arm for coordinating these policies among various government agencies. The NSC is chaired by the President. Its regular attendees (both statutory and non-statutory) are the Vice President, the Secretary of State, the Secretary of the Treasury, the Secretary of Defense, and the Assistant to the President for National Security Affairs. The Chairman of the Joint Chiefs of Staff is the statutory military advisor to the Council, and the Director of National Intelligence is the intelligence advisor.
Saban Center for Middle East Policy
Stimson
Welcome to Yale Center for the Study of Globalization