Info International Affairs 2
Weatherhead Center Working Paper Series | The Weatherhead Center. Mylonas, Harris. 2013.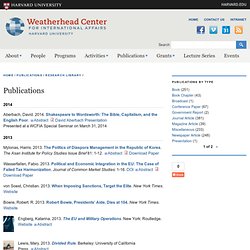 The Politics of Diaspora Management in the Republic of Korea. The Asan Institute for Policy Studies Issue Brief 81: 1-12.Abstract The Republic of Korea has an elaborate diaspora management policy since the 1990s. National & World Affairs | Harvard Gazette Online. Home-Page. Documents Related to the History of International Relations, pri. Documents of Diplomatic History Thutmose III: The Battle of Megiddo Ramses II: The Battle of Kadesh, c.1299 BC SUN TZU ON THE ART OF WAR, Translated from the Chinese with Introduction and Critical Notes BY LIONEL GILES, M.A., Assistant in the Department of Oriental Printed Books and MSS. in the British Museum, First Published in 1910 Cyrus the Great, 580-529 B.C.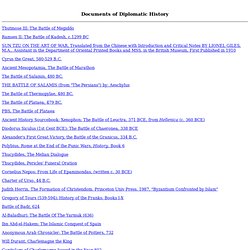 Ancient Mesopotamia, The Battle of Marathon. Documents Relating to World War I. Documents of World War I "Instances of Use of United States Forces Abroad, 1798 - 1993," by Ellen C.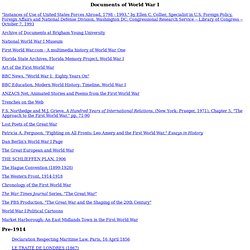 Collier, Specialist in U.S. Foreign Policy, Foreign Affairs and National Defense Division, Washington DC: Congressional Research Service -- Library of Congress -- October 7, 1993. Online Encyclopedia of Mass Violence. Présentation. Colloque en partenariat et avec le soutien de : CERI-Sciences PoEcole doctorale de Sciences PoEcole des Affaires internationales (PSIA) de Sciences PoInstitut Français d'Afrique du Sud (IFAS) à Johannesburg et en collaboration avec l'émission "Géopolitique, le débat" (RFI) 10h30-11h00 Allocution d'ouverture : Son Excellence Dolana Msimang, ambassadeure de la République d'Afrique du Sud en FranceAlain Dieckhoff, directeur du CERI 11h00-12h30 Panel I – Revisiter la transition démocratique : retour sur les élections de 1994.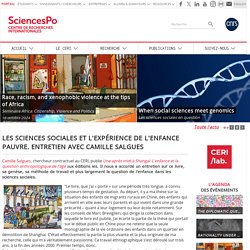 Questions Critiques - géopolitique. American Foreign Policy Council - Home. Daniel Pipes. The Washington Institute for Near East Policy - Insight and Anal. المرصد السياسي 2229 جلعاد وانيج في السادس والعشرين من آذار/مارس، وبعد شهور من التكهنات أعلن المشير عبد الفتاح السيسي استقالته من منصب وزير الدفاع المصري وترشحه للرئاسة.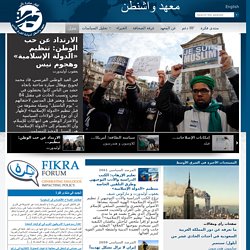 وتم ترقية صدقي صبحي، رئيس الأركان السابق تحت قيادة السيسي، إلى رتبة فريق أول - ورُشح لتولي منصب وزير الدفاع الجديد، في حين أصبح محود حجازي الرئيس الجديد لأركان حرب القوات المسلحة. Home - NCAFP :: National Committee on American Foreign Policy. The Trilateral Commission. Vincent Ferraro, Resources for the Study of International Relati. The Ruth C.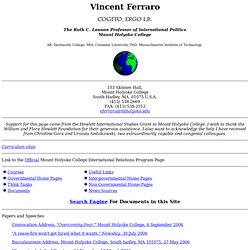 Lawson Professor of International Politics Mount Holyoke College AB, Dartmouth College; MIA, Columbia University; PhD, Massachusetts Institute of Technology 103 Skinner Hall, Mount Holyoke College South Hadley, MA 01075 U.S.A. (413) 538-2669 FAX: (413) 538-2512vferraro@mtholyoke.edu Support for this page came from the Hewlett International Studies Grant to Mount Holyoke College. I wish to thank the William and Flora Hewlett Foundation for their generous assistance. Perspective Monde. SciDev.Net. Multimedia: On the front line against drug-resistant malaria This audio slideshow explains how a Thai research centre is fighting a more-dangerous strain of the parasite. MalariaDiseaseHealth News: F&P Newspapers and Magazines From and About Russia/NIS. WWW Virtual Library: International Affairs Resources. Slavic Review. Transitions Online. Abidjan .net | Actualités. IP-GLOBAL. National Security Council. The National Security Council (NSC) is the President's principal forum for considering national security and foreign policy matters with his senior national security advisors and cabinet officials.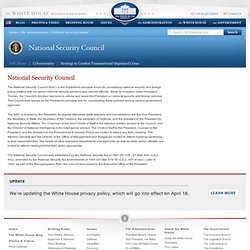 Since its inception under President Truman, the Council's function has been to advise and assist the President on national security and foreign policies. The Council also serves as the President's principal arm for coordinating these policies among various government agencies. The NSC is chaired by the President. Its regular attendees (both statutory and non-statutory) are the Vice President, the Secretary of State, the Secretary of the Treasury, the Secretary of Defense, and the Assistant to the President for National Security Affairs. The Chairman of the Joint Chiefs of Staff is the statutory military advisor to the Council, and the Director of National Intelligence is the intelligence advisor.
Saban Center for Middle East Policy. United States Institute of Peace. U.S. Department of State. Welcome to Yale Center for the Study of Globalization.
---