Info International Affairs 2
Mylonas, Harris. 2013. The Politics of Diaspora Management in the Republic of Korea. The Asan Institute for Policy Studies Issue Brief 81: 1-12.Abstract The Republic of Korea has an elaborate diaspora management policy since the 1990s.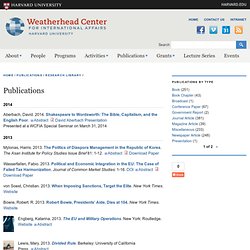 Weatherhead Center Working Paper Series | The Weatherhead Center
National & World Affairs | Harvard Gazette Online
Documents of Diplomatic History Thutmose III: The Battle of Megiddo Ramses II: The Battle of Kadesh, c.1299 BC SUN TZU ON THE ART OF WAR, Translated from the Chinese with Introduction and Critical Notes BY LIONEL GILES, M.A., Assistant in the Department of Oriental Printed Books and MSS. in the British Museum, First Published in 1910 Cyrus the Great, 580-529 B.C. Ancient Mesopotamia, The Battle of Marathon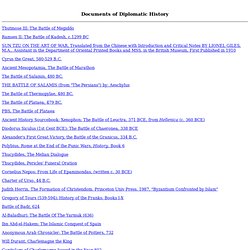 Documents Related to the History of International Relations, pri
Documents of World War I "Instances of Use of United States Forces Abroad, 1798 - 1993," by Ellen C. Collier, Specialist in U.S. Foreign Policy, Foreign Affairs and National Defense Division, Washington DC: Congressional Research Service -- Library of Congress -- October 7, 1993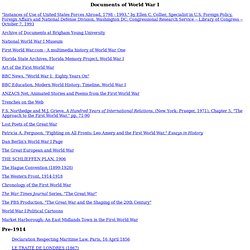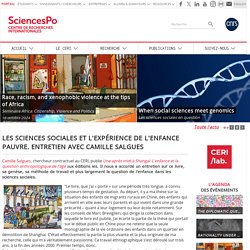 Journée d'études en partenariat avec Dansk Institut for Internationale Studier - DIIS (Copenhague) et le CERMAM (Genève), et avec le soutien du CAPS (MAE) Introduction : Luis Martinez, CERI-Sciences Po 9h30-13h00 L'Algérie sous Abdelaziz Bouteflika Présidence : Rasmus Alenius Boserup, DIIS Louisa Driss Ait Amadouche, Université Alger 3, chercheuse associée au Centre de recherche sur l'économie et le développement appliqué (CREAD) Algérie : quelle gouvernance ? Mohammed Hachemaoui, chercheur associé à l'IREMAM De quoi Abdelaziz Bouteflika est-il le nom ?
L'INTENSIFICATION DU CONFLIT À GAZA MENACE DE DÉGENÉRER EN VIOLENCE RÉGIONALE —, Victor Kotsez L'IRAN DONNE DE NOUVEAUX SIGNES DE FLEXIBILITÉ SUR SON PROGRAMME NUCLÉAIRE — Kaveh L. Afrasiabi APRÈS AKÇAKALE, QUE VA FAIRE ANKARA ? — Vijay Prashad LA SYRIE ENTRE HAMA 1982 ET LE LIBAN — Victor Kotsev Des parallèles avec la guerre civile libanaise et le massacre de Hama en 1982 se voient de plus en plus en Syrie. Tandis qu'un processus visant à modeler des zones ethniques homogènes en milices ethniques ressemble à ce qui s'est produit au Liban, un rapport récemment déclassifié pourrait très bien décrire ce qui se passe aujourd'hui.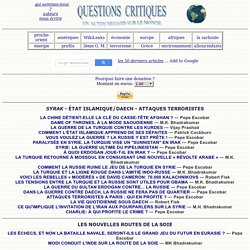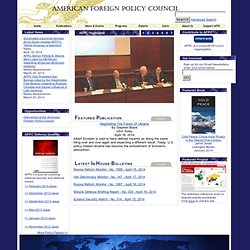 On a Spring 2013 AFPC-sponsored delegation to China, former Under Secretary Paula Dobriansky and the AFPC delegates meet with Mr. Zhang Zhijun, Minister of the Taiwan Affairs Office. AFPC Vice President Ilan Berman testifies before the House Homeland Security Committee at a July 2013 hearing on Iran's activities and objectives in Latin America. AFPC Kraemer Strategy Fellow Jeff M. Smith speaks at a Capitol Hill conference on the state of security in South Asia.
American Foreign Policy Council - Home
"Antisemite Max Blumenthal Incites Murder of Three in Kansas" by Daniel Pipes • April 14, 2014 Max Blumenthal, like others on the far-Left, jumped on the July 2011 Norwegian massacre of 77 dead and 319 injured to impugn the counter-jihadi right. His screed, "Anders Behring Breivik, a perfect product of the Axis of Islamophobia" included this sentence: The rhetoric of the characters who inspired Breivik, from Pam Geller to Robert Spencer to Daniel Pipes, was so eliminationist in its nature that it was perhaps only a matter of time before someone put words into action. In other words, we three were to blame for the massacre.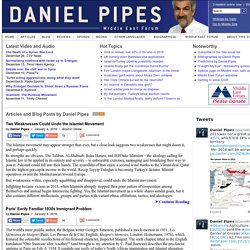 المرصد السياسي 2229 جلعاد وانيج في السادس والعشرين من آذار/مارس، وبعد شهور من التكهنات أعلن المشير عبد الفتاح السيسي استقالته من منصب وزير الدفاع المصري وترشحه للرئاسة. وتم ترقية صدقي صبحي، رئيس الأركان السابق تحت قيادة السيسي، إلى رتبة فريق أول - ورُشح لتولي منصب وزير الدفاع الجديد، في حين أصبح محود حجازي الرئيس الجديد لأركان حرب القوات المسلحة.
The Washington Institute for Near East Policy - Insight and Anal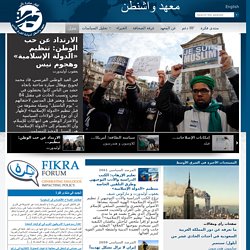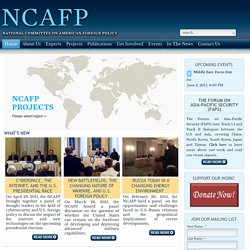 Home - NCAFP :: National Committee on American Foreign Policy
Nicholas Thompson is Editor of NewYorker.com and is former Senior Editor at The New Yorker, a contributing editor at Bloomberg Television, and the author of The Hawk and the Dove: Paul Nitze, George Kennan, and the History of the Cold War. Prior to The New Yorker, Mr. Thompson was a senior editor at Wired, a senior editor at Legal Affairs and an editor at the Washington Monthly. He has written about politics, technology, and the law for numerous publications, and he currently writes regularly for the New York Times Book Review.
Welcome to the website of the Trilateral Commission. The Commission was originally created in 1973 to bring together experienced leaders within the private sector to discuss issues of global concern at a time when communication and cooperation between Europe, North America, and Asia were lacking. The Commission has grown since its early days to include members from more countries in these regions, and it continues to find that study and dialogue about the pressing problems facing our planet remain as important today as in 1973. Problems and threats have changed, but their importance has only increased due to the more interconnected and interdependent world in which we now live. Although we are a small group, and meet only a few times each year, we see great value in a web site that offers scholars, researchers, and the general public access to our proceedings and the major reports submitted during our meetings.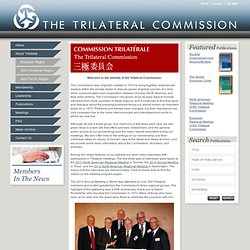 Vincent Ferraro, Resources for the Study of International Relati
The Ruth C. Lawson Professor of International Politics Mount Holyoke College AB, Dartmouth College; MIA, Columbia University; PhD, Massachusetts Institute of Technology 103 Skinner Hall, Mount Holyoke College South Hadley, MA 01075 U.S.A. (413) 538-2669 FAX: (413) 538-2512vferraro@mtholyoke.edu Support for this page came from the Hewlett International Studies Grant to Mount Holyoke College. I wish to thank the William and Flora Hewlett Foundation for their generous assistance.
Olivier Meunier, analyste en formation,École de politique appliquée En novembre dernier, Chris Christie fut réélu, avec une majorité écrasante, comme gouverneur du New Jersey. C'était une belle victoire pour le Parti républicain qui vit Barbara Buono, la candidate démocrate, défaite dans l'État où le président Barack Obama avait bien fait un an auparavant (1). Une majorité encore plus importante qu'attendue Le gouverneur Chris Christie a réussi à récolter 1 252 100 votes alors que son adversaire démocrate, Barbara Buono, en a obtenu 700 245 (2). Les sondages prédisaient la victoire de Christie et celui-ci était perçu comme le premier gouverneur républicain du New Jersey pouvant être élu avec plus de 50 % des votes depuis les vingt-cinq dernières années (3).
News: Egypt plans satellite and space agency launch The nation has plans for a second satellite and new space bodies, but experts ask if it has learnt from past errors. Multimedia: Q&A: training rats to sniff out mines
F&P Newspapers and Magazines From and About Russia/NIS
About this Virtual Library Usage: This section of the WWW Virtual Library system is a frequently updated Internet directory of over 2000 annotated links to high-quality English-language sources of current information and analysis in a wide range of international affairs, international relations, international studies, global studies, and global education topics. These sites are carefully selected for their long-term value, including only those with cost-free, authoritative information and analysis online.
http://www.tradeagenda.com/index2.html
From vol. 72, no. 4 (Winter 2013): Slavoj Žižek. Photo courtesy of Slavoj Žižek. Slavic Review is an international interdisciplinary journal devoted to the study of eastern Europe, Russia, the Caucasus, and Central Asia, past and present. The journal publishes articles of original and significant research and interpretation, reviews of scholarly books and films, and topical review essays and discussion forums. Submissions from all disciplines and perspectives are welcomed.
Slavic Review
Abidjan .net | Actualités
IP-GLOBAL
National Security Council
Saban Center for Middle East Policy
Welcome to Yale Center for the Study of Globalization