Literatura
Pearltrees videos
Cuentos y lecturas breves. Convocatorias. Blogs. Labirinto. Escritores y Poetas en Español. UbuWeb. Libros. Luvina.com.mx/AJUSTES/descargas/portada/63/Luvina63.pdf.
EPC - Kenneth Goldsmith. Craig Dworkin: Books and Edited Collections. Essays: The Fate of Echo [Against Expression: An Anthology of Conceptual Writing (Northwestern UP, 2011)] The Stutter of Form [The Sound of Poetry/ The Poetry of Sound (Chicago UP, 2009)] The Poetry of Sound [PMLA 123: 3 (May, 2008)] Hypermnesia [American Poetry After 1975 (Duke UP, 2009)]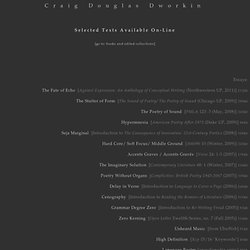 Home. UbuWeb. Ramona | revista de artes visuales | argentina. Poetry Archive. You can now support the work of the Poetry Archive by text.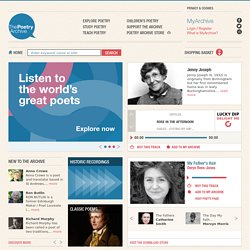 It's very easy to do and each donation is greatly appreciated. Donations will simply be added to your phone payments. Poetry Foundation.
---