Literatura
Pearltrees videos
Cuentos y lecturas breves. Convocatorias. Blogs. Labirinto. Escritores y Poetas en Español. UbuWeb. Libros. Luvina.com.mx/AJUSTES/descargas/portada/63/Luvina63.pdf.
EPC - Kenneth Goldsmith. Craig Dworkin: Books and Edited Collections. Essays: The Fate of Echo [Against Expression: An Anthology of Conceptual Writing (Northwestern UP, 2011)] The Stutter of Form [The Sound of Poetry/ The Poetry of Sound (Chicago UP, 2009)] The Poetry of Sound [PMLA 123: 3 (May, 2008)] Hypermnesia [American Poetry After 1975 (Duke UP, 2009)]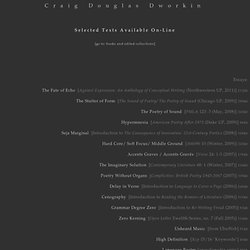 Home. UbuWeb. Ramona | revista de artes visuales | argentina. Poetry Archive. Poetry Foundation.
---