Literatura
Cuentos y lecturas breves
Labirinto
Escritores y Poetas en Español
García Márquez, un genio humilde Por Reinaldo MarchantHasta que entró casi mágicamente el Gabo. Con guayabera y zapatones tropicales, la sonrisa ancha, contagiosa, de buen amigo, exclamando esa expresión tan colombiana: ¡quiubo; qué más! >> García Márquez o Cortázar Por Gonzalo LeónHoy y mañana quizá no sea tan común ver a alguien leyendo un libro de García Márquez o de Cortázar, y eso, contrario a lo que parece, podría ser un pequeño triunfo para la literatura, pero un gran paso para la humanidad.
UbuWeb | Winter 2014 Seven Films by Annika Eriksson (2000-2013) Annika Eriksson is a Swedish artist living in Berlin. Over the years, she has produced a large number of works in which the perception of time, structures of power, and once acclaimed social visions are called into question. Strategically Eriksson plays with the heated debates around the public realm and structures that regulate it, revealing the urban changes and how this is subject to unexpected political appropriations and inversions.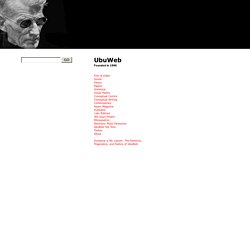 luvina.com.mx/AJUSTES/descargas/portada/63/Luvina63.pdf
EPC - Kenneth Goldsmith
Craig Dworkin: Books and Edited Collections
Essays: The Fate of Echo [Against Expression: An Anthology of Conceptual Writing (Northwestern UP, 2011)] The Stutter of Form [The Sound of Poetry/ The Poetry of Sound (Chicago UP, 2009)] The Poetry of Sound [PMLA 123: 3 (May, 2008)] Hypermnesia [American Poetry After 1975 (Duke UP, 2009)]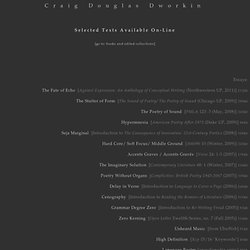 UbuWeb | Winter 2014 Robert Ashley, 1930-2014 UbuWeb mourns the passing of the great American composer Robert Ashley. You can listen to his music and invterviews here, watch his films here, read about him here. If you're unfamiliar with his work, the best place to start is Peter Greenaway's documentary Four American Composers: Robert Ashley (1983). His most well-known video work is Perfect Lives (1978-83), a television opera in seven parts. He interviewed composers such as Terry Riley, Philip Glass, Alvin Lucier, Pauline Oliveros, David Behrman, and Gordon Mumma in his epic video series, Music With Roots in the Aether, where interviews are followed by performances.
ramona | revista de artes visuales | argentina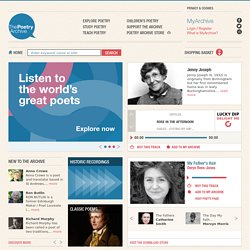 You can now support the work of the Poetry Archive by text. It's very easy to do and each donation is greatly appreciated. Donations will simply be added to your phone payments