Reach out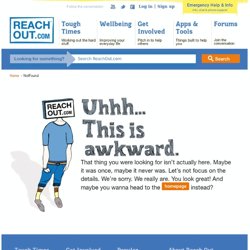 Happiness revisited – how are you going?
ReachOut.com believes in privacy The only thing we'll publish on the site is your display name. The personal details you give us are confidential – which means we won't share them with anyone unless there's a serious risk to you or someone else (check out the Privacy Policy for more details). The info you give us helps us understand who is using the site so we can make it even more relevant. No spam – we promise. We hate it too!
Procrastination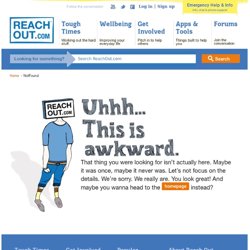 ReachOut.com believes in privacy The only thing we'll publish on the site is your display name. The personal details you give us are confidential – which means we won't share them with anyone unless there's a serious risk to you or someone else (check out the Privacy Policy for more details). The info you give us helps us understand who is using the site so we can make it even more relevant. No spam – we promise.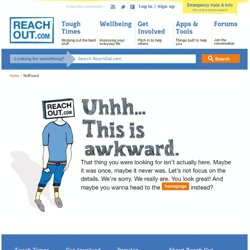 ReachOut.com believes in privacy The only thing we'll publish on the site is your display name. The personal details you give us are confidential – which means we won't share them with anyone unless there's a serious risk to you or someone else (check out the Privacy Policy for more details). The info you give us helps us understand who is using the site so we can make it even more relevant.
Just found out your final exam results? How to cope if they're not what you'd hoped for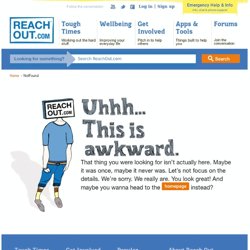 ReachOut.com believes in privacy The only thing we'll publish on the site is your display name. The personal details you give us are confidential – which means we won't share them with anyone unless there's a serious risk to you or someone else (check out the Privacy Policy for more details). The info you give us helps us understand who is using the site so we can make it even more relevant. No spam – we promise. We hate it too!
Motivation...it's hard work!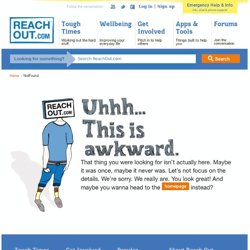 Art imitating life: grief, loss, the ups + downs of life + getting through it
ReachOut.com believes in privacy The only thing we'll publish on the site is your display name. The personal details you give us are confidential – which means we won't share them with anyone unless there's a serious risk to you or someone else (check out the Privacy Policy for more details). The info you give us helps us understand who is using the site so we can make it even more relevant. No spam – we promise. We hate it too!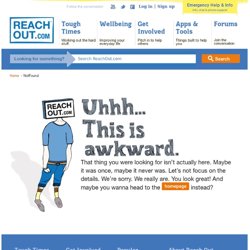 ReachOut.com believes in privacy The only thing we'll publish on the site is your display name. The personal details you give us are confidential – which means we won't share them with anyone unless there's a serious risk to you or someone else (check out the Privacy Policy for more details). The info you give us helps us understand who is using the site so we can make it even more relevant. No spam – we promise.
Are you more than your marks?
Stress down day!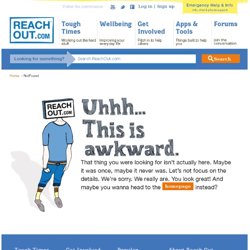 ReachOut.com believes in privacy The only thing we'll publish on the site is your display name. The personal details you give us are confidential – which means we won't share them with anyone unless there's a serious risk to you or someone else (check out the Privacy Policy for more details). The info you give us helps us understand who is using the site so we can make it even more relevant. No spam – we promise.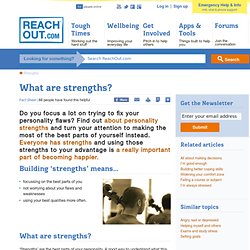 Strengths + their influence on your happiness
Building 'strengths' means... focussing on the best parts of you not worrying about your flaws and weaknesses using your best qualities more often. What are strengths?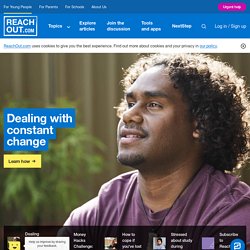 ReachOut.com believes in privacy The only thing we'll publish on the site is your display name. The personal details you give us are confidential – which means we won't share them with anyone unless there's a serious risk to you or someone else (check out the Privacy Policy for more details). The info you give us helps us understand who is using the site so we can make it even more relevant.
The Butterfly Effect
ReachOut.com believes in privacy The only thing we'll publish on the site is your display name. The personal details you give us are confidential – which means we won't share them with anyone unless there's a serious risk to you or someone else (check out the Privacy Policy for more details).