Huhuhu
ohwrd
irwinbarbe.com | youth
- V5/MT
La guía más confiable y detallada de Medellín: restaurantes, vida nocturna, arte, teatro, cine, música y adultos. En vive.in disfrutas Medellín con tus Amigos. - vive.in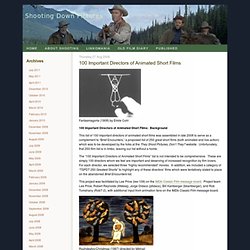 Fantasmagorie (1908) by Émile Cohl 100 Important Directors of Animated Short Films: Background This list of 100 important directors of animated short films was assembled in late 2008 to serve as a complement to "Brief Encounters," a proposed list of 250 great short films (both animated and live-action) which was to be developed by the folks at the They Shoot Pictures, Don't They? website. Unfortunately, that 250-film list is in limbo, leaving our list without a home. The "100 Important Directors of Animated Short Films" list is not intended to be comprehensive.
Shooting Down Pictures » Blog Archive » 100 Important Directors of Animated Short Films
i want to bite you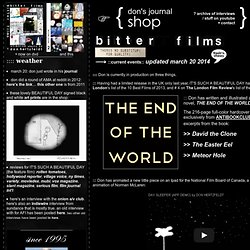 ::: Don is currently in production on three things. ::: Having had a limited release in the UK only last year, IT'S SUCH A BEAUTIFUL DAY has been ranked # 3 on Time Out London's list of the 10 Best Films of 2013, and # 4 on The London Film Review's list of the same. ::: Don has animated a new little piece on an Ipad for the National Film Board of Canada, a tribute to the scratch-on-film animation of Norman McLaren: ::: IT'S SUCH A BEAUTIFUL DAY, the feature film, is now available on-demand as an HD download or HD stream, exclusively at VIMEO:
MGdM | Marc Gómez del Moral's contacts on Vimeo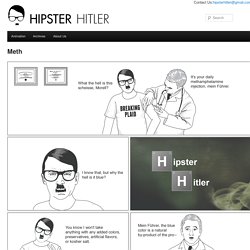 HipsterHitler.com is strictly a parody, satire and humor site, all content herein should be treated as such. None of the views expressed on this page should be confused with the actual views of the authors, advertisers, the hosting company, any service providers or the owner of this domain name. Everything on this site is intended to spoof, parody and satirize.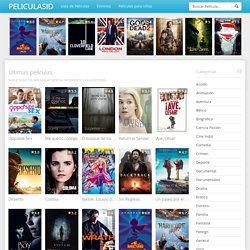 Bad Grandpa (Jackass Presents: Bad Grandpa) (2013) Género: Comedia Sinopsis: Spin off de 'Jackass' centrado en el personaje del "abuelo" de 85 años Irving Zisman. Duración: No Disponible Machete Kills (2013)
Users