Doll
Get flash to fully experience Pearltrees
Das jüdische Jugendheim Das Jugendheim kurz nach der Fertigstellung Die Idee eines jüdischen Jugendheimes in Essen geht auf den Rabbiner Dr. Hugo Hahn zurück. In der Zeitschrift "Der Jugendbund" schrieb er im Jahr 1928: "Wir wollen in der Großstadt das Haus der Jugend, um die eingesessenen und die zugezogenen Jugendlichen sammeln und miteinander in Kontakt bringen zu können; wir wollen das Haus zu einem jüdischen Heim gestalten, in dem alle Jugendlichen sich wohl und glücklich fühlen sollen; es soll dieses Haus nicht zuletzt ein Mittelpunkt des geistigen Schaffens der Gemeinde werden." [1] Nach dem Vorbild der christlichen Jugendarbeit in den Gemeinden und insbesondere auch des 1911/12 errichteten evangelischen Weigle-Hauses sollte das jüdische Jugendheim ein Treffpunkt der gesamten jüdischen Jugend aus dem "Jüdischen Jugendverein", den verschiedenen Jugendbünden und Verbänden der jüdischen Jugendbewegung, den Sportvereinen sowie den Ausbildungs- und Erziehungsvereinen werden.
[General Information: English / Français / Deutsch ] [ Home ] [ Contact Us ] Index: [A-E] [F-L] [M-R] [S-Z] [ Administrative Breakdown ] By Brian J. Smith - July, 2004 (last updated December, 2012) This page contains one person's advice about the best resources for researching our ancestors from Alsace.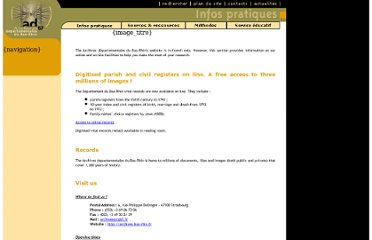 The Archives départementales du Bas-Rhin's website is in french only. However, this section provides information on our online and on site facilities to help you make the most of your research. Digitised parish and civil registers on line. A free access to three millions of images ! The Departement du Bas-Rhin vital records are now available on line. They include :
Old Essen Synagogue / Design: wbp Landschaftsarchitekten Ingenieure, Bochum The former Essen synagogue, completed in 1913 by master builder Edmund Körner on behalf of the Jewish community, is the only free-standing major synagogue structure to have survived - at least externally - the Second World War. Today, it constitutes a unique cultural and architectural monument.
Rosa Luxemburg (Rosalia Luxemburg, Polish : Róża Luksemburg ; 5 March 1871, [ 1 ] Zamość , Vistula Land , Russian Empire – 15 January 1919, Berlin , Germany ) was a Marxist theorist , philosopher , economist and revolutionary socialist of Polish Jewish descent who became a naturalized German citizen. She was successively a member of the Social Democracy of the Kingdom of Poland and Lithuania (SDKPiL), the Social Democratic Party of Germany (SPD), the Independent Social Democratic Party (USPD), and the Communist Party of Germany (KPD). In 1915, after the SPD supported German involvement in World War I , she and Karl Liebknecht co-founded the anti-war Spartakusbund ( Spartacus League ) which eventually became the Communist Party of Germany (KPD).
The red light district of Essen, the Stahlstrasse, dates from about 1900, at which time it was called Heilig-Geist-Strasse and lay in the 'traditional' working-class district of Segeroth. This was a former meadow area for cattle which from the 1840s onwards was converted within a few decades into an 'inner-city' area with the establishment of the new coal-mining industry and steel industry. Today, the greater part of Segeroth has been taken over by the University.