Voiceover, Film, All Images
5D Mark II consultants and 7D DIT - The Bui Brothers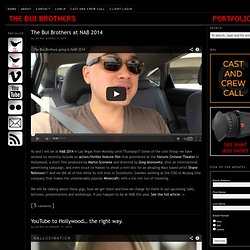 Vu and I will be at NAB 2014 in Las Vegas from Monday until Thursday!!! Some of the cool things we have worked on recently include an action/thriller feature film that premiered at the historic Chinese Theater in Hollywood, a short film produced by Martin Scorsese and directed by Greg Aronowitz, shot an international advertising campaign, and even snuck to Hawaii to shoot a mini doc for an amazing Maui based artist Shane Robinson!!! And we did all of this while Vu still lives in Stockholm, Sweden working as the COO of Mojang (the company that makes the unbelievably popular Minecraft) with a ton ton ton of traveling.
4MegaUpload.com - Megaupload Search Engine
TinEye Reverse Image Search
Mediaite.com | News & Opinion | Media: TV, Print, Online, Jobs, Ranking
Vocal Warm-ups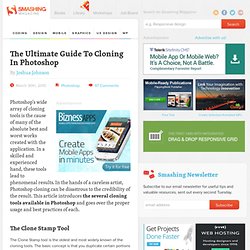 Advertisement Photoshop's wide array of cloning tools is the cause of many of the absolute best and worst works created with the application. In a skilled and experienced hand, these tools lead to phenomenal results. In the hands of a careless artist, Photoshop cloning can be disastrous to the credibility of the result. This article introduces the several cloning tools available in Photoshop and goes over the proper usage and best practices of each. The Clone Stamp Tool
The Ultimate Guide To Cloning In Photoshop - Smashing Magazine
Tutorial Outpost – Photoshop Tutorials, Flash Tutorials, and more!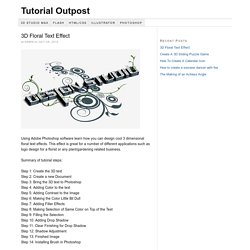 Using Adobe Photoshop software learn how you can design cool 3 dimensonal floral text effects. This effect is great for a number of different applications such as logo design for a florist or any plant/gardening related business. Summary of tutorial steps: Step 1: Create the 3D text Step 2: Create a new Document Step 3: Bring the 3D text to Photoshop Step 4: Adding Color to the text Step 5: Adding Contrast to the Image Step 6: Making the Color Little Bit Dull Step 7: Adding Filter Effects Step 8: Making Selection of Same Color on Top of the Text Step 9: Filling the Selection Step 10: Adding Drop Shadow Step 11: Clear Finishing for Drop Shadow Step 12: Shadow Adjustment Step 13: Finished Image Step 14: Installing Brush in Photoshop
60 greatest photo-manipulation tutorials ever! Posted by Richie on Wednesday, December 23, 2009 · 4 Comments After seeing all the amazing photo manipulations by many talented artists from around the design globe, I wanted to post an article containing the best photo manipulation tutorials that have been written on the web. I have searched many sites to come up with 60 of the best there is.
60 greatest photo-manipulation tutorials ever!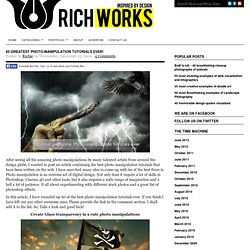 Interview with Photomanipulation Master, Erik Johansson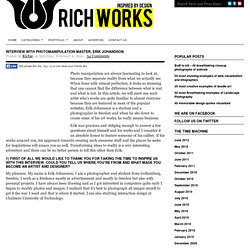 Interview with Photomanipulation Master, Erik Johansson Posted by Richie on Saturday, February 6, 2010 · 34 Comments Photo manipulation are always fascinating to look at, because they separate reality from what we actually see. When done with utmost perfection, it looks so stunning that one cannot find the difference between what is real and what is not.
Isolating Subjects on a White Background With Photoshop