Photoshop
Killer Lightroom tips: 10 things you never knew you could do in Adobe's software. Adobe Lightroom is one of the most popular raw conversion and image editing software packages around, and now that it is supplied with Photoshop CC as part of Adobe's photography plan, it's being used by even more people.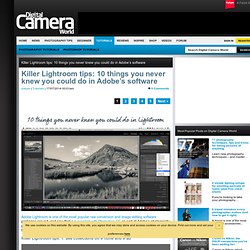 In this article we take a look at a few Lightroom tricks that this powerful package has up its sleeve. Killer Lightroom tips: 1. Jessica Images - Timeline Photos. Photoshop tutorials: Photo retouching. [E3 2012] Hitman Absolution - world's first hands-on footage. Create a Glamorous Vintage-Style Poster in Photoshop. In this Photoshop tutorial, I will walk you through a process of creating digital work inspired by older magazine fashion ads.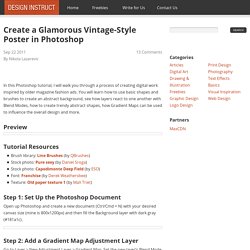 You will learn how to use basic shapes and brushes to create an abstract background, see how layers react to one another with Blend Modes, how to create trendy abstract shapes, how Gradient Maps can be used to influence the overall design and more. Preview Tutorial Resources.
Radio
Photoshop Online - Edite suas fotos e imagens online grátis. Rapid Vector Portrait Process. This Quick Tip tutorial will guide you through the process of making a vector portrait rapidly.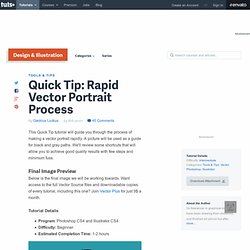 A picture will be used as a guide for black and gray paths. We'll review some shortcuts that will allow you to achieve good quality results with few steps and minimum fuss. How To Use Curves in Photoshop. If I were forced to give up all but one image adjustment tool, I would keep curves.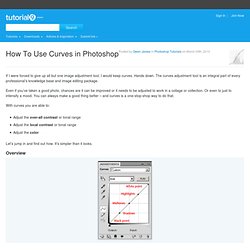 Hands down. The curves adjustment tool is an integral part of every professional's knowledge base and image editing package.
Brushes. Fonts. Text/Typography Effects. Lighting Effects. Photography Effects. PS Tutorials Index. Photoshop. Bodycard 0290.
---
phil.graphics Sep 28 2011

ok,
... and have cleaned a bit here today :)

annakris Sep 27 2011

yeah, but make whatever you see we need :)

jonespsamuel Sep 25 2011

yes, i've just started. thanks for your word of encouragement. I look fwd 2 learn a lot from wizards like you. thx

phil.graphics Sep 25 2011

ok, i see there are already some made :)

phil.graphics Sep 25 2011

if you want, i wil help make some? once a pearl is created, you can drag & drop other into one

jonespsamuel Sep 24 2011

So far, you seem to be proceeding to set up a pearltree with branches(pearls) spreading out with a global reach. All the best!

annakris Sep 24 2011

let me know what y'all think of how i'm organizing everything so far

annakris Sep 24 2011

we can start organizing this pearltree a little at a time? I just added a new sub-tree called Photography effects...we can put all the photography-related photoshop links in that pearltree to maybe organize this beast a bit (:

giacomo Sep 24 2011

The organisation of pearls it is acceptable try to not delet anything.
greetings for our new teamates.

ahwei Sep 24 2011

that reminds me, thanks for the add all and do I need to know anything about curating? Oh yeah, I need to know something about curating : ) If I delete a pearl from a tree where there are others involved, is that deletion reflected on everyone's version?
thx again and cheers and oh yeah again, can I, may I ; ), organize the tree?
---