Graphisme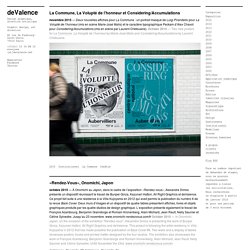 février 2014 — Première collaboration avec l'Université de design d'Harvard à l'occasion d'une conférence sur l'avant garde tchécoslovaque. February 2014 — First collaboration with Harvard University Graduate School of Design on the occasion of a lecture about the unknown avant garde in Czechoslovakia. septembre 2013 — Poster conçu pour et avec Saâdane Afif, à l'occasion de la performance L'Oratrice des gratte-ciel de Villeurbanne, qui a eu lieu du 29 avril au 25 mai 2013 dans le cadre de son exposition à l'Institut d'art contemporain. September, 2013 — Poster designed with/for Saâdane Afif, announcing the performance L'Oratrice des gratte-ciel de Villeurbanne from 29th of April to 25th of May 2013, on the occasion of his exhibition at Institut d'art contemporain. juillet 2013 — A l'occasion de l'appel à participation pour la parution de la revue Back Cover nº6, nous avons réalisé une vidéo présentant ce numéro spécial Japon ainsi qu'une série de teasers .
Home : Pauline Gervasoni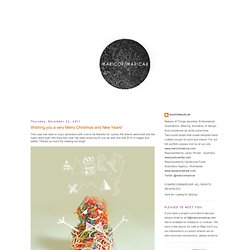 Just a quick post about a couple of works we have out and about in London. We've donated "Defeat Deflector" (a piece from the "Turns of Speech and Figures of Phrase" show that we held in March) to Artarama where it will be auctioned off to raise funds for Age UK and the White Ribbon Alliance. Artarama is organised by Karmarama London and the show/auction is on the 7th of October. There'll be exclusive work by Rankin, Rob Ryan, Al Murphy and many more. We have also completed a new embroidery called "Makers, Dreamers" which is on display at AMV BBDO as part of a typographic group show. "We are the music makers and we are the dreamers of dreams" is a quote taken from Ode by Arthur O'Shaughnessy via the film Willy Wonka & the Chocolate Factory.
MaricorMaricar