Programming
Products
Computer coding and programming for primary school children | TheSchoolRun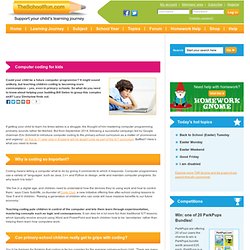 If getting your child to learn his times tables is a struggle, the thought of him mastering computer programming probably sounds rather far-fetched. But there's a growing movement, led by Google chairman Eric Schmidt, to introduce computer coding to the primary school curriculum as a matter of 'prominence and urgency', in Dr Schmidt's words. Baffled?
Isla - About
Teaching Kids Programming with C# - Online Training Course for Developers
The first time that I wanted to stay after school was in the sixth grade. In sixth grade we could stay after school to use Logo Writer. My friend Sean and I had a great time building some simple programs that we ran on the two computers in our teacher's room. Today, students can learn programming on their iPads.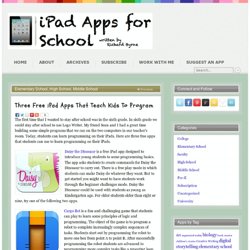 Three Free iPad Apps That Teach Kids To Program
A recent Ted Talk featuring the charismatic 6th grade programmer Thomas Suarez has shown that programming is a skill that can be learnt at any age. With the huge number of sites and products dedicated to programming for kids, there has never been a better time to get your class coding. Statistics from the Survey of Graduate Enrollment and Degrees have shown that only 4.1% of master's degrees awarded in 2009 were in Mathematics and Computer Science.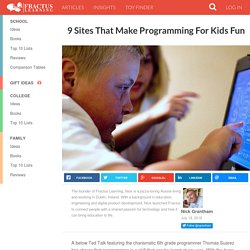 Teacher's Guide to Kinect: How to Program for Kinect and Gesture-Based Learning
There's been a lot of buzz lately about the use of gaming in the classroom – from the 'gamification' of learning to the use of Minecraft to teach everything from physics to strategic thinking. Since long before education technology even existed, video games have been a hugely successful way to engage students, creating a fun and compelling environment in which they can learn, develop and interact with their peers. But allowing students to actually take control of designing the game themselves takes the concept to a whole new level, allowing them to practice a host of new creative and technical skills. Here are 5 top websites – let the games begin!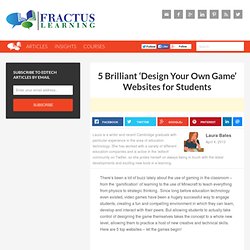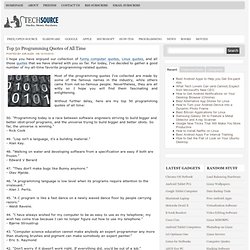 I hope you have enjoyed our collection of funny computer quotes, Linux quotes, and all those quotes that we have shared with you so far. For today, I've decided to gather a good number of my all-time favorite programming-related quotes.
Introduction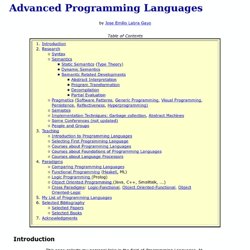 Advanced Programming Languages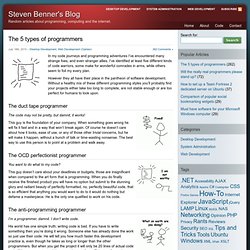 In my code journeys and programming adventures I've encountered many strange foes, and even stranger allies. I've identified at least five different kinds of code warriors, some make for wonderful comrades in arms, while others seem to foil my every plan.