Autoria Multimidia
PDClipart.org - Public Domain Clip Art. The Newspaper Clipping Image Generator - Create your own fun newspaper. 17 Free Tools for Creating Screen Capture Images and Videos. When you're trying to teach people how to do something new on their computers having screencast videos or annotated screen capture images can be invaluable to you and the people you're trying to help.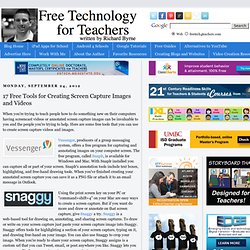 Here are some free tools that you can use to create screen capture videos and images. Vessenger, producers of a group messaging system, offers a free program for capturing and annotating images on your computer screen. The free program, called Snaplr, is available for Windows and Mac. With Snaplr installed you can capture all or part of your screen. Snaplr's annotation tools include text boxes, highlighting, and free-hand drawing tools. Glogster: make a poster online. It's free!
PhotoFunia. SketchUp. Em algum ponto na maioria dos projetos, você precisará transformar o modelo em um conjunto de desenhos que transmita a mensagem.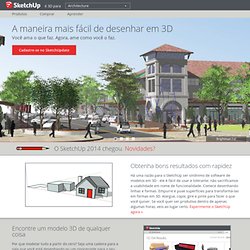 O LayOut no SketchUp Pro permite adicionar visualizações de modelo a páginas, escolher escalas de desenho, ajustar pesos de linha e adicionar dimensões, chamadas e gráficos. Faça uma alteração ao seu modelo do SketchUp e veja-a automaticamente refletida no LayOut. E, quando for a hora certa, exporte PDFs, imagens e arquivos CAD. Saiba mais >> Xfire - Gaming Simplified. Infographics & Data Visualizations. Prezi - The Zooming Presentation Editor. Download SnagIt for Free - Full Licensed Version. SnagIt is the best screen capture software for Windows (and a Mac version is in the work).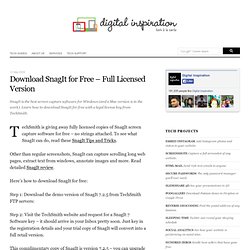 Learn how to download SnagIt for free with a legal license key from TechSmith. TechSmith is giving away fully licensed copies of SnagIt screen capture software for free – no strings attached. To see what SnagIt can do, read these SnagIt Tips and Tricks. Other than regular screenshots, SnagIt can capture scrolling long web pages, extract text from windows, annotate images and more. Free Flash Effect Generator. Headway Drag and Drop WordPress Theme. Best Free Podcasts. The Zooming Presentation Editor.
Welcome to App Inventor Edu | App Inventor Edu. The First Lady of the Federal Republic of Nigeria and ITU Child Online Protection Champion, Dame Patience Goodluck Jonathan celebrates the winning team of the just concluded Technovation Challenge in Nigeria.
She applauded the feat of these young girls who developed a mobile app to track traffic offenders in Nigeria. The team were also presented to the European parliament(www.witin.org/tc13 External Links icon ) on 25th of April by the Secretary General of ITU, Dr Hamadoun I. Slidestaxx - create amazing social media slideshows. PhotoPeach. Antonio Sacco - Software Tocadiscos. Software (Versión 1.5) Descripción Tocadiscos es un programa que sirve para iniciar y detener la reproducción de un disco compacto de audio mediante un switch estándar.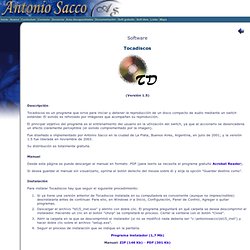 El sonido es reforzado por imágenes que acompañan su reproducción. El principal objetivo del programa es el entrenamiento del usuario en la utilización del switch, ya que al accionarlo se desencadena un efecto claramente perceptible (el sonido complementado por la imagen). Squeakland : home of squeak etoys. LIM. Hot Potatoes Home Page. ClicZone - English.
---