DIY
Pour accompagner la révolution des FabLabs, permettant à chacun de produire des objets grâce à des imprimantes 3D et autres CAO, un rapport américain recommande 20 mesures au gouvernement pour se préparer à un tournant de l'histoire industrielle. Un certain nombre de forces convergentes vont faire passer la fabrication personnelle, ou autofabrication, du statut de technologie marginale utilisée par les seuls pionniers et passionnés à un outil quotidien pour le consommateur et l'entreprise lambda. Dans quelques années, on trouvera des technologies de fabrication dans les petites entreprises et établissements scolaires. Dans dix ou vingt ans, tous les foyers et bureaux posséderont leur machine d'autofabrication.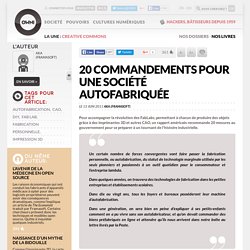 A propos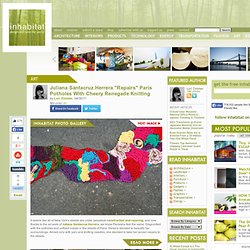 Juliana Santacruz Herrera "Repairs" Paris Potholes With Cheery Renegade Knitting
It seems like all of New York's streets are under perpetual construction and repaving , and now thanks to the art work of Juliana Santacruz Herrera , we know Parisians feel the same. Disgruntled with the potholes and unfixed cracks in the streets of Paris, Hererra decided to beautify her surroundings. Armed only with yarn and knitting needles, she decided to take her woven repairs to the streets. <a href="http://ad.doubleclick.net/jump/Inhabitat/art;article=articlename;kw=content1;sz=300x250;ord=123456789?"
Spring has sprung at last, which means that it's time to break out the brooms, clean our your closets, and enter Inhabitat's second annual Spring Greening DIY Design Competition ! We're looking for creative and clever designs that find new uses for old household items, so dust off those dated appliances and refinish your unused furnishings into fresh examples of DIY design! We'll be showcasing our favorite projects in an exciting round of online voting, and the winner will receive all the that comes with being published on Inhabitat in addition to a $250 gift certificate to the Inhabitat shop ! The winner will be showcased on Inhabitat and will receive a $250 gift certificate to the Inhabitat shop, and will each receive an Inhabitat t-shirt or tote bag ! PLEASE NOTE: The deadline for this competition has passed – finalists will be announced shortly!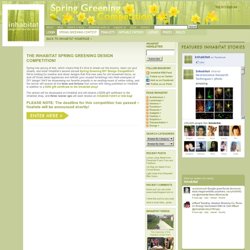 Spring Greening Contest « Inhabitat – Spring Greening Competition
Film Roll Lamp « Inhabitat – Spring Greening Competition
port.pdf (Objet application/pdf)