Music
Made Loud. Holophonic Sounds - Tricking Your Mind To See Alternate Realities.
Création ludique. Piano Pedagogy. RainyMood.com: Rain makes everything better. Listening exam #2. Welcome to YouTube!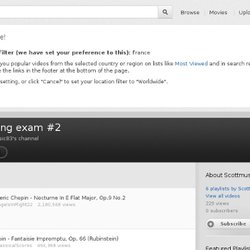 The location filter shows you popular videos from the selected country or region on lists like Most Viewed and in search results.To change your location filter, please use the links in the footer at the bottom of the page. Click "OK" to accept this setting, or click "Cancel" to set your location filter to "Worldwide". Free Music Search powered by Google = Musgle.
Research. New Music. Brain Music.
---