Accounting
Business & Small Business | News, Advice, Strategy. Mistakes-of-startup-entrepreneurs: Personal Finance News from Yahoo! Finance. When it comes to starting a successful business, there's no surefire playbook that contains the winning game plan.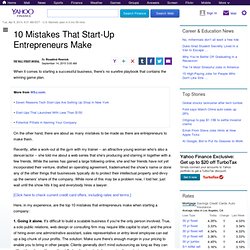 On the other hand, there are about as many mistakes to be made as there are entrepreneurs to make them. Recently, after a work-out at the gym with my trainer -- an attractive young woman who's also a dancer/actor -- she told me about a web series that she's producing and starring in together with a few friends. While the series has gained a large following online, she and her friends have not yet incorporated their venture, drafted an operating agreement, trademarked the show's name or done any of the other things that businesses typically do to protect their intellectual property and divvy up the owners' share of the company. While none of this may be a problem now, I told her, just wait until the show hits it big and everybody hires a lawyer.
[Click here to check current credit card offers, including rates and terms.] What Tax Records Should You Keep and How Long Should You Keep Them? on Shine. Tax Records to Keep and How Long to Keep Them By: Ann-Marie Murphy, Quizzle.com April is fast-approaching and with it, tax time.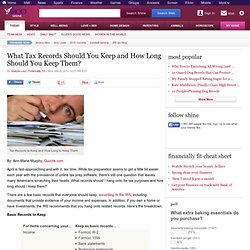 While tax preparation seems to get a little bit easier each year with the prevalence of online tax prep software, there's still one question that leaves many Americans scratching their heads: What records should I hang onto for tax purposes and how long should I keep them? There are a few basic records that everyone should keep, according to the IRS, including documents that provide evidence of your income and expenses. In addition, if you own a home or have investments, the IRS recommends that you hang onto related records. Dow Chemical Corporate Website - The Dow Chemical Company. International Franchise Association - Over 1,200 franchise opportunities - Information on franchising, selecting a franchise, financing and starting a franchise. Plus the latest news, events and resources on franchising. The U.S. Small Business Administration.
U.S. Securities and Exchange Commission (Home Page) Association of Certified Fraud Examiners - Fraud Training & Education. Board of Governors of the Federal Reserve System. Real-Life CPAs :: Start Here, Go Places. Years ago, someone started a rumor that accountants sit in a cubicle all day, crunching numbers in total isolation.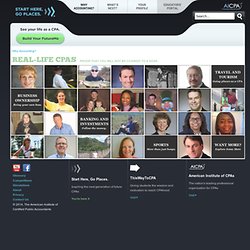 But nothing could be further from the truth. As a CPA you'll work with people from all over the place, with all kinds of interests beyond numbers. American Institute of Professional Bookkeepers (AIPB), the bookkeeping profession's association recognizing bookkeeping as a profession and bookkeepers as professionals, and certifying those bookkeepers who meet high, national standards. Welcome to the AICPA.
Ethics Resource Center | Ethics Resource Center. Glossary Definitions. Accounting - activities that provide information, usually quantitative and often express in monetary units, for decision making, planning, controlling resources and operations, evaluating performance, and financial reporting to regulatory authorities and the membership.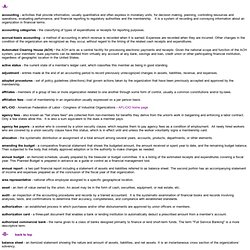 It is a system of recording and conveying information about an organization in financial terms. accounting categories - the classifying of types of expenditures or receipts for reporting purposes. accrual-basis accounting - a method of accounting in which revenue is recorded when it is earned. Expenses are recorded when they are incurred. Other changes in the condition of the organization are recognized as they occur, without regard to the timing of the related cash receipts and expenditures. Double-entry Accounting System: Online Accounting Tutorial & Questions | Simplestudies.com. T-account, debit, credit, and account balance; double entry bookkeeping system; general journals, ledgers, posting process; closing entries. 1.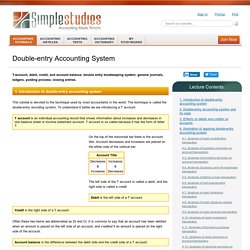 Introduction to double-entry accounting system This tutorial is devoted to the technique used by most accountants in the world. The technique is called the double-entry recording system. To understand it better we are introducing a T account:
---