Shambhala International (Vajradhatu)
Miksang Contemplative Photography
London Shambhala Meditation Centre
Shambhala Art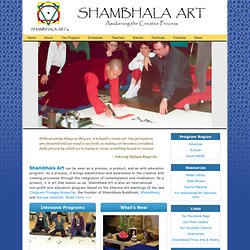 Without seeing things as they are, it is hard to create art. Our perceptions are obscured and our mind is not fresh, so making art becomes a troubled, futile process by which we're trying to create something based on concept. -- Sakyong Mipham Rinpoche can be seen as a process, a product, and an arts education program. As a process, it brings wakefulness and awareness to the creative and viewing processes through the integration of contemplation and meditation.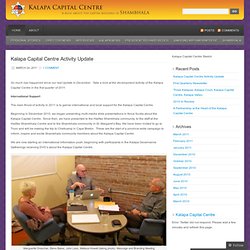 Kalapa Capital Centre
So much has happened since our last Update in December. Take a look at the development activity of the Kalapa Capital Centre in the first quarter of 2011. International Support The main thrust of activity in 2011 is to garner international and local support for the Kalapa Capital Centre. Beginning in December 2010, we began presenting multi-media slide presentations in Nova Scotia about the Kalapa Capital Centre.
The Dot Group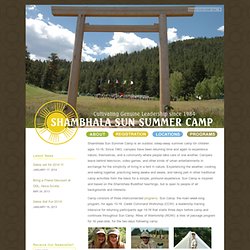 Shambhala Sun Summer Camp is an outdoor, sleep-away summer camp for children ages 10-16. Since 1983, campers have been returning time and again to experience nature, themselves, and a community where people take care of one another. Campers leave behind television, video games, and other kinds of urban entertainments in exchange for the simplicity of living in a tent in nature. Experiencing the weather, cooking and eating together, practicing being awake and aware, and taking part in other traditional camp activities form the basis for a simple, profound experience.
Shambhala Sun Camp
The Kalapa Council | News and updates for the mandala
Moving forward with the lineage vision and initiating deeper community dialogue 1. Introduction – the strategic decisions we face 2. The Sakyong's 2020 Vision 3.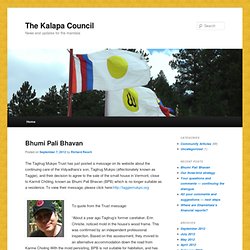 Shambhala Mountain Center Blog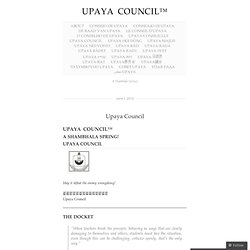 Весна Шамбалу! Upaya рада Нехай це перемогти ворога правопорушення! རྣམ་པར་སྣང་མཛད Upaya рада
Upaya Council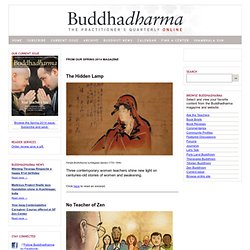 Female Bodhidharma by Kitagawa Utamaro (1753–1806) Three contemporary women teachers shine new light on centuries-old stories of women and awakening. Click here to read an excerpt. From the beginning, Norman Fischer never had much use for Zen teachers—and he still doesn't. But after years of being one himself, he has a fuller appreciation of the role a teacher plays.
Buddhadharma - Home
The Chronicles of Chogyam Trungpa Rinpoche
eBooks of Trungpa Rinpoche's Seminary Transcripts Posted April4, 2014 Shambhala Media is publishing all 13 years of Trungpa Rinpoche's seminary transcripts as ebooks. The 1973 Vajrayana ebook is available now. A new ebook will be released every four to six weeks over the next two years starting with the vajrayana in 2014 and moving on to the hinayana-mahayana in 2015.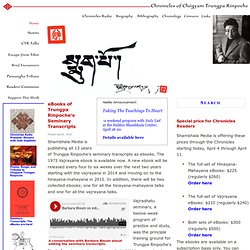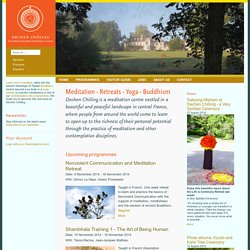 Date: 27 April 2014 - 4 May 2014 With: Herb Elsky, Shastri Catherine Eveillard
Dechen Chöling | Shambhala Buddhist Meditation & Retreat Center
Dorje Denma Ling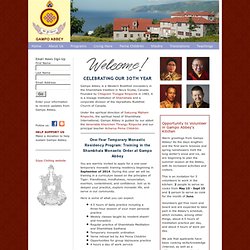 Gampo Abbey is a Western Buddhist monastery in the Shambhala tradition in Nova Scotia, Canada. Founded by Chögyam Trungpa Rinpoche in 1983, it is a lineage institution of Shambhala and a corporate division of the Vajradhatu Buddhist Church of Canada. Under the spiritual direction of Sakyong Mipham Rinpoche, the spiritual head of Shambhala International, Gampo Abbey is guided by our abbot the Venerable Khenchen Thrangu Rinpoche and our principal teacher Acharya Pema Chödrön. One-Year Temporary Monastic Residency Program: Training in the Shambhala Monastic Order at Gampo Abbey You are warmly invited to apply for a one-year temporary monastic training residency beginning in September of 2014. During this year we will be training in a curriculum based on the principles of Tiger: friendliness, mindfulness, renunciation, exertion, contentment, and confidence.
Home - Gampo Abbey
Sakyong Mipham Rinpoche has asked Karmê Chöling to build a stupa to enable our unique and nurturing practice center to radiate out more fully to the world. Interested in a 3 month long Shambhala Buddhist residential experience at Karmê Chöling? Need shrine supplies or a meditation cushion?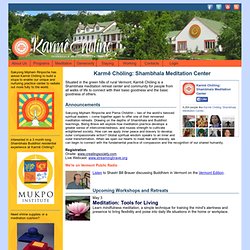 Karmê Chöling - Shambhala Meditation Center
Konchok Foundation
Local girls and boys are now back at school at the Surmang shedra, along with the apprentice monks who are studying there year-round. An update report can be seen here. A new slide show of meditational dance at Surmang is available for viewing here on the Shambhala Times.
Milk Lake - Milk Lake - Shambhala Retreat Centre
Milk Lake is a rural retreat centre nestled in rolling farm country about one hour and 20 minutes southwest of Halifax, in Nova Scotia's beautiful and scenic South Shore. Three large, well-appointed cabins offer quiet seclusion for retreat or time alone for meditation and contemplation; writing, study, or artistic endeavours; or simply getting out into the country for relaxation in a peaceful, uplifted environment. The largest cottage, Buddhalocana, is also ideal for couples who wish to spend time together for meditation and study or a quiet holiday in the countryside. Milk Lake is owned by Shambhala International, an organization founded by the late renowned Tibetan meditation master Chogyam Trungpa Rinpoche and currently led by his son and successor Sakyong Mipham Rinpoche. Shambhala teaches meditation and contemplation in the context of joining meditative awareness, fearlessness and gentleness with every aspect of ordinary life.
Mukpo Institute at Karmê Chöling Shambhala Meditation Center
What is Mukpo Institute? Mukpo Institute students conduct a three-month investigation into intensive meditation practice and contemplative study in beautiful rural Vermont. At its root, the curriculum presents the heart teachings and forms of Shambhala Buddhism, as presented by both Sakyong Mipham Rinpoche and the Vidyadhara, Chogyam Trungpa Rinpoche. The Mukpo Institute is made up of a series of retreats that are offered over the course of the Semester (Fall/Spring). The heart of the Mukpo Institute semester is a month-long mindfulness retreat called dathün. During dathün, students apply mindfulness to all activities in addition to scheduled walking and sitting meditation sessions.
Naropa University, Boulder, Colorado - Buddhist Inspired Contemplative Education
Pema Chodron Foundation — Buddhist Monastic Life in the West - Gampo Abbey
Radio Free Shambhala
Rinchen Terdzo
The Sakyong Foundation
The Sakyong Jamgon Mipham Rinpoche
Shambhala - Vision, Lineage, Meditation, Community
Shambhala Media
Shambhala Mountain Center
Shambhala Network | Home
ShambhalaSun.com: Buddhism | Culture | Meditation | Life
Shambhala Trust
Welcome To Wenchen Gompa And Kyere Monastery Projects
shambhala