Utility
Google. Translate. Maps. Screen reader users: click here for plain HTML +You Search Images.
The free encyclopedia. Half Windsor Knot. Half Windsor Knot The Half Windsor Knot, a modest version of the Windsor Knot, is a symmetrical and triangular tie knot that you can use with any dress shirt.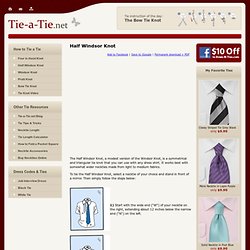 It works best with somewhat wider neckties made from light to medium fabrics. King County Metro Online. Dictionary.com | Find the Meanings and Definitions of Words at Dictionary. Find Synonyms and Antonyms of Words at Thesaurus.com. Famous Quotes, Love Quotes, Life Quotes | Quotations at Dictionary.com. Full Text Translator, Language Translation | Free Translations from Dictionary.com. Homepage | Reference. Bit.ly | Basic | a simple URL shortener. TinyURL.com - shorten that long URL into a tiny URL.
---