Fabricación personal
Jonathan Keep, Self build Delta 3D printer. Annoyed and frustrated by 3D Systems buying out and then stopping the production of the RapMan 3D printer.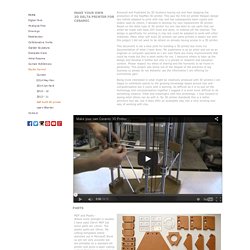 This was the first kit printer Belgian design duo Unfold adapted to print with clay and has subsequently been copied and widely used by others, I decided to develop my own replacement 3D printer. Based on the delta type of 3D printer my aim has been to use parts that can either be made with basic DIY tools and skills, or ordered off the internet. The design is specifically for printing in clay but could be adapted to work with other materials. Many other self build 3D printers use parts printed in plastic but with this project I did not want to be reliant on already having access to a 3D printer. This document is not a blue print for building a 3D printer but more my documentation of what I have done.
Candy – The First Confectionery Focused Food 3D Printer. WASPROJECT - World's Advanced Saving Project. Prosthetic Covers - UNYQ. #3DPrinting helps in medical training #3dthursday. July 17, 2014 AT 3:00 pm The '3D Printed Anatomy Series', developed by experts from Monash University, is thought to be the first commercially available resource of its kind.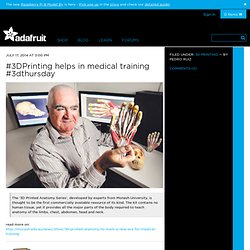 The kit contains no human tissue, yet it provides all the major parts of the body required to teach anatomy of the limbs, chest, abdomen, head and neck. read more on: Every Thursday is #3dthursday here at Adafruit! The DIY 3D printing community has passion and dedication for making solid objects from digital models. Studio Under develops a large & fast ceramic 3D printer. April 3, 2014 Studio Under, a design and research studio based in Israel, claimed that they have built the largest ceramic 3D printer ever made.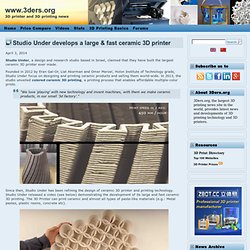 Founded in 2012 by Eran Gal-Or, Liat Akerman and Omer Merzel, Holon Institute of Technology grads, Studio Under focus on designing and printing ceramic products and selling them world-wide. In 2013, the studio unveiled colored ceramic 3D printing, a printing process that enables affordable multiple-color prints.
Sitio de empleo especializado en impresión 3D
MakerJuice Labs | Fuel for Your Creativity! Results from 3D Printing survey 2013: adoption, 3D printers, 3D printing services. Sep.17, 2013 Statistical Studies of Peer Production completed the second survey on the 3D printing community.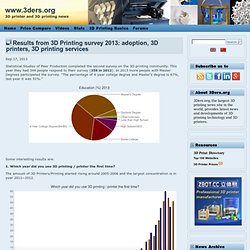 This year they had 344 people respond to their survey (358 in 2012). In 2013 more people with Master Degrees participated the survey. "The percentage of 4-year college degree and Master's degree is 67%, last year it was 51%. " Some interesting results are: Statistical Studies of Peer Production » Manufacturing in motion: first survey on 3D printing community. By Jarkko Moilanen & Tere Vadén Another industrial revolution?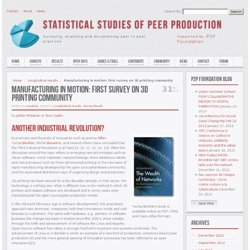 Yochai Benkler's book is available online as PDF, HTML and many other formats Economists and theorists of innovation such as Jeremy Rifkin , Yochai Benkler, Michel Bauwens , and several others have concluded that the Third Industrial Revolution is at hand [3, 10, 11, 12, 14, 15]. News and Events - TTP Group. Press releases prev : next New Vista 3D is the first printer technology available with multi-material capabilities and potential to revolutionise the manufacturing industry within ten years Cambridge, UK: 4 September 2013 TTP has today unveiled its ground breaking Vista 3D, which is the first print head technology that can print with more than one material.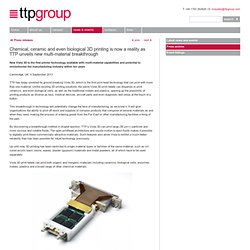 GCode Simulator & Printer. Control your 3D printer from your favourite Android device and print 3D objects*3D Printing from any Android device - PC less printing*Connect to a printer using USB OTG/Host port*Supports wireless printing over Bluetooth*Load your own gcode file and start a real print from your Android device.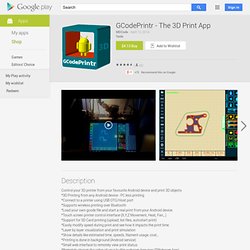 *Touch screen printer control interface (X,Y,Z Movement, Heat, Fan,..) *Support for SD Card printing (upload, list files, autostart print)*Easily modify speed during print and see how it impacts the print time. *Layer by layer visualization and print simulation*Show details like estimated time, speeds, filament usage, cost,.. *Printing is done in background (Android service)*Small web interface to remotely view print status. *Remotely stream the video of your builtin webcam (requires IPWebcam App)*Receive print object from PC over network**Use Gcode Simulator for PC to send files from PC directly to your Android tablet to print them.
From Concept to Reality: 3D Design and Printing for the Common Man. 3D printing has changed the way I think about how I interact with the world.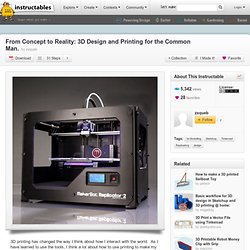 As I have learned to use the tools, I think a lot about how to use printing to make my world more functional, more exciting or just cooler! Being able to make something that doesn't exist or that costs more than I want to pay has been inspiring and fascinating. And really, once you learn a few simple tools, it's EASY and FUN!! There are many ways to go about making 3-D Models for printing. W.Afate 3D printer. On dit de l'imprimante 3D qu'elle aura le même impact que la machiné à vapeur.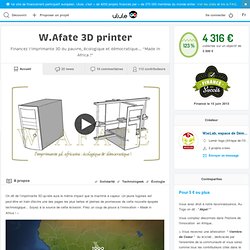 Un jeune togolais est peut-être en train d'écrire une des pages les plus belles et pleines de promesses de cette nouvelle épopée technologique... Soyez à la source de cette éclosion. Filez un coup de pouce à l'innovation « Made in Africa ! » Ecologie. Large Seamless 3D Printed Sculptures Now Possible with Krylon Fusion for PLA #3DThursday #3DPrinting. July 4, 2013 AT 2:00 am Many artists and designers have been switching to desktop 3D printers that print only in PLA from solutions printing in ABS, but this has lead to a whole host of questions about options for "post-processing" or "finishing techniques" (how to sand/score/paint/join) for these materials as most of the existing resources come from past 3D printing experiments and from architectural model building point to ABS and styrene related solutions, such as the popular industrial solvent acetone.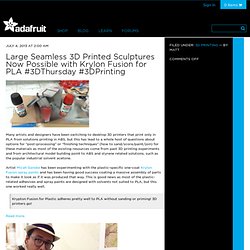 Artist Micah Ganske has been experimenting with the plastic-specific one-coat Krylon Fusion spray paints and has been having good success coating a massive assembly of parts to make it look as if it was produced that way. This is good news as most of the plastic-related adhesives and spray paints are designed with solvents not suited to PLA, but this one worked really well. Krypton Fusion for Plastic adheres pretty well to PLA without sanding or priming! 3D printers go!
Post produccion
Is Eco-Friendly 3D Printing a Myth? | Green Manufacturing. Melba Kurman, author, and Hod Lipson, Cornell University associate professor in mechanical and aerospace engineering, are co-authors of "Fabricated: The New World of 3D Printing" (John Wiley & Sons, 2013) and leading voices in the field of 3D printing. They contributed this article to LiveScience's Expert Voices: Op-Ed & Insights as part of their new LiveScience series highlighting issues and developments in 3D-printing technology. A few years ago, the consensus was happily (and naively) positive that 3D printing was innately greener than conventional manufacturing technologies. The truth is that today, the jury is still out. Society is growing wiser and maybe a bit more skeptical. Dood présente DOM: Digital Object Maker, Imprimante 3D. The project Who are we? We are two childhood friends with complementary skills: mechanical engineering, business, arts, marketing, music, teaching...
Smoothing PLA printed parts. Optomec launches new 3D printer for metal additive manufacturing. Jun.12, 2013 Optomec announced today availability of a new metal 3D Printer named the LENS 450. The LENS 450 is built on the same LENS core technology that is used to repair, coat and rapidly manufacture a wide variety of high performance metal components. LENS deposition systems use the energy from a high-power laser to build up structures one layer at a time directly from powdered metals. New Nylon filament for 3D printers, made in Italy. Jun.13, 2013 Italian company 3ntr has launched a new nylon filament developed specifically for 3d printers. This 3mm polyamide 6 filament is made up of 99.9% PA6 Polymer, no plasticizers, no fiberglass, and 0.1% soap to ease processing.
It is not as flexible as Taulman's Nylon, but it is aimed to print structural parts that must be able to resist static and dynamic loads. According to 3ntr, settings for printing polyamide 6 are similar to ABS, only the printing temps should be 240-280°C, and the best printing results can be obtained with layer thinner than 0.25mm. In addition, Polyamide 6 has different adhesion properties from other common use plastic for 3D printers (PLA or ABS), 3ntr suggests users to use bachelite or nylon bed for the best result. The fastest filament extrusion Bot, makes ABS/PLA in color. by Mark Dill. When we reach 80k --- Free ABS or PLA Pellets.
When we reach 85k --- Another nozzle blank so you can drill it to whatever size you want to try.When we reach 90k --- A 8" plastic Spool.When we reach 100k --- An upgrade to pellet holder that will detect and alert you when pellets are low. (ALSO this feature will work with the standard hopper or any size hopper you add!!) Kickstarter of the Week: The World's Fastest Filament Extrusion 7-8-13 News story from Product Design and Development: MakerCase - Easy Laser Cut Case Design. Robohand on Indiegogo: 3D printing collaboration creates helping hands | 3D Printer. Seattle Film Festival created classic moments in movies using 3D printing | 3D Printer. 3D printing + sugru = precision rubber parts! (iPhone 4/4S and 5) + video. Calculadora Clone Wars. Better 3D Printing Material. Doodle3D | A sketching tool for personal unique 3D prints. 3D printer stall at SEG market. New material for flexy object extrude by happynew3d.
Open Source 3D printable optical equipment library | VoxelFab. £220 3D printing filament extruder launched on Kickstarter | 3D Printer. Filastruder: A robust, inexpensive filament extruder. by Tim Elmore. The Crowd Loves 3D Printing! Kickstarter 3D Printing Summary. MakerBot Slicing Engine Torture Test by MakerBot. 3D Printing with Nylon 618 filament in Tie-Dye colours. Filastruder: A robust, inexpensive filament extruder. by Tim Elmore. Working 3D printed stepper motor. RecycleBot v2.3 Controls by jpearce. LYMAN FILAMENT EXTRUDER II by hlyman.
Filabot Personal Filament Maker for 3D Printers - Desktop Extruding System – Environmentally Friendly. Vapor Treating ABS RP parts. BotQueue.com. It's Magnificently Big! 3DEA, 3D Printing Pop Up Store, Opens in NYC. Willit 3D Print? Bioplastics. Molding and casting with a 3D printer. Multi-Colour 2.5D Art. 3D Printer DRM? Replacing antique violin parts using 3D printing. 3D Printer Street Cart Kiosk from Unfold. 10 Most Amazing Library Laboratories. Finally, turning plastic pellets into 3D printer filament. J3DILLA. Innovation Lab. A 3D Printed Camera - Almost! 3d printer filament made of wood. Prototyping On A MakerBot: POP Portable Device Charger. Is 3D Printing Safe? or DIY Testing for HCN from ABS and Nylon 3D Print Material. Food printing.
3D printing plus Sugru. Visualizing GCode on the web. Libraries Of The Future. Tutorial:Calibracion Skeinforge - /dev/null. Seafair Milk Carton Derby. Interview with WikiHouse's Alastair Parvin and Nick Ierodiaconou.
Commemorating Family Occasions. Makerbots Everywhere. A Matter of Scales: How Much Can You Print with a Single 1kg Spool? Pocket Factory On the Road, Dispatch #1. Ten tutorials on digital fabrication. Ultra-lab | vendemos hardware abierto y construimos comunidad. Physical Keygen: Duplicating House Keys on a 3D Printer. Online | How-To: Operate a Homemade Scanning Electron Microscope. MakerBot project: Z-axis extender kit. 100kGarages. Trabajos presentados a Congresos. Materialise: Driving Your Innovations. Servicios de impresion. Intermediarios. Modelado y escaneado 3D.
Diseños compartidos. Impresoras 3D. FDM, Fused Deposition Modeling, 3D Prototyping | Stratasys. Everything I Make With My Makerbot. The Project. Studio » CodeThread. Bre Pettis | I Make Things - Home. ReplicatorG is a simple, open source 3D printing program - ReplicatorG. FabbingCC Intervenciones Colaborativas.
---