Blogs
Build3dprinter. Hackademia | Just another WordPress.com site. | ultra-lab. Ya está: la primera de las 3 nuevas impresoras de Makerbot Industries nos ha llegado.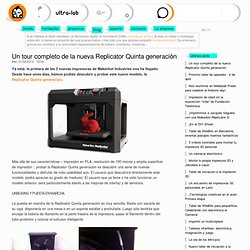 Desde hace unos días, hemos podido descubrir y probar este nuevo modelo, la Replicator Quinta generación. Más allá de sus características – impresión en PLA, resolución de 100 micras y amplia superficie de impresión -, probar la Replicator Quinta generación es descubrir una serie de nuevas funcionalidades y disfrutar de más usabilidad aún. Current Projects — Anna Kaziunas France | Holistic User-Centered Interaction Design. I.materialise 3D printing service blog. Are you looking for a specific model; but can't find the right size?
Dave Cowden, a mechanical engineer with a passion for 3D printing, came up with the solution: Parametric Parts . An interview! What's your background? Blog. In late 2006 I wrote "arduino-serial", mostly for myself, to help with stuff I was working on at the time.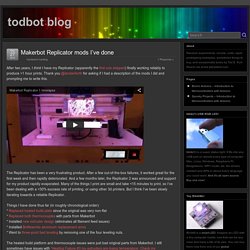 It was a very simple & small, cross-platform tool written in basic C for reading/writing serial ports. Now nearly seven years later I still get regular questions and frustrations about it. Part of this is due to how Arduinos have changed over time. You used to have to hand-reset an Arduino board, now the act of opening the serial port resets it.
This has its plusses and minuses, but it really made my original use-case of arduino-serial fail. Making Society | Adventure in the makers community of San Francisco. | ultra-lab. F.A.T. Core77 / industrial design magazine + resource / home. Ponoko – Blog. Fabbaloo Blog - Fabbaloo. CGG | Just another WordPress.com site. NESTA - Making innovation flourish. Chimbalab. Featured Seller: papercutsbyjoe :: Etsy Blog. Tell us about yourself.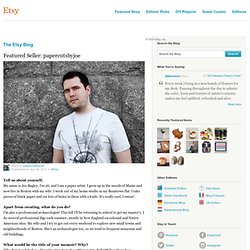 My name is Joe Bagley, I'm 26, and I am a paper artist. I grew up in the woods of Maine and now live in Boston with my wife. I work out of my home studio in my Beantown flat. I take pieces of black paper and cut lots of holes in them with a knife. It's really cool, I swear! MásterDIWO. Sudamericaexperimental. Maker List. Blog. Real Weddings: Brazilian Bliss Any and Bernardo went home to Brazil to celebrate their marriage with family and friends.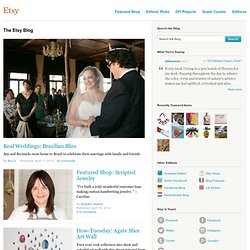 By Any G.
---