Blogs
Build3dprinter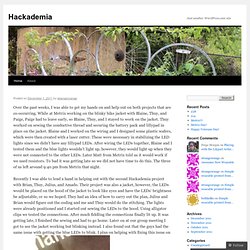 Hackademia | Just another WordPress.com site
Over the past weeks, I was able to get my hands on and help out on both projects that are co-occurring. While at Metrix working on the blinky bike jacket with Blaine, Thuy, and Paige, Paige had to leave early, so Blaine, Thuy, and I stayed to work on the jacket. Thuy worked on sewing the conductive thread and securing the battery pack and lillypad in place on the jacket. Blaine and I worked on the wiring and I designed some plastic wafers, which were then created with a laser cutter. These were necessary in stabilizing the LED lights since we didn't have any lillypad LEDs. After wiring the LEDs together, Blaine and I tested them and the blue lights wouldn't light up, however, they would light up when they were not connected to the other LEDs.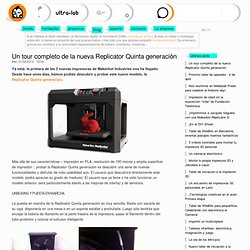 Ya está: la primera de las 3 nuevas impresoras de Makerbot Industries nos ha llegado. Desde hace unos días, hemos podido descubrir y probar este nuevo modelo, la Replicator Quinta generación. Más allá de sus características – impresión en PLA, resolución de 100 micras y amplia superficie de impresión -, probar la Replicator Quinta generación es descubrir una serie de nuevas funcionalidades y disfrutar de más usabilidad aún.
| ultra-lab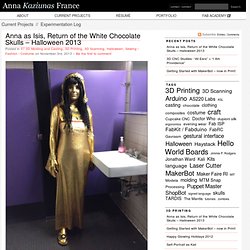 Anna as Isis, Return of the White Chocolate Skulls – Halloween 2013 Posted in 07 3D Molding and Casting, 3D Printing, 3D Scanning, Halloween, Sewing / Fashion / Costume on November 3rd, 2013 – Be the first to comment This All Hallows Eve I decided to continue with the goddess theme. Last year I was Kali, this year I was Isis. I made the dress, headress and matching treat bag (for distributing the skulls) in record time – under 3 hours. Return of the White Chocolate Skulls
Current Projects — Anna Kaziunas France | Holistic User-Centered Interaction Design
Are you looking for a specific model; but can't find the right size? Dave Cowden, a mechanical engineer with a passion for 3D printing, came up with the solution: Parametric Parts . An interview! What's your background?
In late 2006 I wrote "arduino-serial", mostly for myself, to help with stuff I was working on at the time. It was a very simple & small, cross-platform tool written in basic C for reading/writing serial ports. Now nearly seven years later I still get regular questions and frustrations about it. Part of this is due to how Arduinos have changed over time. You used to have to hand-reset an Arduino board, now the act of opening the serial port resets it. This has its plusses and minuses, but it really made my original use-case of arduino-serial fail.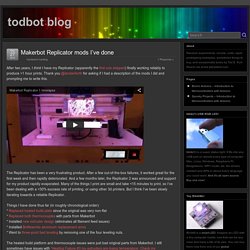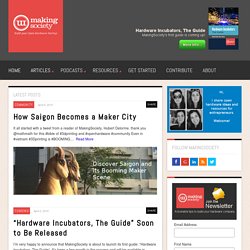 The Story of RepRap Prusa Mendel In the second episode of the 3D Printing Society Podcast, I interview Josef Prusa, early contributor to the RepRap project who got his name given to the most popular RepRap… Read More Hardware Events for Makers Pro in 2014 This list is intended for the hardware entrepreneur who wants to demo his product and connect with like-minded open hardware enthusiasts. I'll update it along the year (latest update: January…
| ultra-lab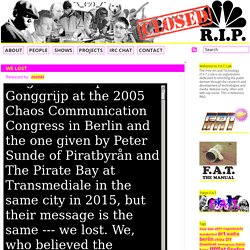 Language: EnglishPages: 222Binding:Perfect-bound PaperbackInterior Ink:Black & whiteWeight:0.86 lbs./ 0,39 kgDimensions (inches) :6 x 9 / 15,24 x 22,86 cm Edited Domenico Quaranta & Geraldine Juarezwith The F.A.T.
Posted by Kat Bauman | 4 Apr 2014 | Comments (0) "Shape" is a fun animated exploration of what design can mean and how it shapes our experiences. It's the heart of a project by PIVOT Dublin that has grown over the last few years to include an informative website, educational program and outreach campaign.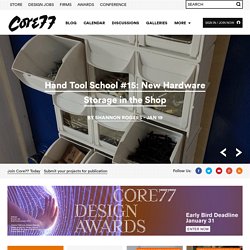 A 3D printed, Raspberry Pi-powered, remote control snow blower April 2 The Snow Droid X, in progress. Technically speaking, winter is over, but someone forgot to tell the weather around here. If we're going to keep having winter, we might as well enjoy it in true maker fashion with a Rasberry Pi-powered snow blower from Kris Kortright .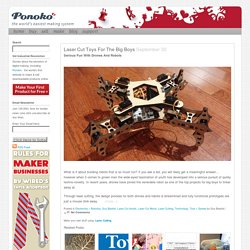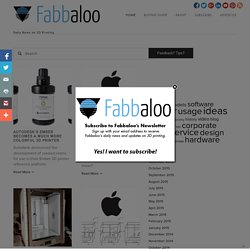 Cubify's new Cube 3 includes a fascinating new feature: extremely simplified material loading, made possible only through the development of a new way to handle plastic filament. The new cartridges are quite different from any generic spool you've seen before. They're sealed to prevent dust and dirt from contaminating the filament (which eventually clogs up your extruder). They include a tube running from the spool housing to the attachment point, meaning your filament is enclosed during its entire journey from spool to extruder. The attachment point is much like an earphone jack.
CGG | Just another WordPress.com site
Open Source Generative Music DevicePor cgg & coyarzun at FILE WORKSHOP 2011 Sao Paulo, Brasil El Open hardware y las estrategias contemporáneas de composición musical se vinculan hoy como procesos de creación automática en la música contemporánea. Implementan métodos y conocimientos de la ciencia y de la modelación de comportamientos, como automatas celulares y fractales, que influyen en el despliegue de estrategias de desplazamiento de la subjetividad respecto de lo sonoro y el cómo componer, bajo el paradigma de la representación hacia una lógica basada en los comportamientos.
Ene - 8 | Filed Under Talleres | Leave a Comment En el marco de la Bienal de Video y Artes Mediales haremos haremos el Taller ELECTRÓNICA MUTANTE por SUDAMÉRICA EXPERIMENTAL (Crowe, González, Mestizo, Piña) los días 11, 12 y 13 de enero de 10:00 a 14:00 hrs. Avenida Italia 850, Providencia Inscripción a info@bvam.cl El taller estará orientado a la experimentación electrónica audiovisual con elementos reciclados y de bajo costo, incorporando materialidades orgánicas y diversos materiales conductivos.
Tell us about yourself. My name is Joe Bagley, I'm 26, and I am a paper artist. I grew up in the woods of Maine and now live in Boston with my wife. I work out of my home studio in my Beantown flat. I take pieces of black paper and cut lots of holes in them with a knife. It's really cool, I swear!
Featured Seller: papercutsbyjoe :: Etsy Blog
MásterDIWO
Mudanza. febrero 18, 2011 § Fotografía con licencia CC de jko_contreras. ¡Nos mudamos! MásterDIWO estrena dominio y página web.
sudamericaexperimental
Maker List
Real Weddings: Brazilian Bliss Any and Bernardo went home to Brazil to celebrate their marriage with family and friends. By Any G.
Blog