Argazkiak
En vérité toute image que vous trouvez sur Internet et que vous pouvez télécharger est gratuite, vous pouvez en faire ce que vous voulez pour un usage privé, il est donc inutile de se poser la question. Puis-je utiliser telle ou telle photo que j'ai trouvée sur Internet? Réponse : oui.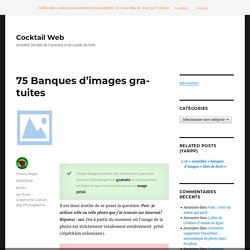 Bounce - Annotate screenshots of websites (e.g. for a class discussion on web design elements?)
All Paintings Home
Aviary: A particularly powerful online image manipulation tool
10 Sites To Add Amazing Effects To Your Photos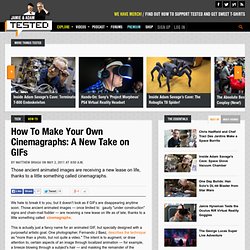 We hate to break it to you, but it doesn't look as if GIFs are disappearing anytime soon. Those ancient animated images — once limited to gaudy "under construction" signs and chain-mail fodder — are receiving a new lease on life as of late, thanks to a little something called cinemagraphs. This is actually just a fancy name for an animated GIF, but specially designed with a purposeful artistic goal. One photographer, Fernando J Baez, describes the technique as "more than a photo, but not quite a video." The intent is to augment, or draw attention to, certain aspects of an image through localized animation — for example, a breeze blowing through a subject's hair — and masking the remainder of the animation to appear static.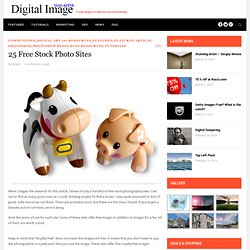 When I began the research for this article, I knew of only a handful of free stock photography sites. I set out to find as many good ones as I could, thinking maybe I'd find a dozen. I was quite surprised to find 25 good, solid resources out there.
This is a tooltip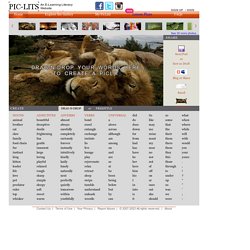 Mashup Arts - Custom birthday video and photo cards. Facebook+
diapo
Medieval Images of Hell
Batch compress large images ready for uploading to web / sending via email - great!
Girlpower - Retouch
The online screen recorder, which I really liked, is closing down. This is a great shame, and what's worse is that your videos will no longer be available on the web after July 31st.
I want to: ScreenToaster closing: alternatives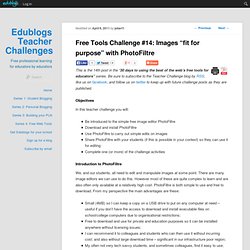 This is the 14th post in the "30 days to using the best of the web's free tools for educators" series. Be sure to subscribe to the Teacher Challenge blog by RSS, like us on facebook, and follow us on twitter to keep up with future challenge posts as they are published.
14: Images "fit for purpose" with PhotoFiltre | Teacher Challenge
Today we bring you a great collection of portraits of the most iconic people throughout history.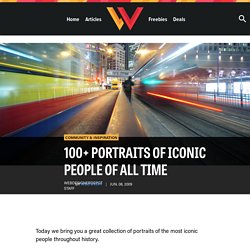 Trying to make your photos more interesting? Thinking about learning Photoshop to add some creative effects to images? How about achieving similar results by nothing more than point and click?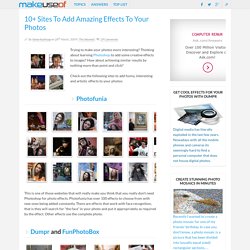 10+ Sites To Add Amazing Effects To Your Photos
Screenshot online tools
Shrink O'Matic is an AIR application to easily (batch) resize (shrink) images.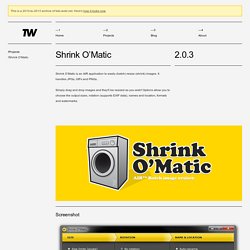 TOKI WOKI. Shrink O'Matic
Con la llegada de Imageshack todo el mundo vio como el proceso de compartir imágenes se simplificaba enormemente.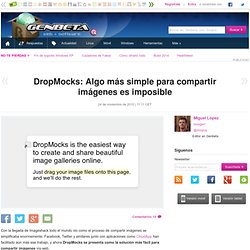 DropMocks: Algo más simple para compartir imágenes es imposible
This page lists resources for high-quality public domain photographs. For each resource here, I tell you what you'll find and give you tips for using the photos. What kind of tips, you ask, if the photos are public domain?
Finding and using public domain photographs
Awesome Screenshot – Excelente opción para hacer y compartir capturas con notas
Disponible para navegador Safari y Chrome (Firefox será el siguiente en la lista), awesomescreenshot.com nos ofrece una extensión, creada por Diigo, ideal para realizar capturas de sitios web, crear notas en ellas y compartir el resultado por la web. Como podéis ver en la imagen superior, podemos capturar una página completa o una sección de la misma, con opción de editar el contenido para dar destaque a los elementos que queremos discutir.