Art
Middle School Art
Worlds Greatest Artists Study links
About Welcome to Concordia University Chicago's link to Artists and Their Art: Sharing Visual Stories, a tool to promote visual literacy through artwork. Recognizing visual cues in a work of art as well as being aware of the times and conditions in which an artist lived enables students to better interpret its imagery, draw conclusions about its effectiveness, and speak critically about the art. Art education research indicates students enjoy a richer art experience and improved visual comprehension when the following four disciplines are included in the art experience: Art History (the study of past artists), Art Aesthetics (response to art), Art Criticism (discussion of art using art vocabulary), and Art Production (hands-on making of art).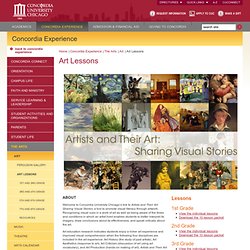 What's New? Eight new NGAkids CD-ROMs are available through the Gallery's LEARNING RESOURCES portal. If you are having compatibility issues or if you prefer using our art activities offline, we invite you to register and borrow these free CDs. The set includes some of our most popular interactive programs, including Brushster, Dutch House, Faces and Places, Jungle, Photo Op, Sea-Saws, and Still Life . To install all of them at once, order the NGAkids Art Zone "combo" disc. What's Happening?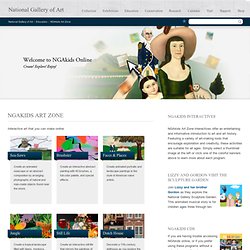 I have a new morning ritual and commitment. It involves waking up early before anyone else is up and making an amazing coffee drink (how did I live so long without it?!). And writing. Writing and thinking; processing and dreaming. Continue reading "My New Morning Ritual (& Writing in Our Family)" » One of the activities from my spring crafts eBook is a nest snack that kids create out of peanut butter playdough and pretzel sticks.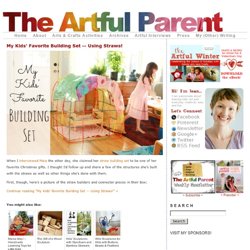 The Artful Parent