Art
Nina.r art ed resources. Middle School Art. Art lessons for kids. Worlds Greatest Artists Study links. Concordia University Chicago - Art Lessons. About Welcome to Concordia University Chicago's link to Artists and Their Art: Sharing Visual Stories, a tool to promote visual literacy through artwork.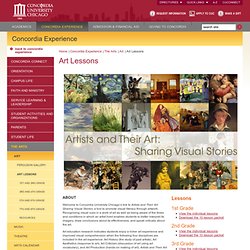 Recognizing visual cues in a work of art as well as being aware of the times and conditions in which an artist lived enables students to better interpret its imagery, draw conclusions about its effectiveness, and speak critically about the art. Art education research indicates students enjoy a richer art experience and improved visual comprehension when the following four disciplines are included in the art experience: Art History (the study of past artists), Art Aesthetics (response to art), Art Criticism (discussion of art using art vocabulary), and Art Production (hands-on making of art). National Gallery of Art | NGAkids home page. Download or borrow teaching packets, classroom activities, and videos.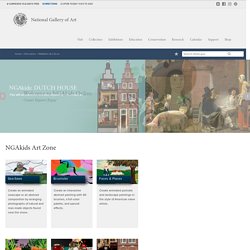 Find information about guided school tours, learn about outreach programs for local students, or enroll in our teacher workshops or the summer Teacher Institute. Resources for Teachers If you are looking for the Flash interactives that previously were offered in NGAClassroom, or if you'd like some suggestions for lessons related to the NGAkids interactives on this page, use the link below: Classroom Interactives: Ancient Arcade, Cake Maker, Mobile Maker. The Crafty Crow. Art Projects for Kids.
---