Réseaux sociaux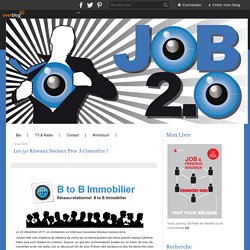 Le 22 décembre 2011, je consacrais un billet aux nouveaux réseaux sociaux pros. J'avais listé une vingtaine de réseaux de niche qui se démarquaient des deux grands réseaux généralistes que sont Viadeo et Linkedin. Depuis, au gré des commentaires postés sur ce billet, de mes découvertes et de ma veille, j'en ai découvert 30 de plus !!! Avec des secteurs et des fonctions très bien représentés, alors qu'a priori on ne les imagine pas forcément très actives online sur les médias sociaux : la santé, le BTP, l'immobilier et le développement durable. Je vous propose donc aujourd'hui une mise à jour de ma liste avec toujours les mêmes grandes familles : les "Sectoriels", les "Entrepreneurs", les "Locaux", les "Sectoriels-Locaux", les "Générationnels" et les "CSP".
World-Class Engagement Tools Reach your audience across networks and promptly reply to your customers. Sprout makes it easy for teams to keep tabs on conversations and effectively engage at all times. More on Engagement » Unified Inbox Assign Tasks See who is available now & route messages to the appropriate person or department.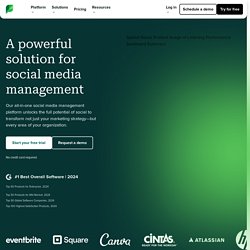 Bienvenue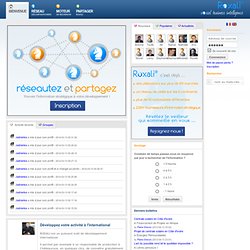 L'information économique est désormais un actif stratégique vital. Bien souvent, elle est disponible. Encore faut-il facilement la trouver. Et quoi de mieux que de s'adresser directement à des spécialistes, partout dans le monde ? Réseau international de professionnels alimentant une base de données mondiale de leurs connaissances, ROXALI vous permet de répondre à vos besoins en information stratégique.
Pligg CMS democratizes websites by giving users a voice. Members can publish content and cast their vote on articles and comments, pushing the most appropriate content to the top of the site. Pligg's emphasis on voting for the best content promotes the most popular content on your website. Pligg has been developed as an open source platform for nearly 8 years. We're a mature project with a global audience, which is why we currently support 9 different languages.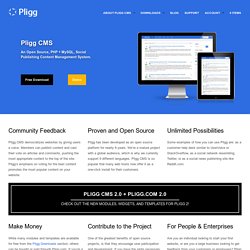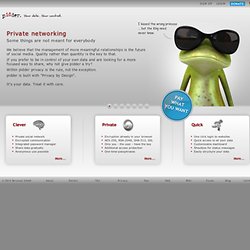 your secure private social network
We do not! Btw., Facebook is not really a free service. You pay with your data. And, as a consequence, Facebook knows your friends and preferences.
Amzini is your one-stop resource to tap the potential of social networking. Explore over 900 top social networks Search by category, keyword, feature, or rank Find perfect networks for you or your brand Easily find quality social news and articles Create and filter a custom social newsfeed Save time by finding everything in one spot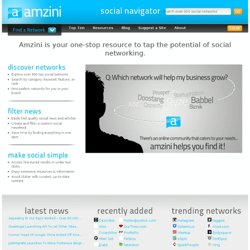 Découvrez une sélection de CMS, gratuits pour la plupart qui vous permettront de créer un réseau social dans le style de Facebook autour de votre passion ou de votre service. Idéal pour créer une communauté et regrouper des passionnés à venir partager autour de votre centre d'intérêt ou de vos services, un réseau social peut etre un réel atout dans la communication d'une marque ou d'un produit si celui-ci est bien fait. Oxwall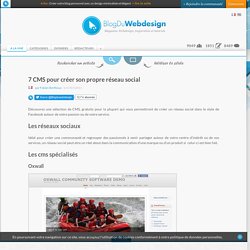 What do you Dabble?