Autres protections
ODDNS - Le DNS décentralisé et Libre
Pirate Linux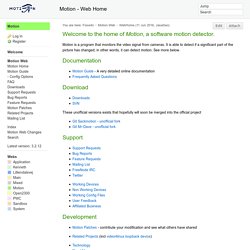 Welcome to the home of Motion, a software motion detector. Motion is a program that monitors the video signal from cameras. It is able to detect if a significant part of the picture has changed; in other words, it can detect motion. See more below. Documentation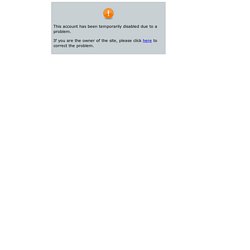 camorama - news
october 9, 2007 -- New release! Again, entirely to Sven's hard work, there is a new release of camorama. Get it from here. This should fix the problem people were having building camorama. Currently no debs or rpms september 27, 2006 -- OMG, new release!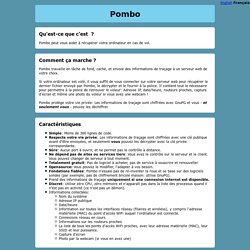 Qu'est-ce que c'est ? Pombo peut vous aider à récupérer votre ordinateur en cas de vol. Comment ça marche ?
Pombo
CRYPO: Free Online Encryption Service
Protect your critical passwords with strong encryption online. Encrypt and Decrypt sensitive data using strong encryptors (free security online tools). # Most Popular ( you might also like the online encryption ) [ socialize ↑ ] # Recommended ( the most common and best encryption )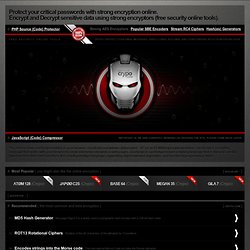 Cryptome welcomes documents for publication that are prohibited by governments worldwide, in particular material on freedom of expression, privacy, cryptology, dual-use technologies, national security, intelligence, and secret governance -- open, secret and classified documents -- but not limited to those. Documents are removed from this site only by order served directly by a US court having jurisdiction. No court order has ever been served; any order served will be published here -- or elsewhere if gagged by order. Bluffs will be published if comical but otherwise ignored. Email: cryptome[at]earthlink.net Mail: John Young, Cryptome, 251 West 89th Street, New York, NY 10024 Checks/Money Orders: Make out to "John Young" Telephone for messages: 212-873-8700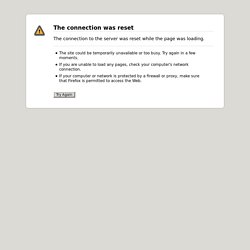 Free Antivirus Tools
Our free mobile apps and widgets protect you from web threats, help you manage your passwords and devices, and keep you up-to-date when you're on the go. HouseCall Mobile Scan your Android device for infected and malicious apps, and continually protect your device as you download new apps with the real time scanner. Download Learn more Trend Micro Privacy Scanner for Android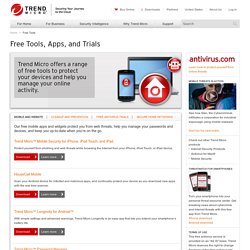 OpenSSH
OpenSSH 6.4 released November 8, 2013 Advisory: rekeying memory corruption OpenSSH is a FREE version of the SSH connectivity tools that technical users of the Internet rely on. Users of telnet, rlogin, and ftp may not realize that their password is transmitted across the Internet unencrypted, but it is. OpenSSH encrypts all traffic (including passwords) to effectively eliminate eavesdropping, connection hijacking, and other attacks. Additionally, OpenSSH provides secure tunneling capabilities and several authentication methods, and supports all SSH protocol versions.