SOFTWARE WINDOWS
Official page for VLC media player
Make Videos By Capturing Screens with Windows Media Encoder
Taksi
UVScreenCamera
Download | Registered Version | Buy Now UVScreenCamera is powerful in making movies to design manuals, presentation documents, help files, web pages and many many more. Include product demonstrations on your Web site to present your software to more potential customers, train your staff, or provide technical support to your customers. Making demo-movies with UVScreenCamera is interesting and easy. Save time, enhance your communications, and illustrate your ideas with this easy-to-use software solution. UVScreenCamera includes a powerfull notes editor.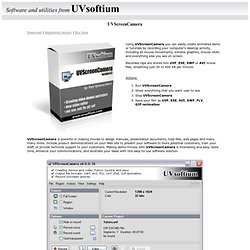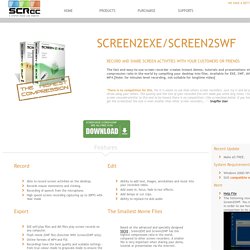 With SCREEN2EXE (free) or SCREEN2SWF ( free to try ) you can: Record Record screen activities on desktop. Record mouse movement and clicking. Record speech from microphone.
Scree2Exe-record screen with smallest file
Download Pixetell
Extensions for Windows
Screen Capturer makes capturing, printing and emailing screenshots as easy as 1-2-3. Simply press the "PrtScr" (print screen) button on your keyboard and Screen Capturer will ask you if you want to capture the full screen, an application window or a region of your screen. Select the desired capture mode and click "Capture" to save your screenshot to the clipboard, a file, or email. You can also use various keyboard shortcuts to make frequent capturing even faster, for example use [Ctrl]+[PrtScr] to always capture a region to clipboard, while holding [Shift] will bypass the options dialog and perform "silent" capture. Besides capturing single screenshots Screen Capturer also captures sequences of screenshots as animated demos that you can email to others or put on the Web.
ScreenVirtuoso
ScreenVirtuoso records desktop activity as AVI video file. Can optionally record sound and synchronize it with video. Allows you to convert AVI files to MPEG-1/2/4,VCD/SVCD/DVD,FLV/SWF,WMV video formats (PRO). Supports hotkeys, video annotation, timer, video scaling, screenshots and more.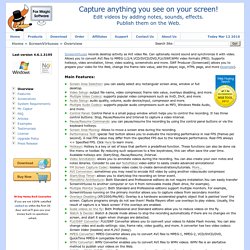 Screen Video Recorder
AutoScreenRecorder Pro & Free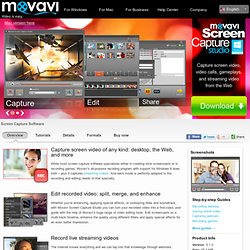 Supported Formats Output video formats/codecs AVI, DV AVI, XVID, MPEG 1,2, MP4, FLV (H.263, H.264), WMV, 3GPP, 3GPP2, MOV, QT, VOB, IFO, MOD, DAT, M2TS, MKV, OGV, WEBM Output audio formats MP3, WAV, WMA, OGG, AAC, FLAC, Monkey's Audio. Graphic formats of screenshots JPEG, PNG, BMP, GIF. Learn more →
Screen Capture | Record what's happening on your computer screen
1. Record instantly ScreenCorder 5 award-winning intuitive user interface makes it easy to setup your desktop recording: start the application you want to record, start ScreenCorder, select the recording area and click the Record button ­ it's as simple as that! You can select the recording area in different ways: choose a specific window, define your own area or record full screen. You can also change the default audio recording settings if needed. Relevant tutorials: Defining the recording settings Creating the recording
MatchWare ScreenCorder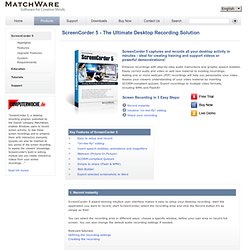 AVS Video Editor
Outstanding "...HyperCam proved an impressive tool, and actually quite affordable, too." HyperCam 3 - is a new version of the famous HyperCam 2, being jointly developed with Hyperionics LLC. It is an advanced utility for capturing screen actions and saving them as .AVI, WMV/ASF files. HyperCam may be used for grabbing a movie or game, for recording Skype calls, it has also been acknowledged as an excellent tool for creating video presentations, tutorials or demo-clips. Stylish, intuitive and user-friendly interface, pre-defined hot-keys for recording actions, built-in video editor, comprehensive text notes workflow, various settings, command line interface, the ability to install on the portable device, small installation size and more than affordable price - that is what makes HyperCam 3 a must-have tool. The main advantages of HyperCam 3 over HyperCam 2:
HyperCam - download powerful screen capture software / HyperCam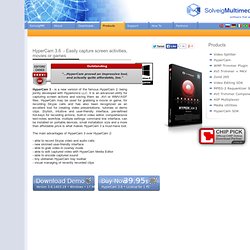 TipCam
Screen Recorder, Desktop Recorder to Capture Screen to Video | Screen Recording Software DemoCreator
Screen recorder DemoCreator is a powerful yet simple screen recording software program for Windows which allows you to capture desktop activities and create a voice-over presentation with Flash animation effect without any programming skill. DemoCreator is released with new recording settings and enhanced editing features! Follow the walkthrough guide and create your demo movie>> Note: The current version is not fully compatible with Windows 7. Windows 7 users, please download the free trial before purchase. Three Steps to Create Professional Video Demos
BB FlashBack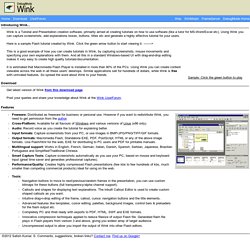 Here is a sample Flash tutorial created by Wink. Click the green arrow button to start viewing it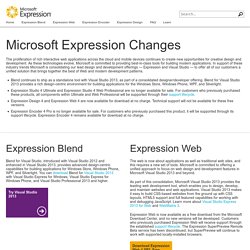 The proliferation of rich interactive web applications across the cloud and mobile devices continues to create new opportunities for creative design and development. As these technologies evolve, Microsoft is committed to providing best-in-class tools for building modern applications. In support of these industry trends Microsoft is consolidating our lead design and development offerings — Expression and Visual Studio — to offer all of our customers a unified solution that brings together the best of Web and modern development patterns. Blend will continue to ship as a standalone tool with Visual Studio 2012, as part of a consolidated designer/developer offering. Blend for Visual Studio 2012 provides a rich design-centric environment for building Windows Store apps and Windows Phone apps. In addition to that, WPF, Silverlight and SketchFlow support is available today as a preview and will be released in Visual Studio 2012 Update 2.
Camtasia Studio, Screen Recorder
Capture What You're Seeing and Doing With Camtasia Studio's flexible screen recording options, you can easily record your entire screen, a window, webcam video, a PowerPoint presentation, and more. Create Videos with Professional Polish Once you're done recording your screen or importing existing video, it's time to add some polish with Camtasia Studio's powerful, yet easy-to-use editing tools. Share and Interact with Your Audience Easily share videos that your viewers can watch anytime, on nearly any device.