Stumbleupon
Information Pages. Tutorials On System Verilog, Verilog, Open Vera, Verification, Ovm, Vmm, Axi, Ocp. Must Watch: An Out-of-Character Stephen Colbert Interviews Neil Degrasse Tyson. While I believe in God, I do not ignore the value and contribution that science makes.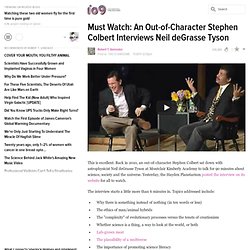 People often confuse the two as separate and nothing could be further from the truth. Having said that, the question of morality, and the Tree of Knowledge of Good and Evil are exactly the lesson that God was teaching. Tyson eluded that we need better moral management, while God on the other hand was warning us that we do not have the capacity to do so on our own. This tree did no way mean moral ability and insight! If so, Adam and Eve wouldn´t even KNOW it was wrong to eat, thus God wouldn´t have punished them. BSE: 17,246.63 | NSE: 5,234.25 | NSE F&O: 5,256.90 - Rediff MoneyWiz. Cute tattoos. If today were the last day of my life, would I want to do what I am about to do today? | Brad Pierce's Blog.
According to Steve Jobs (in the video below) Your work is going to fill a large part of your life, and the only way to be truly satisfied is to do what you believe is great work.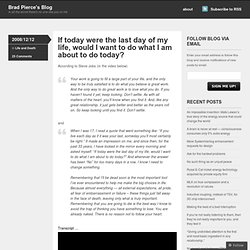 And the only way to do great work is to love what you do. Freuds *The Interpretation of Dreams* Chapter 1, Section D. Back to Psych Web Home Page Back to The Interpretation of Dreams Table of Contents D.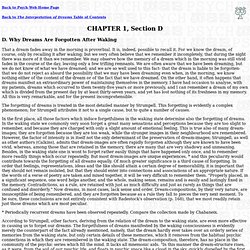 Why Dreams Are Forgotten After Waking. The best new recipes from The Kitchn | punchfork.com - StumbleUpon. The best new recipes from The Kitchn | punchfork.com - StumbleUpon. Horrible Cards - The Oatmeal - StumbleUpon. Collected Quotes from Albert Einstein - StumbleUpon. [Note: This list of Einstein quotes was being forwarded around the Internet in e-mail, so I decided to put it on my web page.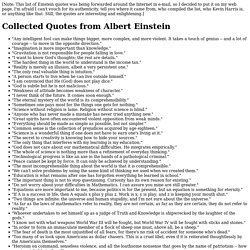 I'm afraid I can't vouch for its authenticity, tell you where it came from, who compiled the list, who Kevin Harris is, or anything like that. Still, the quotes are interesting and enlightening.] "Any intelligent fool can make things bigger, more complex, and more violent. It takes a touch of genius -- and a lot of courage -- to move in the opposite direction. "
---