Funny!
MAD TV Dr.Phil 2
Ylvis - Someone Like Me [dubstep edit]
Gentle Giant - Proclamation
Musikkvideoer uten musikk: Miley Cyrus - We Can't Stop | Musikk | Blogg | NATT&DAG
Blackbird (recently discovered demo recording)
Between Two Ferns with Zach Galifianakis: Sean Penn from Between Two Ferns, Sean Penn, Zach Galifianakis, Seth Galifianakis, Scott Aukerman, Comedy Deathray, Funny Or Die, BJPorter, Christin Trogan, and BoTown Sound
I Can Dance (Jon Lajoie)
Drumroll
Brent Horst: Politician
Louis CK - Live at The Beacon Theater HD
Kollektivet: Happy Place
Kollektivet: Music video - Anti Climax
Kollektivet: Tradisjon
Mainstream Media Commercial
Space Oddity
Started as a Baby (Jon Lajoie)
Dave Chappelle - Man Rape
Sawyer's Nicknames - Seasons 1-3
Mitchell and Webb - 'Can People Levitate'?
Kollektivet: Music Video - I wanna be the little spoon
Singing on the Moon
Tim Minchin's Storm the Animated Movie
Bergen Student-TV » Arkiv » Vaffelmix: Smartphone, Baby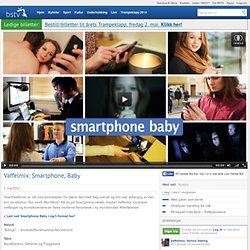 1. mai 2012
Will Ferrell's NYPD Recruitment Video
Mike Birbiglia - "There's Something In My Bladder"
WTF - Pianist Performance
Some Bullshit Happening Somewhere
Disse mennene er blitt så feministiske at de nesten er kvinner
Ultimate Dog Tease
Machines | David Mitchell's Soapbox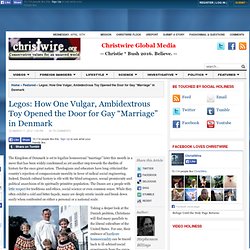 The Kingdom of Denmark is set to legalize homosexual "marriage" later this month in a move that has been widely condemned as yet another step towards the dustbin of history for the once great nation. Theologians and educators have long criticized the country's rejection of compassionate morality in favor of radical social engineering.
Legos: How One Vulgar, Ambidextrous Toy Opened the Door for Gay "Marriage" in Denmark
this is spinal tap
Hitler Rap
Plan 9 From Outer Space - Best Lines
Penguins attack!
Carrie Prejean Abruptly Leaves Larry King Interview Yahoo! TV Blog
Ricky Gervais in "The Office Opera" - Red Nose Day 2009
TELETUBBIES POWER RAPE
Funny Talking Animals - Walk On The Wild Side - Series 2 Episode 1 preview - BBC One
Satelittbilde: Aserbajdsjan utvikler aldeles grusom sangkonkurranse
Europas hardt prøvede børser skjelver etter Pentagons offentliggjøring av satelittbildene som angivelig viser at Aserbajdsjan om kort tid er i stand til å gjennomføre grusom sangkonkurranse. BEKYMRET: Pentagontalsmann Eric Wesson med satelittbildet som viser at Aserbajdsjan kan være timer unna å utvikle aldeles grusom sangkonkurranse.
Norwegian war correspondent caught in crossfire, not even flinching.
Jack Dee Local Newspapers
Super Mario Brothers - Frustration
Stephen K Amos Live At The Apollo - Part 2
Planet Bollocks
Miss Teen USA 2007 - South Carolina answers a question
Krispy Kreme - The Baddest Rap
Michael Mcintyre Live at the Apollo Part 1
Ricky Gervais African Appeal - Classic Comic Relief
Mando Diao - Interview (Mtv Home)
Minesweeper - The Movie
Glenn Beck is a douchebag
Lookin' 4 Love
Justin Bieber-Baby Grandma lol
Lensmann i Førde uttaler om Cannabis, Cannabs, Cannibass og Cannabuss..
Human Giant: Cliff Tarpey Moon Man
Kings Of Leon - Shreds - Their Worst Performance Ever.
Brian Eno: The Dick Flash interview
Defending Capitalism from Bias in Schools
Einstein vs Stephen Hawking -Epic Rap Battles of History #7
Double Dream Feet
Devin Fox - Hooked On You (Official Video) HD
BP Spills Coffee
Total Eclipse of the Heart: Literal Video Version (REFRAMED)
ali g interviews noam chomsky
» Anchorman Gets To The Point Ray William Johnson
NEW ROMANCE - Miles Fisher
1/3 Jon Stewart on Millionaire (celeb ed.)
Nazi Zombies: Once a Nazi, always a Nazi. Digg it! | CollegeHumor Staff Blog
Dara O'Briain Live at Apollo - Young People
Lenny Henry Live At The Apollo Part 1
Ed Byrne Live At The Apollo Part 1
CSI: Miami - Horatio Caine's Sunglasses Moments / One Liners
Christian TV
Jesus, Man
Religion Does No Harm, Bill Maher reflects
Creationists on BBC TV Show
The funniest punchline on QI so far (at least to me)
snuff box
160 Greatest Arnold Schwarzenegger Quotes
Hugh Laurie L'Oreal Paris Men Expert
The 10 reasons to love Dr [H]ouse
The 100 Greatest Movie Insults of All Time