DIY
No matter how comfortable or confident I become in my hair styling abilities, I always seem to be on the lookout for easy style ideas to add to my daily routine. While some of these are classic and don't need much instruction, it's always helpful for me to see how other's achieve their look. Here are 5 easy to follow hair tutorials that I'm excited to try: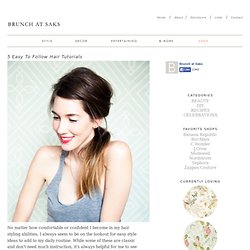 It's September and that means it's time to add another statement piece to your collection…. obviously! I heart almost every piece Nicole Richie designs for House Of Harlow 1960, especially her oversized rings. As amazing as these rings are they're also an easy DIY. My friend Jenni, from I Spy DIY, did a project a few months back where she transformed buttons into earrings. #SuperFab This got me thing…let's transform buttons into statement rings! Buttons, buttons everywhere!!
DIY: Button Statment Rings | - StumbleUpon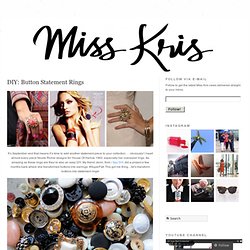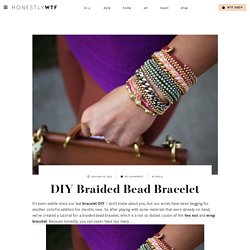 It's been awhile since our last bracelet DIY. I don't know about you, but our wrists have been begging for another colorful addition for months now. So after playing with some materials that were already on hand, we've created a tutorial for a braided bead bracelet, which is a not so distant cousin of the hex nut and wrap bracelet.
adele Oh I love it!! I am blonde, but not sure I would dare do this to my own hair!!!!http://www.intotheblonde.com/ 07-20-11 » 10:03 am » Addie I absolutely LOVE this…. and if something went wrong, all you have to do is cut it off… Although, from experience, coloring blonde hair is not as great as you would expect… the color fades way faster than you would think b/c when you bleach darker hair, it kind of damages it, so the color really soaks into the hair, with blonde hair, it isnt damaged, so it doesnt soak in as well…Im such a nerd, sorry 07-20-11 » 10:08 am » Paige Seriously wishing I was blonde right about now to do this to my tips! Or would it still look cool with brown hair? 07-20-11 » 10:10 am » Kelly i'm dark brown and would try it if my hair were a bit a longer – i say go for it!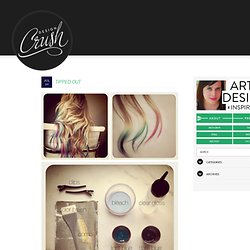 You're going to love today's DIY project so much that you're going to want to start tearing pages out from old books tonight! Remember the storybook roses in Shanna + Richard's wedding? Sweet, right? Floral designer, Cathy Brim of Bloom Floral Design created the elegant branch bouquets seen in their ceremony using Valerie Lloyd's paper roses design, and now we're jumping-out-of-the-pages excited that Valerie is sharing her DIY secrets with you! Craft Supplies:Paper Grosgrain Ribbon, ½ Width cut to 4 inch lengths 16 Gauge Wire cut to 15 inch lengths Glue Gun Glue Sticks (low temp) Scissors Wire Cutters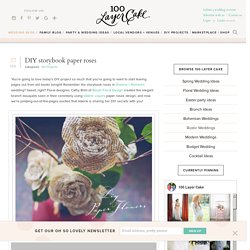 20 Creative Guest Book Ideas For Wedding Reception | Wedding Photography Design Philippines
I posted this tutorial a few years ago and it has become somewhat of a tradition to bring it back every year! One of our family Easter traditions is dying eggs with pieces of silk. I saw a cute lady show Martha how to do it a few years ago and I ran upstairs right then to steal a tie! It's way cooler than those cups of neon liquid that end up all over your clothes, your furniture and your hands plus it gives you an excuse to rid a man's closet of ugly ties. Here's the run-down: You need 100% silk for this to work.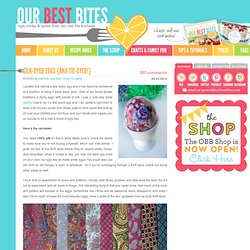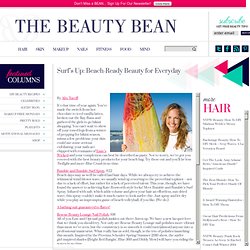 Surf's Up: Beach-Ready Beauty for Everyday | The Beauty Bean - Beauty | Fitness | Fashion | Nutrition | Healthy Recipes | Real Beauty | Makeup Free Mondays
By Alix Turoff It's that time of year again. You've made the switch from hot chocolate to iced vanilla lattes, broken out the Ray-Bans and gathered the girls to go bikini shopping.
Get ready to paint the town, I mean, your hair red....green, hot pink, or any color you like. All temporary- to wash out at your next shampooing! Fun and creative, without the commitment! I'm gonna show you how to do HAIR CHALKING.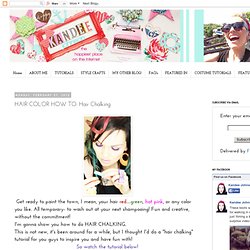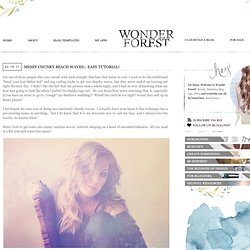 I'm one of those people who was cursed with stick straight thin hair that hates to curl. I used to do the traditional "braid your hair before bed" and rag curling tricks to get nice beachy waves, but they never ended up turning out right the next day. I didn't like the fact that the process took a whole night, and I had no way of knowing what my hair was going to look like when I pulled the braids/rags out. Do you know how nerve-wracking that is, especially if you have an event to go to (*cough* my brother's wedding)? Would the curls be too tight? would they end up in funny places?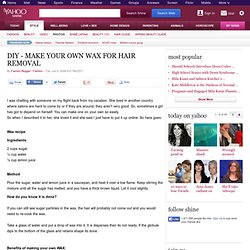 I was chatting with someone on my flight back from my vacation. She lived in another country where salons are hard to come by or if they are around, they aren't very good. So, sometimes a girl has got to depend on herself. You can make one on your own so easily. So when I described it to her, she loved it and she said I just have to put it up online. So here goes: