Robotics
DRL - Main Page
CS 223A : Introduction to Robotics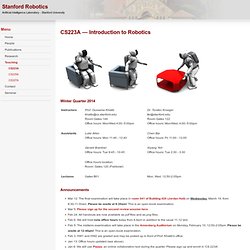 Winter Quarter 2013 Announcements Mar 10: Sign up for the second Review Session: Sign-up Feb 21: The final exams will take place in room 040, Jordan Hall, 450 Serra Mall, Bldg. 420 on March 18, 12:15–3:15pm.
What is a "Swarm"?
James McLurkin's Personal Webpage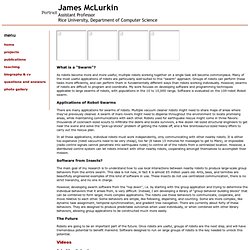 Swarm Robotic Systems
Swarm robotics
Swarm of open-source Jasmine micro-robots recharging themselves Swarm robotics is a new approach to the coordination of multirobot systems which consist of large numbers of mostly simple physical robots .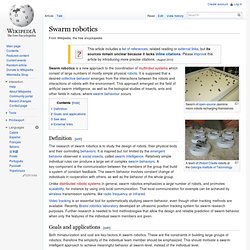 Distributed Robotics
Center for Distributed Robotics, University of Minnesota