Creative
The Ultimate Round-Up of Print Design Tutorials « Smashing Magaz. Advertisement Although web design is everywhere nowadays (even when we're not at the computer it still manages to squeeze it's way in to our everyday life), print design is still a huge part of the design industry and is everywhere we look: newspapers, posters, prints, manuals, restaurant menus, business cards – the list goes on and on.
So how do you make sure that you leave a good impression on people holding your piece of art in their hands? Carsonified. Frequently Asked Questions. What is a PDF?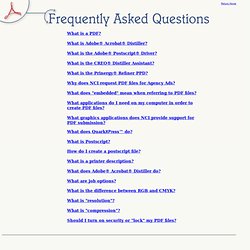 "PDF" stands for Portable Document Format. This format was created by Adobe® to help with the development of the "paperless office"; forms and documents can be stored electronically on a computer in this format rather than in a filing cabinet, saving space and reducing search time. PDFs are capable of displaying photos, text, and other graphical elements common in the publishing industry in a resolution high enough for print quality..
Because of this and the format's "portability", many printers have adopted the PDF as their standard submission. Handy Tips for Creating a Print CSS Stylesheet. Print stylesheets often come as a secondary thought on many websites, after all, who prints a webpage anyway?!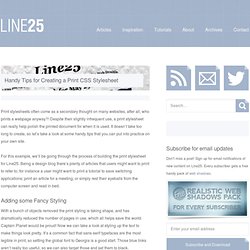 Despite their slightly infrequent use, a print stylesheet can really help polish the printed document for when it is used. It doesn't take too long to create, so let's take a look at some handy tips that you can put into practice on your own site. For this example, we'll be going through the process of building the print stylesheet for Line25. Being a design blog there's plenty of articles that users might want to print to refer to; for instance a user might want to print a tutorial to save switching applications; print an article for a meeting; or simply rest their eyeballs from the computer screen and read in bed. Adding some Fancy Styling. 100 (Really) Creative Business Cards. Whichever business you're in, and especially for anyone in the field of design, such as web designers, a business card can be as important as your website identity.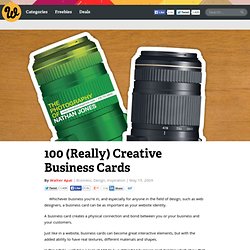 A business card creates a physical connection and bond between you or your business and your customers. Just like in a website, business cards can become great interactive elements, but with the added ability to have real textures, different materials and shapes.
---