Survival
Accelerating Human Evolution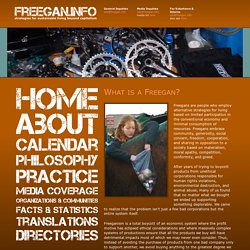 Freegans are people who employ alternative strategies for living based on limited participation in the conventional economy and minimal consumption of resources. Freegans embrace community, generosity, social concern, freedom, cooperation, and sharing in opposition to a society based on materialism, moral apathy, competition, conformity, and greed. After years of trying to boycott products from unethical corporations responsible for human rights violations, environmental destruction, and animal abuse, many of us found that no matter what we bought we ended up supporting something deplorable. We came to realize that the problem isn't just a few bad corporations but the entire system itself. Freeganism is a total boycott of an economic system where the profit motive has eclipsed ethical considerations and where massively complex systems of productions ensure that all the products we buy will have detrimental impacts most of which we may never even consider.
Learn wilderness survival or update your outdoor survival knowledge. we offer articles, graphics, pictures, tips, tricks, and other emergency disaster information. In today's uncertain world, learn wilderness survival to protect you and your family from natural disasters, terrorist attacks, or being lost in the woods. While wilderness survival is not difficult with the proper survival gear, it can be uncomfortable or even deadly if you do not have the knowledge needed to survive an emergency. We have provided on this site, at no charge to our visitors, wilderness survival articles, survival tips, survival tricks, wilderness survival information, and survival graphics to aid in your learning Wilderness survival skills.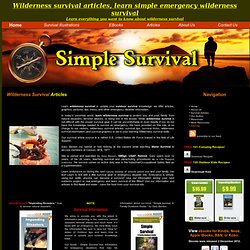 Survivalism / Sustainability
General Survival | ModernSurvivalOnline.com
Zombie Con 2014 Registration is up for our 10th annual Zombie Con event! Super Typhoon Haiyan Relief Drive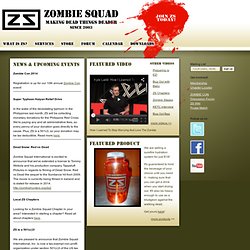 survivalbiz.com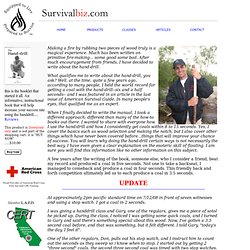 Making a fire by rubbing two pieces of wood truly is a magical experience. Much has been written on primitive fire-making... some good some bad. After much encouragement from friends, I have decided to write about the hand-drill. What qualifies me to write about the hand-drill, you ask? Well, at the time, quite a few years ago, according to many people, I held the world record for getting a coal with the hand-drill--six and a half seconds-- and I was featured in an article in the last issue of American Survival Guide.