Comic
Doc Savage's oft-misunderstood "Crime College" Modern readers unanimously find Doc's Crime College pretty creepy and sinister.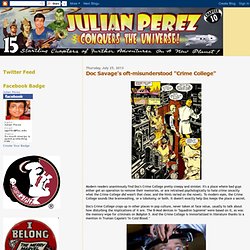 It's a place where bad guys either get an operation to remove their memories, or are retrained psychologically to hate crime (exactly what the Crime College did wasn't that clear, and the hints varied on the novel). To modern eyes, the Crime College sounds like brainwashing, or a lobotomy, or both. It doesn't exactly help Doc keeps the place a secret. Doc's Crime College crops up in other places in pop culture, never taken at face value, usually to talk about how disturbing the implications of it are. Bigger Than Life: The Creator of Doc Savage - Marilyn Cannaday.
In this biography, Marilyn Cannaday recreates the life and times of Lester Dent, a little-known giant of the pulp magazine era of U.S. popular literature.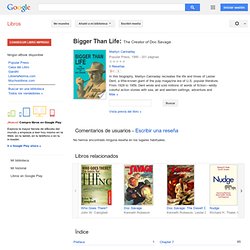 From 1929 to 1959, Dent wrote and sold millions of words of fiction—wildly colorful action stories with sea, air and western settings, adventure and suspense novels. His most famous serial character was supehero Doc Savage, the Man of Bronze, who battled crime throughout the pages of a ten-cent pulp magazine in the thirties and forties. Superman Homepage - Image Gallery. Noteworthy Superman dates to remember...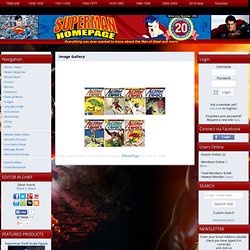 April 1: Annette O'Toole, Lana Lang in Superman III and Martha Kent in Smallville, born in Houston, TX in 1954. April 1: Sam Huntington, Jimmy Olsen in Superman Returns, born in Peterborough, New Hampshire in 1982. Site officiel de Jean Giraud Moebius Official website. Jean Giraud (Moebius) From Blueberry's Stardom, by Jean Giraud, 1994 Jean Giraud lives one of the most interesting double lives in comics history.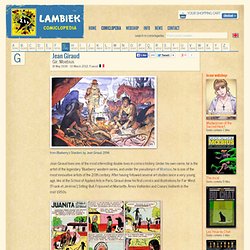 Under his own name, he is the artist of the legendary 'Blueberry' western series, and under the pseudonym of Moebius, he is one of the most innovative artists of the 20th century. After having followed several art studies since a very young age, like at the School of Applied Arts in Paris, Giraud drew his first comics and illustrations for Far-West ('Frank et Jérémie'), Sitting-Bull, Fripounet et Marisette, Âmes Vaillantes and Coeurs Vaillants in the mid-1950s. En la piel de Moebius | Ediciones Impresas Milenio. CHARLES BERLIN.
---